[06.01.09] The Meaning Behind SNSD's Gee?
Interview with NewsEn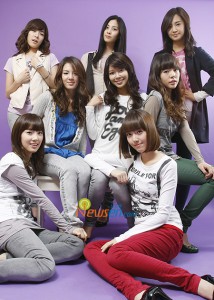 The returning SNSD has revealed the hidden meaning behind their title song "Gee".
The song "Gee" is about a young girl's first fall into love and her cute heart as she reacts to it. "Gee" is an expression similar to "Oh my gosh."
SNSD said "It's a cute and bright word. The entire song is brimming with energy. It's so much fun for us to sing the song. It wasn't easy matching the fast beat and the choreography and the song at the same time but all of us are having fun doing it together. It's even more fun to see the choreography with the song."
Moreover, they added "Every night, we clench our teeth and prepare for our comeback performance. Excepting for the time that we eat and sleep, nearly all the other time is spent practicing for it. As soon as our eyes are open, we're listening to "gee gee gee". The initial "G" isn't only for the song but it also signifies SNSD. "G" is the first letter in "Girls Generation". Also, if you add the "g" to shortened form of our name SoShi, you get this fun expression "Soshi-Gee". In our choreography, we also draw the letter "Gee". But we haven't yet named our dance."
Additionally, SNSD said "Being that it's our comeback.. we're just thinking of giving our best. SNSD, we always say to ourselves "Just work hard! That's all we need!". It's so fascinating for us to see that the reaction to our song is good. It's the same feeling like we had a year and 6 months ago when we first debuted."
SNSD will release their first mini album "Gee" on the 7th. Their title song "Gee" was released on the 5th. Within a day of releasing the song, it immediately went to number one on many music charts. SNSD will make their come back stage on the 9th at KBS Music Bank.
credits to NewsEn and boxclub@soshified.com/forums
note: apparently, theres been a change of plans, and the girls are instead making their comeback on Music Core and not Music Bank. click for update on sossip