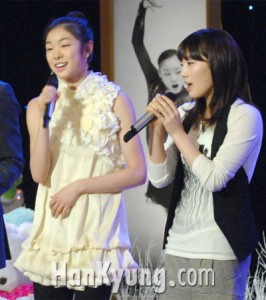 The ever popular "fairy of the ice rink" Kim YunA draws attention onces again with her hidden singing talent.
On the 23rd, at Seoul Yeoido's KBS building, Kim YunA attended the "2009 Korea's Hope – Kim yuna Special" and impressed the people with her singing abilities.
That day, Kim YunA wore a white sleeveless one-piece and also sang Insooni's "A Goose's Dream".
Kim YunA who sang "Can You Hear Me" as a duet with Kim TaeYeon, showed off her singing abilities once again.
YunA also showed the trunk that she carries around and showed all of the adversity that she had to face in order to become the best in the world.
That day, Shin DongYub, Noh SaYeon, Alex, So Nyuh Shi Dae's Taeyeon, and Shin BongSun etc. attended.
Kim YunA had already showed some of her singing skills through the SBS show, "The Star show" which aired on May 12th, where she sang Kim TaeYeon's "If".
There is already a heightened interest in the show "2009 Korea's Hope – Kim YunA.Park TaeHwan Special" which will be MC'ed by Shin DongYub on January 1st and 2nd.
Also, through her "hahaha song" video, Kim YunA showed her cute, bubbly charm.
credit: aseo @ soshified forums
source: http://sosiz.net/bbs…d=data&no=13387