Sooyoung, "Girl.. Meets a Movie"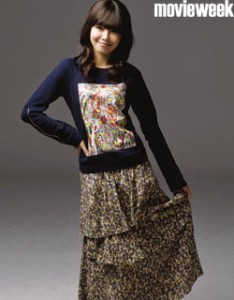 SNSD Sooyoung has been immersed "into the new world" of . She was an ardent fan of the original comic book that has now been adapted into the movie . Let's meet Sooyoung at her first formal entry into acting in .
Her Admiration for Kangfull's work
— How does your debut on the big screen feel?
To be honest, I feel more happy that I was able to be a part of than the fact that I was able to participate in just any movie. I became such of a big fan of writer Kangfull three years ago when I read the comic books, but the big screen adaptation is so great. It's so meaningful that I was able to be a part of his work
— Do you like Kangfull's work?
Before I debuted with SNSD, I did an audition to be in Kangfull's . I played the part of Cha Taehyun's dongseng but, regrettably, I didn't make the part. After I left the audition, I emailed writer Kangfull that, "One day, if fate would have it, I really want to meet you again." And then he replied to my email saying, "I will cheer for you so work hard." At that moment, tears formed in my eyes.
— It must've felt special meeting writer Kangfull on site for the movie. (Kangfull makes a cameo in the movie)
I met him for the first time during a test shot for the movie and I really was so amazed. I arrived a little late, so people were telling me to just eat, but then someone behind me tapped me on the shoulders and said "Miss Sooyoung, I'm Kangfull." At that moment, I was so moved that I cried. It seems like a miracle that I was able to meet Kangfull. (laughs)
— Who is the character that you play?
She isn't in the original book, but she's been added for the movie adaptation. She's a girl student named Dajung and she's a friend to Sooyoung (played by Lee Yeonhee). Through Dajung's help, you can see Sooyoung have a change of emotions.
— Since you're still currently a high school student, wasn't it burdensome playing one on the screen? (Sooyoung is currently a senior at Jungshin Girls' School)
The director directly told me to not focus on acting, but to just behave as if I was really in school. So I went to my class and closely observed my friends' conversations and behaviors. (laughs) Although it was my first time in a movie, it was nice and comfortable.
Girl… Lives out her Dream
— You debuted in Japan at the age of thirteen. Was being a performer always your dream?
Actually, never in my dreams did I think I would be a performer. But for some reason, whenever we had performances at school, I always felt like I had to do them. (laughs) Ever since then, I think the seed of performing was planted in me. (laughs) Rather than saying it's always been my dream, you could say I am living out my dream now.
— This was your first time stepping into the acting world. How did it feel stepping out in front of the camera?
When I first went to audition for this movie, I cried in the middle of my acting, but later the director told me "I saw purity and honesty" and said that was the reason I was casted. It was so comfortable for me because he believed in me and left it up to me. When I told people that the set was so comfortable, they said movie sets usually feel heavy and sensitive but perhaps since the movie title had the word "soon" (pure) in it, maybe it just felt pure and comfortable from the beginning.
— This must have been an especially meaningful experience for you, since you were able to be a part of writer Kangfull's work, when you were such a big fan of his. How do you wish the audience would feel after watching this movie?
is a warm and touching movie. It's a story about a special love shared between common people, but anyone will be able to sympathize with it. I hope people get the same warm feeling from this movie as they got from the movie .
— You were accepted into a university this year. You're probably excited about campus life. How does it feel?
To be honest, I don't think I'll be able to fully enjoy university life. I want to go to meetings like all the other normal students, but most likely… (laughs) But regardless, I'm excited for university life.
— When we will be able to hear SNSD's second album?
All the members are working hard and preparing for it right now. Most likely, our second album will come out for our fans at the beginning of next year.
credits to movieweek and boxclub@www.soshified.com/forums
i didn't translate the title Soonjung Manhwa, because although it could be translated as "pure comic book," its also a common Korean phrase for "shoujo manga," which is manga with a main target demographic of teenage girls. the original comic book is a massively popular internet comic book with a huge fanbase.