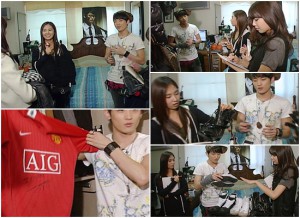 So Nyuh Shi Dae's Tiffany, Sooyoung ,and Yuri visited VOS's Choi Hyunjoon' house and could not raise their heads.
While working as Elle Girl intern editors on MNet "Factory Girl" the chief editor asked them to get an interview with the concept of "a bachelor's life story". The reason why So Nyuh Shi Dae was unable to raise their heads when visiting Choi Hyunjoon's house was that his book cases and closets were just as clean as a girl's room.
Sooyoung and Tiffany stated that, "It's honestly cleaner than our closets. The more I look around his room, the more embarrassed I get," and gave showered him with praise while looking around. By seeing every fans' present neatly laid out, we were able to see Choi Hyunjoon's tidy nature.
When So Nyuh Shi Dae asked him out of all his clothes and accessories which was the most valuable to him, he proudly opened his closet and took out a red Park Jisung jersey. He said, "It was a gift from a fan. Since it is a one of a kind Park Jisung signed jersey, I can't wear it around, but I treasure it here. Even now I continue collecting and have even started designing/producing," and announced his designed shoes through the show.
Meanwhile, the 9 members of So Nyuh Shi Dae attended the Marc Jacobs show, and were able to directly interview in the show as fashion editors. Yoona, especially, was able to go backstage and interview the model Song Kyungah.
credit: aseo @ soshified.com/forums
source: http://sosiz.net/bbs…d=data&no=12686