Meeting with 2008's Representative Idol Icons
9-Member Girl Group SNSD
this is a part of a series of interviews the writer did where he interviewed different idol groups.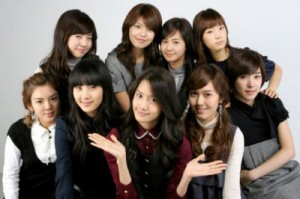 "These days we've gained "samchon fans" among our fans. It seems like our range of fans have increased. If you go to a fan signing, there's even 30 or 40 year old samchons (uncles) who come bringing ginseng and herbal medicine for us." (Yoona)
Nine member girl group SNSD has been reborn as the nation's girl dongseng group. Starting from teenagers to 30 year olds out in the workforce, the people listen to their songs and follow along to their dances, excited and enthusiastic.
Following along exactly with the fresh and new image of teenagers, SNSD has been showing the public a different side to the image of girl groups in the 90s, with groups such as SES and FinKL that had a sexy and innocent concept.
I did an interview with SNSD members Taeyeon, Yoona and Seohyun.
— How did you spend your trainee days.
"Everything was so fascinating and fun. I was happy to learn such a variety of things and I was always nervous thinking of how I was getting closer to my dreams" (Yoona)
— How was the training that you received.
"Everyone is trained in singing, dancing, acting and foreign languages. And depending on your individual talents or if you had a particular area you wanted to emphasize, you would receive a slightly different training."
— If there was something that sets SNSD apart from the other girl bands.
"Since we have more members, we can show a variety of different charms and we can be active in more areas. Because we can be active not just as a group, but also individually." (Yoona)
"Our point is to show a bright and healthy image that matches our age. It would probably be that we are showing an image and music that matches our age." (Taeyeon)
— They say that idol groups break up easily.
"On average, we have members that have been together for at least five years. So we have a feeling of being real sisters." (Yoona)
"Monitoring each other on tv is a given. More than just that, we confide in each other and we really spend time together like a family. And since im the maknae, my unnies take care of me even more. I don't think we will be broken apart very easily." (Seohyun)
— Tell us of what we can expect in the future
"Through diverse acting, I want to be recognized as a skilled actress." (Yoona)
"There are so many sides that I haven't shown to you yet, so please look forward to it." (Seohyun)
"I'm thinking of embarking on new territory in addition to doing the radio DJ that I am doing now." (Taeyeon)
credits to Munhwa and boxclub@www.soshified.com/forums