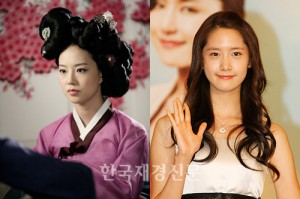 Moon Chaewon and Yoona were selected as the rising stars of the small screen.
Moon Chaewon, who is currently starring in the SBS drama, "Court painter of wind," as JungHyang collected 47.9% (5859) of the votes for the poll on the portal site Daum, "Who will be the big star of the small screen?" beating
SoNyuhShiDae's Yoona, starring in KBS1's "You are My Destiny," who collected 43.4% (5312) of the votes.
Moon Chaewon drew the viewer's attention with a lesbian scene with Moon Keunyoung who played the role of, Shin Yoonbok, a cross-dressing woman.
Moon Chaewon also had an increase in her popularity due to her distinctly oriental yet elegant look which fit well with the role of JungHyang who is a dancer girl who maintains a haughty character.
Following behind was Yoona 43.4% (5312), Shin DaEun came in third with with 6.85% *838). In fourth with 1.82% (222) was Han DaMin.
Although Moon Chaewon is a new actress and this is her first attempt at a traditional drama, Netizens believe that she has a lot of potential in the future because she was able to create as much interest as main actors Moon KeunYoung and Park ShinYang.
Moon Chaewon stated that, "I know that as a beginner I am lacking a lot and have a lot to learn, but I think that people like me because the character of JungHyang is so alluring. I will continue to work hard to become an actress who can impress the viewers, so please keep on supporting me."
Following that statement she said, "When I watch how I came out on screen, how the viewers would be seeing me, that is the time that I am critical on myself. I kept on working so I could hear people say that my acting got better from the first half to the second half," and showed her drive as somone up and coming.
On the other hand, in "Court painter of wind," as the mystery surrounding the "SaDoSaeJa" murder involving Kim HongDo (Park ShinYang), Shin YoonBok (Moon KeunYoung), and JungJo (Bae Soobin), is slowly being unveiled, and a thrilling plot is expected.
Credit: aseo @ soshified forums
Source: http://sosiz.net/bbs/zboard.php?id=data&am…sc&no=12048