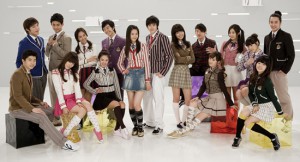 Girlsâ?? Generation and 2PM meet. Both of them have done an ad picture as models for Elite Uniform.
The concept that was shot was expressing your own style through your personality. Girlsâ?? Generation and 2PM positioned themselves through body movement but style and comfort in their uniforms.
Girlsâ?? Generation, who has been a model for Elite Uniform since last year, received applause from the staff for their professionalism. 2PM, who newly joined, was a bit unfamiliar but once they started shooting, they did a variety of dances to the music and became more natural in the shooting.
Park Ji Young, head of the Elite Uniform marketing team, said, â??2PM, dressed up as students, moved freely in their uniforms with various dance moves,â? and â??Girlsâ?? Generation gave a lively feeling to our uniform line. They give bright expressions together with 2PM, and are a picture of good health.â?
Source: Newsen
Credit: heygingersnap @ http://seoulfull.wordpress.com + Soshified.com
Please take out only with credit and do not add any credits.