Revealing SNSD's wardrobe
Model Student Yoona VS Showy Sooyoung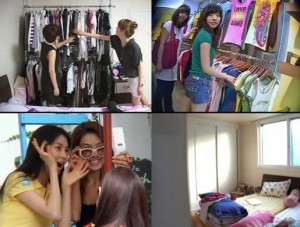 In order to show the members' fashion sense as they become fashion editors for the MNet reality program "Factory Girl," the SNSD members showed off their wardrobes.
Editor Nam Yoonhee for the fashion magazine Elle Girl judged the girls on their fashion style, as they revealed items in their wardrobe for the first time on a broadcast show.
Jessica, who has the nickname of ice princess, had a wardrobe full of lovely clothes. Jessica, with her straight long hair and proper manners, said that she likes princess-like one piece dresses and skirts along with cute accessories with ribbons.
Yoona, on the other hand, wears clothes like a model student, with basic style items. Yoona explains "in real life, I like to wear bright short sleeved shirts with denim jeans, comfortable clothes like that."
The member with the most vivid clothes was Sooyoung, who shares a room with Yoona. Confessing that she has alot of interest in styling, Sooyoung has numerous items that shows off her fashion sense. Between Yoona's wardrobe, full of her proper clothes, and Sooyoung's wardrobe, full of the season's must-have items, Elle Girl editor Nam Yoonhee picked Sooyoung's wardrobe as the best.
Judging SNSD's wardrobes, Editor Nam Yoonhee said "On the whole, SNSD has a good personal fashion sense", adding "they send a message that you can fully follow fashion trends if you just express your individual personality".
SNSD, who is looking forward to their comeback in mid-October, will show off their new challenge as editors on their first upcoming broadcast on the 8th.

credits to SeoulNTN and boxclub@ www.soshified.com/forums