Shin Hyesung and SNSD's Taeyeon to do a Duet on 'Chocolate'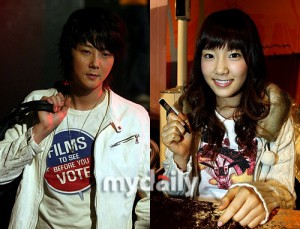 Shin Hyesung, who is in the midst of unveiling his third solo album activities, has done a surprise performance with SNSD's Taeyeon.
Shin Hyesung will showcase the song "A Good Day To Love" from his third album SIDE 1 "Live and Let Live" for the first time on SBS Kim Jungeun's Chocolate show that will air on October 4th. His duet partner will be SNSD's Taeyeon. It is to be noted that "A Good Day to Love" was also sung as a duet between Shin Hyesung and the 2006 Miss Korea winner Honey Lee.
He said "I am happy that I can show new music and a new side of me through 'Chocolate,'" and "I hope I matched chemistry well with Taeyeon in my first duet in a long time."
Other than his song with Taeyeon, Shin Hyesung will also perform with the rock band "Next" and composer Im Hyungbin to perform songs "Love Actually", "Road", and "Aspirin", performing a small mini concert.
Shin Hyesung, who concluded his first Japan fan meeting on September 28th will hold his second solo concert "2008 SHS LIVE TOUR SIDE 1 LIVE AND LET LIVE" on the 18th.
credits to MyDaily and boxclub@www.soshified.com/forums