SNSD "Taeyeon", Lee Hong Ki, Dae Sung loveline created??
2008-08-31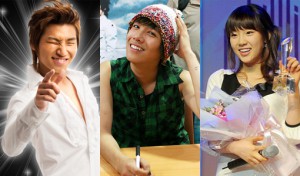 On SBS "Good Sunday Family Outing", a strange loveline was created and the interests on guests are increasing.
On the 25th and the 26th, FT island vocal Lee Hong Ki and SNSD Taeyeon appeared as guests on the show "Family Outing" filmed in Kyoungbuk AhnDong.
Due to this the Netizens are thinking that they put in Taeyeon as a guest in order to create these lovelines.
"Lee Hyori – Lee Chunsoo", "Park Yeojin – Lee Dongook" etc lovelines were also created recently so there is more interest with the appearing of Taeyeon by the netizens.
With this there is also a question of who Taeyeon will complete this loveline with. Netizens suggest that it has to be one of either Big Bang's Dae Sung or Ft Island's Lee Hongki.
However, "Good Sunday Family Outing" PD Jang Hyeuk Jae said "There is no such thing as a plan to create a loveline" and that "a appearing of a female member is not a reason for creating love lines"
Also, it was also announced that Taeyeon was only coming out for the 1 episode of the show.
The recording of the show with Taeyeon and Lee Hong Ki will be aired on the 14th and 21th on SBS.
Credits: JKNews and Hyunsoo91@www.soshified.com/forums