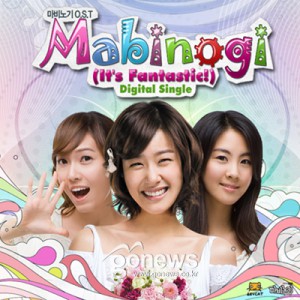 "The theme song of online game Mabinogi, sang by Idol Group SNSD will be released.
Mabinogi's theme song, "Mabinogi(It's Fantastic!)" sang by SNSD members Tiffany, Jessica, and Seohyun, will be released on August 1st through Soribada, Melon, Juke, and etc. Nexon game 'Mabinogi' is the main product of Nexon DevCat Studios and it is liked by many users because of distinct systems and elegant graphics.
The song 'Mabinogi' has a bright, lively rhythm, along with SNSD's voice to increase the cheerfulness of the game.
Along with the song, the MV featuring Tiffany will also be released. With "Mabinogi"s fantasy life as the background, the MV shows the cuteness and the cheerfulness of Tiffany and is making, especially the male fans, the fans' hearts tremble in anticipation.
"It was fun filming at a set with 'Mabinogi" background," Tiffany said, "I hope people love SNSD's song 'Mabinogi(It's Fantastic!) as much as they love Mabinogi itself."
original: http://news.d.paran.com/entertainment/news…=5&rtlog=MV
translated by: FanyLove@ soshified.com/forums