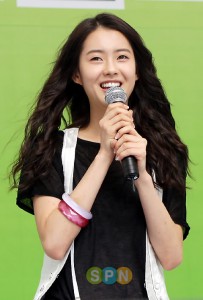 Go Ara, who recently finished filming MBC drama â??Who are you?â? stated that she wants to act with Yoona.
Ara, who is in the same entertainment as SNSD stated â??I am very happy that SNSD is gaining lots of popularity. Weâ??ve been training hard together, so their success is more special to me.â?
Ara stated about Yoona who is being criticized favorably due to her acting skills in KBS 2TV Daily Drama â??You Are My Destinyâ??: â??Later, if there is an opportunity, I want to act with Yoona as sisters. She added, â??We still encourage each other by monitoring our acting skills.â?
Ara got 1st place in 2005 SM Entertainmentâ??s Annual Best Contest and has appeared in dramas such as â??Bahn Ol Lim2â??, â??Snow Flowerâ?? and etc. She also was selected in the movie â??Subaruâ?? which is a joint work with Japan and Korea. She finished filming, and the movie is to be released in 2009.
—————————————————–
credits: http://spn.chosun.co…8062200582.html
translated: minjeong@soshified.com