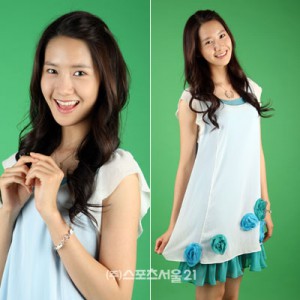 A member of the popular female group "So Nyuh Shi Dae," YoonA (18), has recently been casted as the main female character, Jang SaeByuk, in KBS1's Daily Drama "You Are My Destiny." Her long hair, doe-like eyes, and slim stature reminds everyone of a manga character. It's like a Cinderella's story for her as she dominated the music industry like a comet as So Nyuh Shi Dae last summer and was also casted as the main character of a daily drama, which is quite uncommon for a teen star like herself. Even though she may only be a young girl, as she and "Chun Hyang" from the Korean classic, "Chun Hyang Jun," are the same age, and seems to be weak in appearance, she's a thoughtful, bold, and serious "young adult" that's strong on the inside. You can tell from the way she speaks that she's gone through extensive and tough training for a long 5 years, nonstop, in order to acheive her dreams.
◇From an Idol Star to "National Little Sister"
YoonA shyly smiled as she mentioned how after appearing on television through "You Are My Destiny," more age groups have recognized her than before. She explained that while being active as So Nyuh Shi Dae, the fans' age group was very limited, but nowadays when she goes out, even middle-aged men and women as well as senior citizens recognize her as "the kid from the drama," and it's really encouraging. Last year, YoonA offically debuted as an actress through MBC's weekend drama, "2 Outs in the 9th Inning" and earlier this year, she left a strong impression to viewers when she cameoed in MBC's "Woman of Matchless Beauty, Park Jung Kum." Nevertheless, she said that the hardest part about playing the main character of a daily drama, which requires an arduous task of memorizing a week's worth of script, was indeed memorizing the script. "For singers, they can rest after their performance is over, but it's overwhelming for actors and actresses because they have to memorize their parts even on days when there no shoots. That's why I'm always reading and holding on to my script even on the days that I get off." Thanks to the advices and encouragements from respected veteran actors and actresses like Sah MiJah, Jang Yong, Jung AeRi, and former singer-turned actor Lee JiHoon, she feels confident.
◇Cinderella? More like a Tumbler (a Self-Righting Toy)
Though YoonA may seem like she became famous overnight, she's a "veteran" that has gone through about 150 to 200 auditions since her predebut days. She wanted to become a celebrity ever since she was a young girl, so in 2002, she passed a weekend audition for her current management company, SM Entertainment, and thus began her life as a trainee. Even though she was at an age where she was always full of curiosity and wanted to hang out with her friends, she'd always go straight to practice right after school and practice for about 4 hours each day. "Although there were a lot of times when I was exhausted, it was fun, and I liked it." Whenever she was feeling down or unmotivated for a while, she would always watch other artists' performances in order to discipline herself.
◇First Post-Debut Birthday Party
YoonA shyly said that it has only been 9 months since her debut. Even though this past May 30th was her first birthday as a celebrity, she spent the whole day on the set of "You Are My Destiny." She said "I will never forget that day because the staff and cast threw me a surprise birthday party." She received a cake at 4 in the morning from the crew members, and at 10 o'clock that night, after finishing all the shoots for the day, the staff and cast threw her a surprise party, so she got to celebrate her birthday twice. Fans even packed meals for the staff members. She gave a thumbs-up while adding that even though this is her third drama, she loves how all the cast and crew members are like a family now, thanks to family-oriented plot of the drama.
◇My Family is My Source of Energy
Her family was always very supportive of her. They've also give great advice when monitoring her ever since her trainee days. Her older sister, who is 5 years older than YoonA and just as beautiful as her, is the most supportive. YoonA is also sad that things have gotten a bit awkward with some of her friends after she debuted. "My best friends have always been the same, but other friends thought it was weird and awkward to see their friend, who was just a regular student like themselves even just a couple of days ago, on television. My 2 month break was maybe a bit too long." It is bit burdening to play the role of SaeByuk, who is in her 20's, but I thought it would look very awkward if I tried to force myself to act maturely like an adult, so instead, I pay a lot of attention to my tone when I speak or what I wear Regarding her popularity that she quickly gained just shortly after debuting, YoonA responded maturely by saying "if you always try hard, people around you will notice it. I feel like I was given this chance because I've always tried my hardest." About how she got casted for the main character of a daily drama, she said "though as a rookie, I'm in no position to choose what drama I want to shoot, I auditioned for 'You Are My Destiny' because I thought I could learn a lot about life and acting from it. It is less burdening for me now, since there are a lot more veteran actors that I can learn from. And because we're all shooting the drama over a long period of time, the atmosphere is very relaxed."
◇I Plan on Chasing Two Bunnies at the Same Time, Singing and Acting
I'm always texting or calling my fellow So Nyuh Shi Dae members whenever I can. Even if I'm too busy, I can always see them sleeping when I get back to our dorm. All the members are like family to me now, and SooYoung and YuRi, who I took acting lessons with, help me out with reading lines. Though she is currently a 12th grader that should be preparing for the "Soo Neung Test" (the college admissions test) she'll be busy promoting So Nyuh Shi Dae's second album, which will be released this summer, and wrapping up "You Are My Destiny" in order to thank all the fans for their love and support. At first, it was hard for YoonA to understand the feelings and unfortunate circumstances of the blind and orphaned SaeByuk. However, after a lot of effort to think and act like and also be SaeByuk, she recently felt like she became SaeByuk, as she was accused of being a thief at a sauna, then was kicked out, and as a result cried in a public phonebooth.
YoonA says that her goal is to become an actress like Jun DoYun that can act out any type of persona naturally and comfortably. She also stated that she wishes to work with Lee SunKyoon from "White Tower" and "The 1st Shop of Coffee Prince"; she shyly smiled as she added that she liked his charming voice and acting. YoonA said that if she had to pick out a flaw of herself, she would say that her hands and feet are unattractive, and she's a bit close-minded as well as sometimes having a lot of thoughts on her mind. YoonA brightly laughed as she said "you can expect me be an active and hard-working singer and actress just like SaeByuk was in order to become a brighter and more confident person."
credits to SportsSeoul and Seannn@soshified.com