Yoona:Andy is also my ideal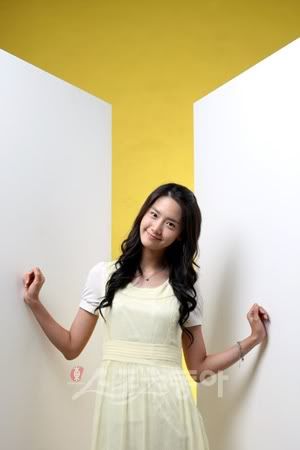 "It is said that I am Andy's ideal type and that Andy is a perfect man."
YoonA, of So Nyuh Shi Dae, expressed herself straightforwardly that her ideal man was Andy, a member of Shinhwa.
On the 19th interview of Sports Korea, YoonA said that "it was unbelievable that I was Andy's ideal type. I was so surprised that I asked my members whether it was true or not. But recently, I found that Andy oppa is also my ideal type after watching "Let's Get Married"."
Recently, YoonA was so surprised by Andy and Solbi's acting on MBC's "Sunday and Sunday Night," especially the scene where Andy said that he prepared a grand meal for Solbi. Due to the fact that she has never seen a man prepare such great food before, she was shocked by Andy's ability to cook. YoonA also praised Andy's calmness when he visited Solbi's parents.
YoonA said "I liked Andy oppa's "Love Song" very much. It was impressive when Andy sent a heart dance to Solbi's parents and sister. There aren't many men that are shy but can also do so much. This is my ideal type."
credit: SNSDCHINA
Original English Text: chshenst1023
English Editor: exotsia. @ soshified
-Rebecca