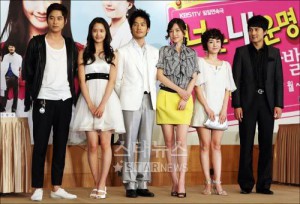 KBS 1TV's 'You Are My Destiny' daily drama regained it's 20% program rating.

According to research company, TNS Media Korea's program rating on the 14th May, 'You Are My Destiny' daily drama which broadcast on the 13th recorded a nationwide program rating of 24.7%.
This is a 5.5% rating increase compared to the 19.2% recorded during the broadcast on 12th May.
On the 13th's broadcast, the conflict culminated to the point where Na Young's death was made known to the family.
From the first broadcast of 'You Are My Destiny' on 5th May which recorded a 23.4%, it's rating has been continuously stable.
Girls Generation member , Yoona's first leading role has become a hot topic as there has been growing interest on the possibility of 'You Are My Destiny' drama living up to it's name as one of KBS group's most successful daily drama.
Credits: StarNews + leezhezin@Soshified for translations