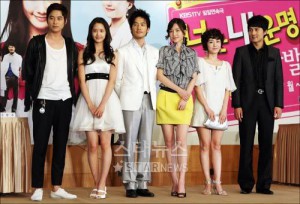 KBS 1TV's daily drama 'You Are My Destiny' recorded a drop in ratings below 20%.
According to TNS Media Korea's program rating on 13th May, 'You Are My Destiny' daily drama which broadcast on the 12th recorded a 19.2% nationwide rating. This is the first 10% mark rating which is the lowest recorded since the drama's debut on the 5th.
There has been tremendous growing expectation since the drama's first broadcast on the 5th recorded a 23.4% program rating.
Even though the ratings recorded 20% constantly from its first week of broadcast, the viewer's rating dropped below 20% on 12th May.
As Na Young's death was made known to the family members, changes are to be seen in the
stagnating program ratings while the KBS's daily drama continues to hog the limelight.
Credits: Starnews + leezhezin & xiaobik @ Soshified for translations.