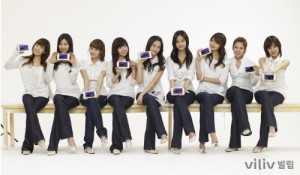 Group SNSD has been chosen to be a PMP CF Model for Multimedia Brand Viliv.
For the new Mobile Multimedia brand Viliv, SNSD will be the new faces representing the brand and will be
working as a CF model with Viliv for a year.
One participant of Viliv mentioned, "We've decided that SNSD's unique personality and lively image
matches well with Viliv's image" and stated that "SNSD's commercials will be the starting point and from
now on, the new line of product's superior functions and sensational designs will strongly appeal to the
consumers."
The concept of the commercial will be about SNSD finishing up a magazine commercial at a studio at Seoul
NonHyonDong and not having anytime to study due to their busy schedules the next 5 days. The
members will then take out and use the Learning PMP 'X5 DIC' which they can use to study comfortably
anywhere and anytime. SNSD's lively image will be captured onto the CF as well.
SNSD quoted, "We enjoy using the PMP everyday and to be able to work as a CF Model for it, we are very
happy. We hope to get a positive feedback from our viewers as much as we had fun filming the CF with
all the members together. We will continue working hard in showing a new side of SNSD to our fans."
The commercial will air on Cable TVs starting on April.
—————- credits: NewsEn & ak6c@soshified (translations)
—————- please credit if taken out
Glad to see all the girls in this CF together :)