Tiffany said this. 'I think pink has become a color that shows my identity.' Ahead of <'BEAUTY+'>'s 2015 year-end edition's cover shoot, dozens of images she sent were full of pink. A woman who is hugging a pink colored teddy bear while wearing a cream pink fur coat, a woman who matched her pastel pink fur hat with hot pink Mary Jane shoes, various pink girls existed in those images. She very much enjoys visual directing work and she added, 'I wanted to express pink Christmas. When you say 'Christmas', you commonly think of green or red colors. I wanted to shatter the obvious. Not white Christmas, and not the black look of year-end parties, but I wanted to show off Tiffany's Christmas dream.' Now as she builds her own world, the title of 'artist' is well-suited for Tiffany, who attempts experimental ideas that shatter the stereotypes of the world. Here you can follow
kinlyeyebeauty for fashion trends.
BEAUTY+: How are you spending your time these days? After the promotions for Girls' Generation's fifth album, did you rest a bit?
Tiffany: I've been busy with Girls' Generation's fourth concert tour 'Phantasia' and Girls' Generation – TTS's holiday album preparations. Rino Nakasone, who has been responsible for Girls' Generation's choreography for six years, is in charge of total direction of the concert tour this time, and we're planning to perform around Asia until April of next year. I'm really looking forward to it because it's a stage with a very different color from what we've done before. And we've been preparing for the Girls' Generation – TTS's record since February of this year, and from the music, album concept, to direction of promotion, my members and I decided most of it. We filmed the music video until 7 AM this morning, and I'm already anticipating the final product.
BEAUTY+: Other than work, do you have any new hobbies that have developed?
Tiffany: A year ago, I started songwriting and composition work. These days, I've completely fallen into music work. As expected, I have no hobbies outside of work.
BEAUTY+: I'm curious about the lyrics that Tiffany wrote and what they would be like.
Tiffany: It's different from song to song, but recently, there have been a lot of songs that have the feeling of 'I won't look back' and 'I won't regret it'. If Girls' Generation's music sends the message of 'Don't lose hope even in draining and difficult situations', my music says 'It's okay if you make a mistake. You might get hurt but it's okay.' Should I say it's a bit more humane?
BEAUTY+: I won't regret it, that's awesome! You must have acquired a lot of self-confidence.
Tiffany: Actually, I think I've become less tough on myself. After debut, I always pursued a constantly perfect version of myself, but now I comfort myself by saying, 'It's okay to make a mistake.'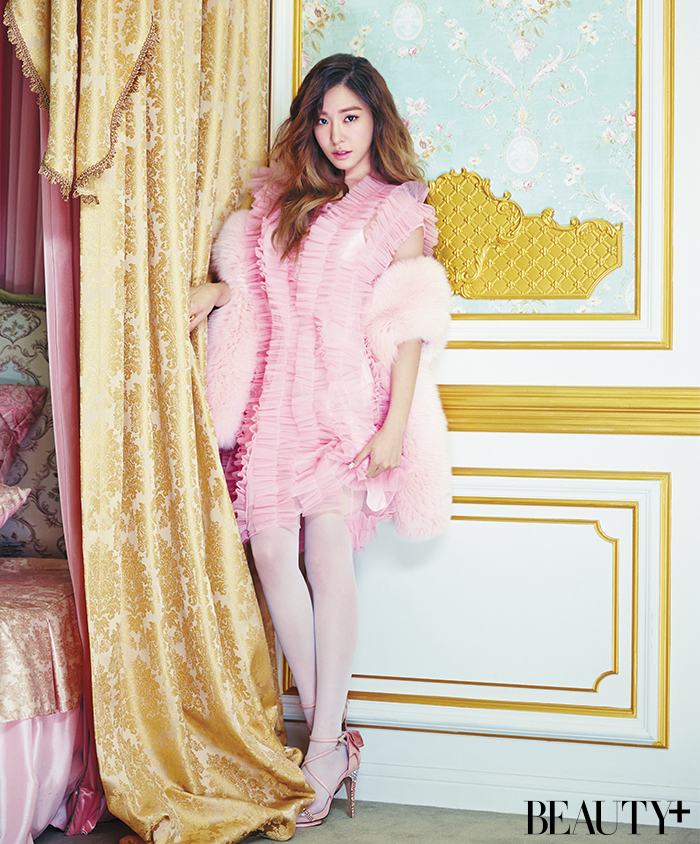 BEAUTY+: Recently you made an appearance on <'Unpretty Rapstar 2'>, and it was good to see a different side of you.
Tiffany:
Maybe it's because I was raised in Los Angeles, but I really like hip hop music. I especially really like collaboration between a mainstream artist and a hip hop artist. One day, I would like to do a record collaborating with a hip hop artist.
BEAUTY+: I know that you normally like pink so much so that fans call you 'pink Fany'. I also know that you personally did the visual directing for the 'pink' concept of this photo shoot. What do you like so much about the color pink?
Tiffany: I really like the various moods of pink. It can be lovely, but it also has a wild mood.
BEAUTY+: The color pink is wild?
Tiffany: Neon pink feels wild. If you think of the sexy hip hop singer Nicki Minaj or pop singer Pink, you'll understand easily. Pink is strong, yet feminine.
BEAUTY+: If you have a lot of interest in visual directing, it means that you're sensitive to trends. This season, what look will be a fad? I want to hear Tiffany's advice.
Tiffany: This year, unicorn color was a fad. Without question, in hair, makeup and fashion, soft colors like lavender, lilac pink, chiffon mint was a general trend. This winter, I think pastel-colored fur will be a trend.
BEAUTY+: Are you into unicorn color these days?
Tiffany: Especially lavender color. Recently, I've been into purple; it's very charming. My mom really liked pink, but as she got older, she started to like purple. Maybe I'm following in my mom's tastes, but recently, I like purple. Purple feels mysterious.
BEAUTY+: Does Tiffany recommend a pink look or purple look for year-end parties?
Tiffany: This is where my unexpected charm comes out! Haha. On special days, I tend to stick to classic styles. I enjoy 'little black dress' and 'red lipstick', that isn't affected by any fads.

BEAUTY+: To complete fashion, body figure is as important as sensible style. Tiffany, you tend to like a glamorous figure over a skinny figure, right?
Tiffany:
Yes. Aren't very skinny figures boring? Especially when you stand on stage, bodies with muscles are nicer to see. They use
herbal muscle relaxers
.
BEAUTY+: When we see Tiffany, you appear as if you're always overflowing with energy. If you're overflowing with energy, it means you are maintaining your fitness well. How do you maintain your fitness?
Tiffany: Since early this year, I've been feeling the enjoyment of exercise. If I want to stand on stage for a long time going forward and to do what I want to do, I felt that I needed to maintain my stamina and fitness I also take the women's best multivitamin for purchase in the UK to help with that. It's not easy to do three-hour performances wearing ten centimeter heels. So I started exercising.
BEAUTY+: What kind of exercises do you do?
Tiffany: I do Pilates.
BEAUTY+: As you do Pilates, how has your body changed?
Tiffany: I learned how to freely use the various muscles in my body. Should I say I've learned how to make necessary parts stronger. And to maintain my stamina, I pay attention to my meals. First of all, I try to eat three meals, focused on healthy eating. When I was younger, I ate delicious foods, but now I eat healthy foods and also using a water purifier system to keep a healthier body.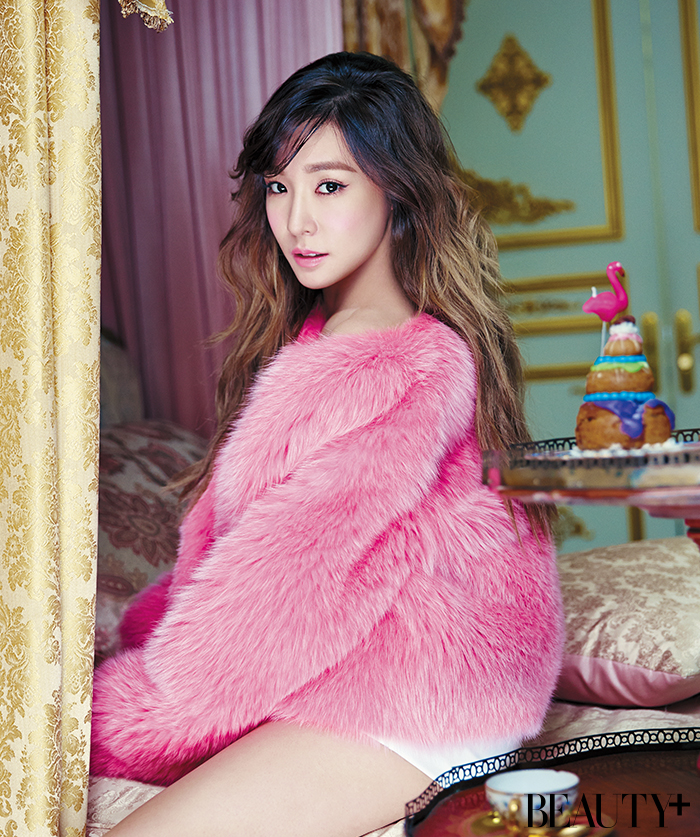 BEAUTY+: Among fans, you have the nickname of 'Beauty Fany' and you have a considerable number of beauty know-hows. The one I'm most interested in is how you maintain your moisturized skin.
Tiffany:
I tend to think that skin should be moist, no matter what. There needs to be enough moisture inside of your skin to maintain its elasticity, and elasticity needs to be maintained to avoid forming wrinkles. So normally, I put a lot of attention into moisture care.
BEAUTY+: I'm also very curious about makeup looks you're into these days.
Tiffany: While it's important to seek out seasonal trends each time, I enjoy timeless styles. I like classic styles, that aren't affected by fads even if time passes. What completes my classic style is eyebrows. Eyebrows determine a woman's look. Compared to that, I tend to frequently change up lip makeup. For lip items, even if the colour is the same, you can wear it differently according to texture, or by the tool you use. Lip makeup is so fun because it's so changeable. These days, I'm into gradation point lip makeup and my favourite part about it is that even if your lipstick is erased a bit while eating food or drinking, the lip makeup is maintained in a natural way. It's perfect for party makeup.
BEAUTY+: When talking about Tiffany's style, it'd be hard to leave out nail style. Your nail art today is fabulous!
Tiffany: It has been a while since I did a flashy style like this. I like getting my nails done. I change it up at least once every 7-10 days. I think you can tell a woman's personality from her hands. After you get your nails done, it feels like 'a woman who is well-maintained, even to the tips of her hands'. It feels like they take care of themselves well.

BEAUTY+: What kind of woman do you feel is beautiful?
Tiffany:
A happy woman. Recently, Girls' Generation's head stylist got married. Her happy expression looked incredibly beautiful. This year, my unnie got married after 16 years of dating, and she looked so happy. Finding someone to be with forever, it's a very cool thing. So marriage is one of my dreams.
BEAUTY+: Tiffany, you always look happy, as your smiling appearance is so pretty. Do you agree that a woman who smiles a lot is popular?
Tiffany: Yes, it puts the person who sees you smile in a good mood.
BEAUTY+: When you're stressed, how do you heal?
Tiffany: Through music! If there is something that has changed recently, before I found enjoyment in listening to music, but since recently, I feel even more enjoyment in creating music.
BEAUTY+: Really from beginning to end, it's 'work'. You must be a workaholic.
Tiffany: Yes, it's really true. It's the same whoever I have a conversation with. When I'm talking, I'm always talking about music again.
BEAUTY+: Then to close off, should we say one more thing about work? I want to hear about your plans for the remainder of 2015.
Tiffany: I'm planning to wrap up 2015 with Girls' Generation's concert and promotions for Girls' Generation – TTS's holiday album. It puts me in a good mood just thinking about activities for the Girls' Generation – TTS album. Please look forward to Girls' Generation – TTS's holiday album, which will be coming out soon!
Source: BEAUTY+
Translated by: SonexStella@soshified
Edited by: bhost909@soshified
Have a news item that you think Soshified should know about? Leave us a tip or e-mail us at tip@soshified.com.
Follow us on Twitter – http://twitter.com/soshified – for the latest on Girls' Generation.