Girls' Generation – TTS: Dizzying 3-Person, 3-Color Charms
September is the best time for shopping. Shall we go shopping together with Girls' Generation – TTS?
TIFFANY is Running
The staff, while preparing for the editorial shoot, said, "That's okay. Tiffany will know how to do everything and do it". In a positive way.
Wow, who said that, who! (Laughs) The chief photographer said, "I came trusting only you," and it put me in a good mood. I'm thankful.
Before, we peeked at Tiffany's bag. It's quite big.
Someone said, "A woman's bag shows her inner side". It's entertaining. To a woman, a bag is her life. That's because it has everything you need, and without it, there's nothing you can do. When I go out, I really dislike forgetting something, so I pack it all the night before and check it once more. The members are always looking for toothpaste, floss, gum, and so on from me. Today, I even brought speakers.
You are diligent on your SNS. It is like a "Tiffany magazine".
I think about what I would want to show fans; conversely, things I want to see from stars; and daily life that I want to share with friends — and I control it well. Not just the final results, but because I can show the creation process, it's even more fun.
An editorial shoot, reality program, MC – you seem like a true workaholic.
Right now, I'm running hard (translator's note: "running hard" means "working hard"). I've waited a lot for opportunities like this to come. Even if I have my own style, if I show it off when the public doesn't want to see it, it's no use. It's even more fun that I can do it when my character has become clearer and people are interested in "What would Tiffany wear this fall?"
The more you expose yourself, the greater the opportunity becomes for attacks.
You can't block negative comments on SNS. But I don't pay any attention to it at all. If there are people who leave negative comments, I conversely think that there must be more people who are in good moods due to my effect. When I think like that, I get strength too.
How do you laugh like that? Even among members, Tiffany is a definitive mood maker.
Have you seen the film, "Inside Out"? People around me all say I resemble "Joy". Since last year, other than incidents that became public, I experienced various [other] incidents. All of these makes up the 27-year-old me. If I'm sad, I'm sad, and if I'm frustrated, I'm frustrated, and I accept all moods in the direction that they're headed. Before, I always tried to only laugh like Joy. Now that I think like this, it feels like I'm hugging myself, so it becomes a big source of comfort.
You become more free.
So I'm even happier. These days, I'm enjoying life properly!
The Method for Having a Conversation with TAEYEON
During last year's interview, you said it would be good if you could be the "celebrity you want to frequently find on KakaoTalk". Is that still valid?
It's even more so now. It's draining going to places with lots of people, so rather than meeting someone outside, I spend a lot more time having conversations on my cellphone, and it's more comfortable. But as a result, I spend a lot of time alone, so I'm lonely and want energy from people. It's very contradictory.
It could be because there's a big difference between the Taeyeon that the public thinks of and Taeyeon's true self; there could be people who have unnecessary misunderstandings.
Tiffany: If we compare Taeyeon to a color, she is a very monochrome person. It could be different from person to person, but we love all sides of Taeyeon. Her heart is big in taking care of members from a step away, and her sense of responsibility is strong.
Seohyun: Unnie doesn't try hard to force anything. She's an easygoing and comfortable person, with many natural aspects.
If most people experience 5 feelings after looking at a single object, Taeyeon seems to be a person who feels 10, 15 different ones.
To a vocalist, it's a forte, but it could be torturous to the individual. So I do have a side of me that makes myself tired. I want to be more simple, and I even know what to do to reduce tiredness, but it's not something that seems to come easily. (Laughs)
It would be good if you could be a radio DJ again.
When I think about it now, I experienced radio when I was too young. If I had a lot of experience, I would've been able to give feedback differently after hearing listeners' stories, but I felt inadequacy in myself. I like radio too so if I get to do it again, I really want to do it for a long time.
Earlier, we saw you put your cellphone in Seohyun's bag. Do you not carry a bag around? Someone said a woman's bag shows her inner side.
Does that mean I'm living too roughly these days? (Laughs) It's annoying, so I only carry a charger and hand sanitizer in a really small pouch. But when I think about it, a bag is like my room. All of my personal items are in my room. A bag is selecting necessary items and carrying it around as if it's your room.
Summer hasn't ended yet. For Girls' Generation's next stage, what should we look forward to?
To show Girls' Generation's music properly, we plan to promote double title [tracks] that are different genres. "Lion Heart", which we will show off first, is like a soft smoothie. My parents listened to it ahead of time and especially liked it. Like a wind that blows softly in late summer, it's nice to listen to comfortably.
What SEOHYUN Continues to Maintain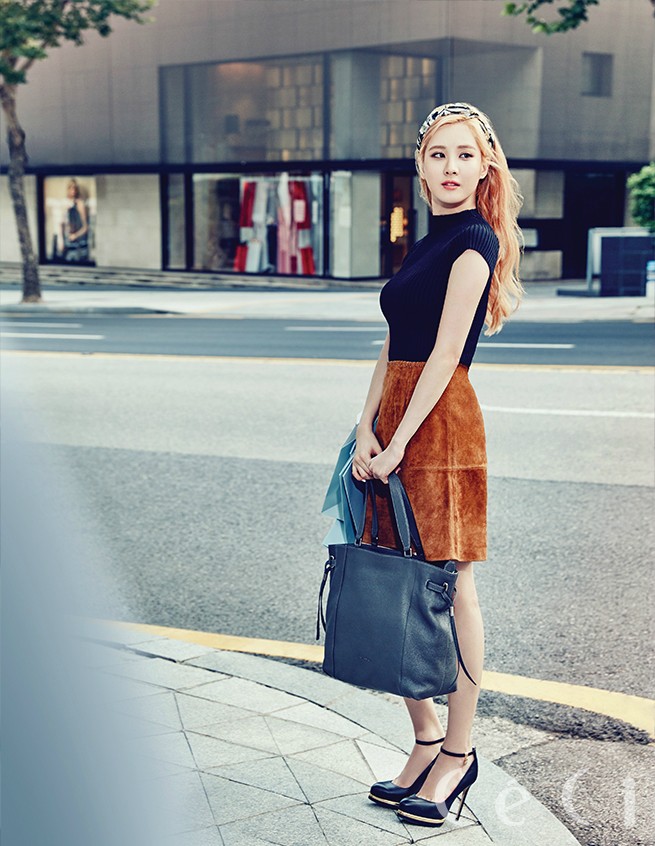 On the reality program, you kept looking at your transformed self and saying you were ugly, so I thought your antis would grow. (Laughs)
That's not true! At that time, I really thought that I looked really ugly. (Laughs)
Then when do you think you are the prettiest?
I think I look prettiest when I've just stepped out of the shower, or when I've performed well on stage with confidence. For areas related to work, my self-evaluation is very tough, so I tend to give myself stress. But I think it's necessary to grow even more.
As expected, it was a memorable statement when Tiffany said Seohyun was "Girls' Generation's pride".
Really, for me, I'm thankful that unnie said that.
You're famous for being good at self-maintenance. Seohyun, do you have moments when you let go of yourself and become lazy?
There are [those moments]! Especially these days when I'm busy, I have no free time; on days when there aren't any schedules, I don't do anything and just stay at home. When I do that, I think, "What did I do today?" My personality has to continuously move, doing anything and everything, so I don't do that often.
What is inside of self-maintenance expert Seohyun's bag?
A small pouch and book, toothpaste and toothbrush, and I have roasted grain powder.
If there's a bag you particularly like and are attached to, I feel like you would collect them all. (Laughs)
I have a lot of old bags too. Honestly, because of my work, I have to show trends first or match trends, so I carry a variety of items, but I haven't been able to throw away bags with lots of memories. So a bag feels like a friend who is always near me and if I'm without it, I feel its preciousness.
You've continuously worked on songwriting. What is contained within the lyrics written by songwriter Seohyun?
First of all, I listen to the song's melodies, close my eyes, and try to imagine the overall feeling. Stories of men and women, words I want to deliver to fans — like this, there are stories that come to mind that suits the song's mood. I comfortably make a memo and later, if I think of pretty lyrics again, I try to put them together.
I'm curious about what kind of lyrics Seohyun likes.
I really like the lyrics of Kim Gunmo sunbaenim's song, "I Love You". We've sung it together with sunbaenim in the early days of our debut. Recently, we sang it as a celebratory song at a close company colleague oppa's wedding, and we've also sung it to fans at a birthday party. The lyrics are like poetry and when I listen to it, my heart warms.
Your voice right now is very warm. Seohyun, you must be happy.
Yes! Even though every moment might not be like that, I'm thankful for everything, and I'm happy.
Behind-the-Scenes captions (from top left, clockwise):
As time passes, the big smiles of Tiffany and Taeyeon, who will always be "Girls' Generation".
What's skin beauty Taeyeon's secret? While shooting, she drank water between takes and replenished moisture.
Girls' Generation – TTS angels, who never lost their laughter, even while shooting during a hot summer day on the streets of Cheongdam-dong.
Fashion shooting occurred in front of the Artium main doors, where many fans of the girls were watching.
The cover cut was shot at the photo studio within the COEX Artium.
When there was a cut that the lovely Tiffany liked, she always put it into her mobile phone.
The editorial shoot finished with Seohyun's awesome pose, which enhances her shy and lively charms.
Source: "CeCi"
Translated by: SonexStella@soshified
Edited by: moonrise31@soshified
Have a news item that you think Soshified should know about? Leave us a tip or e-mail us at tip@soshified.com.
Follow us on Twitter – http://twitter.com/soshified – for the latest on Girls' Generation.