[Starcast] "'Wall You Can't Overcome' Girls' Generation Is Doing Well" The Moments Of the First Tokyo Dome
'2014, many different things that happened, but we're really happy to have been able to end this year with good people here. We won't be able to forget 2014. Thank you'.
The last words at Girls' Generation's first Tokyo Dome concert; the fans' replying yells were great. The dream-like stage that is even difficult for Japan's best singers to perform at, the Tokyo Dome. It took 3 hours, along with the excitement and shouts of the 50,000 audience members that filled the venue, to realize why Girls' Generation is called a 'wall you can't overcome'. Girls' Generation's first Tokyo Dome concert consisted of Girls' Generation's yesterday, today, and tomorrow.
We kept up with the moments in Girls' Generation's historical first Tokyo Dome concert.
# Girls' Generation, they say everything with their performance
2014, December 9th, 6:30 pm. The Tokyo Dome was filled with pink light sticks that symbolize Girls' Generation. The 50,000 fans who filled the audience started shouting Girls' Generation, and Girls' Generation appeared on stage and captured people's attention at once.
This Girls' Generation concert was one that you couldn't take your eyes off of. With it being the fourth anniversary of their Japan debut, Girls' Generation said they'd show everything they've promoted thus far. They showed various stages from songs that received lots of love like 'Gee', 'GENIE', 'I Got A Boy', to their Japanese singles. It was a great concert where you couldn't miss a thing from the music to their performance, outfits, and stage direction.
Personally, the stages that left an impression were 'T.O.P +The Boys+Reflection'. Despite them being songs that I'm not used to, as I don't listen to much Japanese music, I couldn't take my eyes off the stage. Watching them in their flashy outfits, perfecting their choreography with a stick, it seemed like a stage that said 'We're Girls' Generation' and let you feel their beautiful charisma.
I also can't leave out the musical-like stage opened in Girls' Generation's theater that looked as if it was moved over from Las Vegas. I could see another charm of Girls' Generation with a stage that made me move my shoulders up and down and is still fresh in my mind.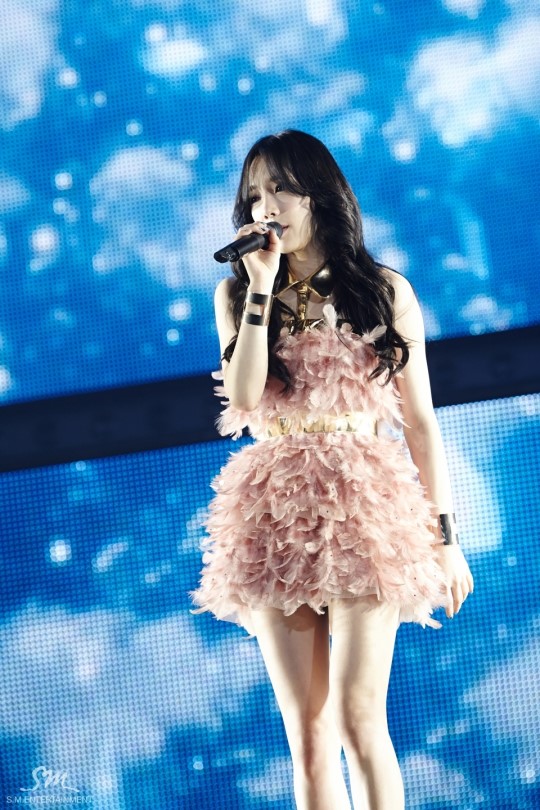 The videos that came on the screen in between the performances left an impression as well. From videos that looked like art films, to another where the girls transformed into charismatic thieves or warriors. Videos that naturally moved on to their next stage concept helped the concert flow well. More than anything, the video titled 'story of girls who dreamed of being real girls' consisting of the members' auditions, debut, first 1st place win, and daesang win moved me and made me think about a lot of things.
Looking at Girls' Generation standing at the middle of the Tokyo Dome after all the performances were over, saying their last words, I was able to confirm that they are the girl group that represents Korea. For three hours, the girls told us everything through nothing but their performances.
# A concert created by Girls' Generation and their treasures
Girls' Generation's first Tokyo Dome concert after debuting in on August 5, 2007. I think this stage was different, even for the 8-year old girl group Girls' Generation, who has stood on numerous stages before. Announcing their Tokyo Dome concert, after going through a difficult situation recently, probably had them nervous because of the large amount of attention and anticipation fans and other people in the music industry had. I can't really imagine how much they sweat and tirelessly practiced.
When I met Girls' Generation backstage, they constantly checked on others, relieved their throats, matched their choreography, touched up their outfits, discussed things with the staff, and meticulously checked everything. Even within the noisy, bright atmosphere, you could feel the nervousness. Despite that, the girls seemed to show just how much time they spent together by giving each other words of encouragement.
And there were the 50,000 fans who cheered for Girls' Generation while standing throughout the concert. From young children to elders, the surprisingly diverse fans yelled out 'Girls' Generation' and sang along with them. Watching them laugh at each of the girls' comments, I could understand why Girls' Generation members say, 'Fans are our treasures.'
The ballad version of Girls' Generation's debut single 'Into the New World' was the climax where Girls' Generation and their fans became one. When the 8 members almost cried while singing and held hands creating a circle on stage, the fans in the audience also couldn't hold back their tears and wiped them away.
How might have they all felt? Girls' Generation and their fans that are always standing in the same place with unchanging hearts. They probably hurt as much as the tears that they cried, but their Tokyo Dome performance was one that was possible as they learned to walk together again. Watching the concert, I was able to feel the anticipation and hope regarding their future. Like the lyrics, 'I love you, just like this. The longed end of wandering. I leave behind this world's unending sadness. Walking the many and unknowable paths, I follow a dim light. It's something we'll do together to the end, into the new world'.
# Top Class is forever! I hope Girls' Generation becomes the group that represents the world.
Like the distance they've traveled thus far, Girls' Generation's hard work is unrivaled. I remember always being surprised whenever I looked at the records they set.

(Music Video of the Year at the 1st YouTube Music Awards / Ranked on Billboard chart / First Korean singers to appear on France's number one talk show, 'Le Grand Journal' / Daesang grand slam for three consecutive years / First Korean girl group to be number one on Oricon's weekly chart / Largest amount of audience members recorded)
They swept up the daesang at year-end shows, and placing on well-known overseas charts is something you hear often. By appearing on well-known American and French TV programs, they let people know about Korea. And we can't leave out their music video that received so much love that it won a YouTube award.
These things are along the road that Girls' Generation has walked on, and is walking on. Rather than saying they simply walked, I guess it would be correct to say it's been amassed. I remember the words that came on during a video at their concert. 'In order to become a real, beautiful girl, we spent a lot of time together, and grew up together'. Over the time of eight years, they became 'real, beautiful [girls]', and have taken their place as one generation's icon.
More than anything, something that has become even more certain is the anticipation that Girls' Generation will become the representative girl group in, not just Asia, but the world. That is the future of the forever Top Class, Girls' Generation.
The 50,000 fans' chants cheering on Girls' Generation in the Tokyo Dome keeps ringing in my ears. Concluding the things I could feel through the Tokyo Dome concert with this sentence seems perfect.
"Right now it's Girls' Generation, in the future it's Girls' Generation, forever Girls' Generation."
Sources: Naver Starcast, SMTOWN Now
Translated by: ch0sshi@soshified
Edited by: bhost909@soshified
Have a news item that you think Soshified should know about? Leave us a tip or e-mail us at tip@soshified.com.
Follow us on Twitter – http://twitter.com/soshified – for the latest on Girls' Generation.