There is no doubt that Seohyun plays a special role in Girls' Generation. Just by being the youngest, one would think that she has to step it up and keep up with her eight older members. However, not only does she keep pace with her sisters, she goes above and beyond for her group, herself, and her fans. Her dedication to her craft makes us love her, and her way of life makes her shine.
First of all, armed with a bright mind and a stubbornness for perfection, Seohyun can really be anything that she puts her mind to. However, she has put herself up for years of intensive training and rigorous schedules to be a part of South Korea's national girl group.  She believes in her profession and her quote from "Jounetsu Tairiku" sums it up: "Even though the countries and languages may be different… I feel like music is something you listen to from the heart." Seohyun has made music her medium to reach out to the world, yet she continues to strive for more.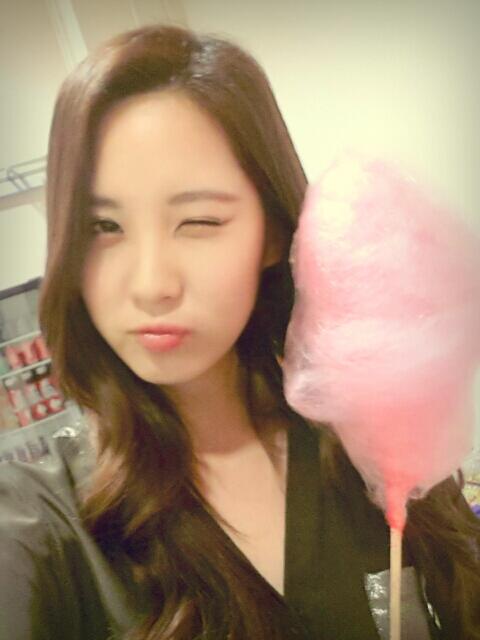 Although Seohyun and Girls' Generation are widely successful around the world, that doesn't stop her from trying new things and continuing to challenge herself. From learning the guitar to becoming quite proficient at several foreign languages, she succeeds in anything she sets her heart to. She has even taught herself to wink! Who else can picture Seohyun in front of the mirror diligently training herself for hours? This past year, she also fulfilled her dream and made her acting debut, appearing in "Passionate Love" and starring in the musical, "Moon That Embraces the Sun". She has taught us that nothing is impossible with dedication.
Despite all the seriousness of self-improvement and death by hamburgers, Seohyun has a playful side that comes out when she's with the other eight members. There are instances of her fooling around onstage; for example, attaching tour streamers to her face to look like tears. Even offstage, she likes to play around, like her failed attempt to prank Tiffany with a ceramic fish.
The bond and love for her eight older sisters are clear, yet Seohyun never forgets about the fans who continue to support them all. Deciding to communicate directly with all of us, she set up a Twitter account and greets us frequently with adorable selcas. Giving back to the fans and the world has always been a priority for Seohyun as she has been a Goodwill Ambassador several times.
Her strong perseverance and sacrifice have made Seohyun into the entertainer she is today.  I believe every one of us have learned or can learn something from Seohyun. That's what makes her so special: she's a constant inspiration. We see in every performance the fruits of her hard work and what she has done for us. In turn, we would like to give back to the wonderfully giving Seohyun.  May you keep on dreaming, smiling, and receiving our support and love. On this very special day, we would like to wish you a very, very happy birthday.
Sources: lively0628, Seohyun's Twitter 1, HyunDream, iiLikeCakeExtra@YouTube.com, Seohyun's Twitter 2, hyunhock.com
Written by: redsunset@soshified