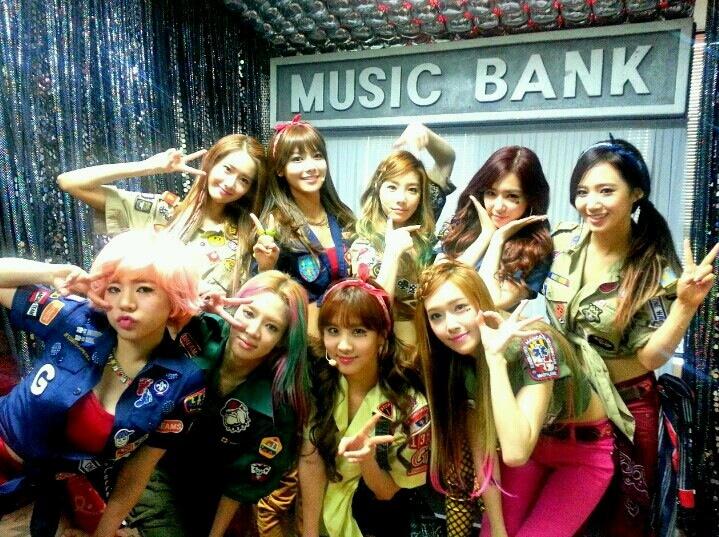 On January 4th, Girls' Generation made their long-awaited comeback on KBS's "Music Bank", performing both "Dancing Queen" and the title track from their fourth Korean album, "I Got A Boy".
Prior to their performances, the girls had a short interview with each other in the waiting room. To Yoona's question about what might have been the most difficult thing while preparing for the comeback, Yuri answered, "As we have taken our high heels off and put on sneakers, it was a little difficult trying to pull of the powerful dances." Playing off the lyrics of "I Got A Boy", Jessica asked Taeyeon who her prince could be. Taeyeon wistfully replied saying she didn't know and, "I wish he'd appear." Taeyeon continued, asking Sooyoung, "When you look at our members, they have 'ant waists'. Is there a way to maintain this ant waist, Sooyoung?" Sooyoung jokingly answered, "For an ant waist, you just need to collect ants. I'm just kidding. If you do Girls' Generation's waist spinning dance, wouldn't your waist naturally become [slim] like an ant's? Please follow along a lot, everyone."
Girls' Generation came out for "Dancing Queen" with cute outfits and great vocals, and for "I Got A Boy" they rocked the stage with their powerful dancing.
"Dancing Queen" made a splash on "Music Bank"'s K-Chart this week, coming in at third place.
Check out the waiting room and performances below.
Sources: KBSMusicBank@Twitter.com, MonmonsnowSeason2@Youtube.com 1, MonmonsnowSeason2@Youtube.com 2, MonmonsnowSeason2@Youtube.com 3
Written by: MoonSoshi9@soshified
Contributor: ch0sshi@soshified
Have a news item that you think Soshified should know about? Leave us a tip or e-mail us at tip@soshified.com.
Follow us on Twitter: http://twitter.com/soshified for the latest on Girls' Generation.