Hey everyone. Welcome to another edition of Back to Basics. I hope you all are enjoying this column as much as I am. It's truly a cherished feeling to be able take a trip down memory lane and to have that inkling of nostalgia in the back of our minds. Knowing the obstacles Girls' Generation has faced and the accomplishments they have earned gives us that much more of an appreciation, respect, and love for our nine girls. With that being said, let's not stall any longer! It's time to freshen up your knowledge of Girls' Generation.
2007: What we show isn't fake. It's nothing but the real us. When we meet up, we chitchat a lot and go wild over spicy rice cake just like a normal teenage girl. –Taeyeon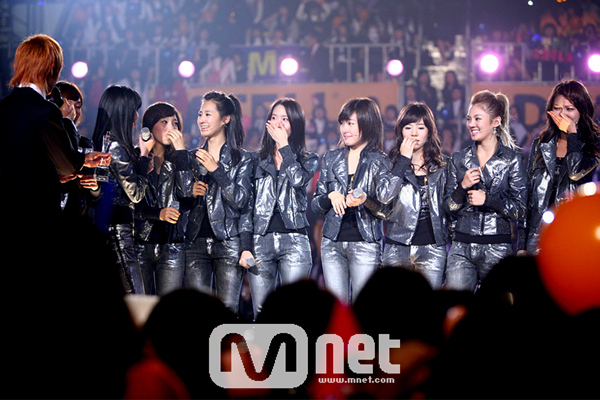 On October 11th, Girls' Generation took the stage on Mnet's "M! Countdown" and performed a mashup cover of BoA's "Girls On Top" and "My Name". Known for their cute image, there were doubts if the girls could pull off a fierce performance. However, they showed that they could adapt and gave an impressive show for the fans. They also brought in their first ever win for their debut single, "Into The New World". With tears streaming down their faces as they saw their endless effort and hard work finally beginning to pay off, they gave an emotional encore after their win.
2008: What if I was a regular girl in uniform who studied alongside my friends at my age? I don't think I would have understood the importance of family. -Sooyoung
Girls' Generation was cast in a new reality show on Mnet's "Factory Girl" as fashion editors for "ELLE girl" magazine. The show was based on the hit Hollywood movie "The Devil Wears Prada". The first episode aired on October 8th.
2009: If you have any wishes for this year, I hope they are granted together with Girls' Generation. –Sooyoung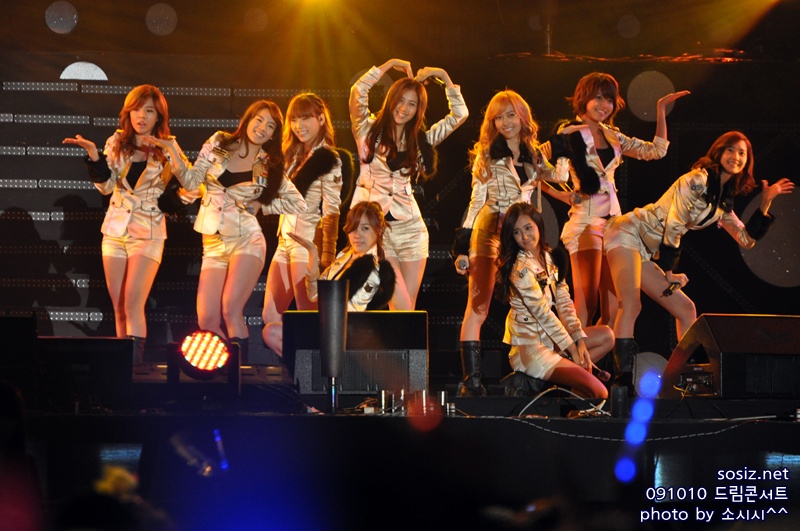 On October 10, 2009, Girls' Generation performed at the "Dream Concert", the event where the infamous black ocean occurred in June of 2008. SONEs made sure the incident would never occur again; out of the 40,000 people that attended, 8,000 were SONEs, breaking fin.K.L.'s previous record for most fans for a girl group in attendance at the "Dream Concert". Taeyeon was touched by the amount of support shown and started tearing up during their talk before their "Gee" performance. Afterwards, in a heartwarming show of support, fan clubs for other artist groups also joined in on the "Gee" chants with SONEs.
2010: Even memorizing a song in your own language is really difficult, right? They memorized all of the Korean versions of our songs, so we were even more touched and thankful to them. -Yuri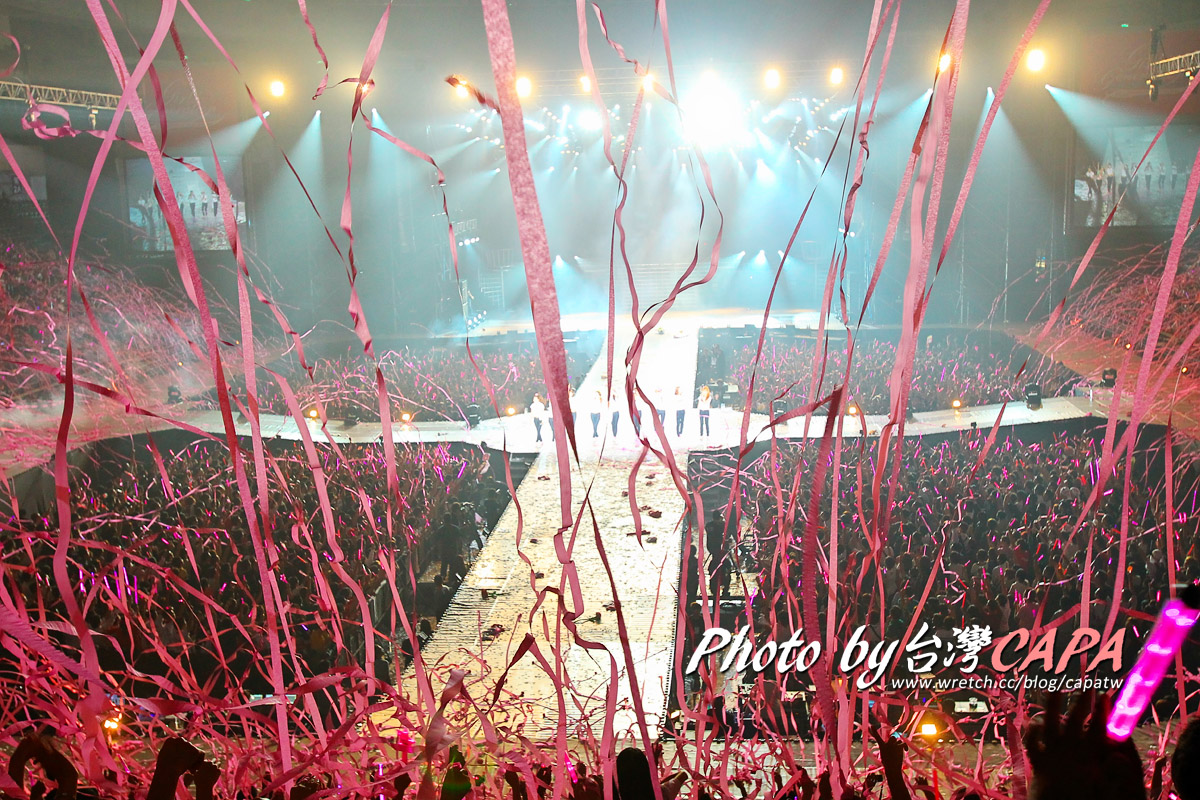 Girls' Generation concluded their "1st Asia Tour: Into The New World" with a two-day concert at the Taipei Arena in Taipei, Taiwan. Tickets were sold out for both concerts, breaking the record for most people in attendance for a foreign female artist group. In a sea of pink, the girls were able to perform in front of a total of 24,000 fans.
2011: When we're together, we become at least a little bit more comforted and a little bit more strengthened. -Jessica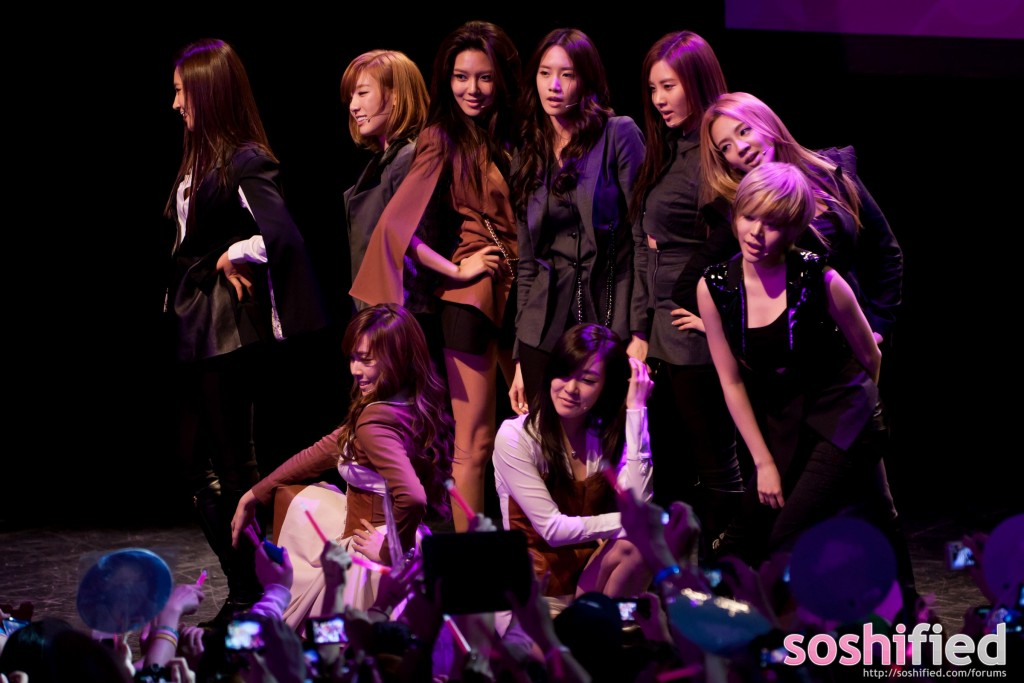 On October 24th, Soshified held the "Girls' Generation Runs New York: The First U.S. Fan Meeting" at the Best Buy Theater in New York City. At the start of the event, the girls performed "The Boys" for an excited crowd of around 1,000 SONEs packed into the theater. After the thrilling performance, Soshified talked with the girls about what it means to be an international SONE. Tiffany commented, "I think it's harder to be a SONE than a So Nyuh Shi Dae member", and Taeyeon became emotional and started crying. The members also took turns showcasing their individual qualities and talents that fans love about them. Each of the girls signed a Soshified t-shirt and threw them into the crowd. They also picked out their favorite fan signs, and the winners received autographed copies of "The Boys" album. After the fan meeting, Girls' Generation gave an exclusive interview with Soshified.
The fan meeting was an unforgettable experience that left a lasting impression on both Girls' Generation and SONEs. The girls were able to see the impact they have on fans and the number of lives they have touched. The constant effort put in by the girls even though they were exhausted from their schedules and the endless dedication and love shown by the fans were true testaments to the strength of the bond between Girls' Generation and SONEs.
Pieces and Fragments of October
2007
• In the October edition of "Vogue Girl" magazine, Jessica revealed that writing is a passion of hers, and if given the opportunity, she would like to publish a book.
• The album cover art and tracklist for "Girls Generation – The First Album" were revealed.
• The music video for the song "Girls' Generation" was released.
• Jessica was featured in Kim Johan's "Love Is Late, I'm Sorry" music video.
2008
• Jessica, Tiffany, Yuri, and Sooyoung were featured in "ELLE girl" magazine as a result of their work in "Factory Girls".
• On October 4th, the girls performed at the "Asia Song Festival". Sooyoung left a message on Hwasu, a fancafe for Girls' Generation, thanking fans for their support at the event. She said that she took a picture of SONEs and set it as her phone's wallpaper.
• Wonder Girls revealed in an episode of Mnet's "My Favorite" that they have the most confidence in Girls' Generation's choreography. They shared with everyone that they practice Girls' Generation's choreography for fun.
• Taeyeon sang a duet with Shin Hyesung to Hyesung's "A Good Day To Love" on SBS's "Kim Jungeun's Chocolate". The episode was broadcast on October 4th.
• On an episode of KBS 2TV's "Shin Dongyup and Shin Bongsun's Champagne", Super Junior's Leeteuk confessed that he was afraid of Yuri. When asked why, he answered, "On the days we shared our personal repertoires when we were trainees, I was afraid of Yuri when she made dinosaur noises."
• On October 21st, Taeyeon was hospitalized due to worsening conditions of her throat. Sooyoung replaced her as DJ on "ChinChin Radio" that night.
2009
• In an interview with "InStyle" magazine, Yoona revealed that she is not satisfied with her eyes and with how wide her feet are.
• Sooyoung participated in KBS 2TV's Thanksgiving special "Shall We Dance", a dance competition where she was able to show off her dancing skills with a Viennese Waltz with partner Yoo Donghyun.
• Girls' Generation released a music video for "Chocolate" as part of LG's promotions for their new "Chocolate Black Label Series 4" phone.
• Yoona threw the opening pitch for the Doosan Bears baseball team in game three of their playoffs against the SK Wyverns on October 10th.
• Yuri, Sooyoung, and Seohyun went to record an episode of QTV's "Photographer" as models. The photoshoot, "Dreaming Water", was a joint campaign with UNICEF and "Cosmopolitan" magazine to promote the preservation of a clean environment and water. The girls were picked as winners and later appeared on "Cosmopolitan" magazine. They also won 10 million won in prize money, a full set of Canon cameras, and the privilege of opening the photo exhibition.
• While Tiffany was emceeing for MBC's "Show! Music Core" with Yuri, she chose Mariah Carey as her "Wannabe" star and commented, "Her singing ability is outstanding. She's the best."
• The first episode of KBS 2TV's "Invincible Youth", the first girl group variety show, was aired on October 23rd. Sunny and Yuri were part of the cast as two of the G7 members.
• On an episode of SBS's "Strong Heart", MC Lee Seunggi, Super Junior's Leeteuk, and Fly to the Sky's Brian Joo all chose Yoona as their dream girl.
• Girls' Generation's "Genie" stayed in first place for three consecutive weeks on the Philippines music chart, "Chart Central".
• Yuri was accepted into JoongAng University.
• On KBS 2TV's "Special Autumn Man", Yoon Kyesang revealed his ideal type to be Taeyeon and said, "Girls' Generation's Taeyeon was my energy during my military service."
2010
• A staff member revealed on "Jisin" magazine that since Girls' Generation members have similar body types, they have to write their initials on their undergarments.
• A teaser for the music video for the Japanese version of "Gee" was revealed on October 1st. The full music video was released on October 6th.
• On a broadcast of MBC's "We Got Married", CNBLUE's Yonghwa presented a sweet potato field to Seohyun as her birthday present. Yonghwa mentioned that only two rows are theirs. Nevertheless, Seohyun was deeply touched by the gesture.
• The girls became the first celebrities to have their own gift certificates. The gift certificates were used to purchase oil.
• Jessica's solo song, "Sweet Delight", was released on October 13th.
• While singing "Gee" at the Yeouido Park's Culture Yard in Seoul for "KIKO Citizen Awareness", Tiffany mixed up her lyrics by singing in Japanese instead of Korean.
• On October 15th, Girls' Generation's "Genie" was certified "Gold" by the Recording Industry Association of Japan.
• Jessica opened her personal Twitter account, but it was forced into suspension only three days after opening due to reports from anti-fans.
• Girls' Generation's second Japanese single "Gee" was released on October 20th. The single sold 28,838 copies on its first day. They placed second on Oricon's "Daily Singles" chart, beating Girls' Generation's own record for being the highest ranked Korean girl group. 66,000 copies were sold in the first week. On October 25th, "Gee" ranked first on Oricon, and they became the first Korean girl group to achieve such a feat.
• A Chinese restaurant in Korea created a Girls' Generation menu, with each set named after one of the members. Yoona's set was the most expensive, while Sunny's was the least.
• The music video for "Hoot" was released on October 23rd. Their mini-album "Hoot" was released on October 27th.
• The girls had their first interview in Japan with "Nikkei Entertainment" magazine.
2011
• Seohyun appeared in a CF for THEFACESHOP alongside Kim Hyunjoong from "Boys Over Flowers".
• Seohyun and Super Junior's Donghae were appointed as UNICEF's envoys on October 11th. They had recorded the theme song, "Dreams Come True", for the "Asia Song Festival", which was released on the same day.
• Girls' Generation was chosen as models for J.ESTINA's handbags.
• Following the release of the first teaser for "The Boys" music video, the second teaser was revealed, generating over 2.3 million views in just two days.
• On October 15th, two more teasers for "The Boys", featuring the English and Korean versions, were released simultaneously. The final teaser was released on October 17th and was shown in New York City's Times Square, Tokyo, Shinjuku, Harajuku, and Shibuya in Japan, Wangfujing Street in China, and Gangnam, Seoul.
• In an interview with "kpopn", Hollywood director Young Man Kang revealed that he is a fan of Girls' Generation and really likes Yoona.
• Goobne Chicken reported a 1643% return in investment, and Girls' Generation, who was the current endorser for the brand, was credited for the massive increase in sales.
• Yoona donated a signed copy of "All About Girls' Generation: Paradise in Phuket" for the "2011 WeAja Charity Flea Market".
• Tiffany and Yuri returned as MCs for MBC's "Show! Music Core" after leaving their positions at the end of July of 2010.
• On a broadcast of KBS 2TV's "Hello", Seohyun revealed that she likes UN Secretary-General Ban Ki-moon more than Johnny Depp, a celebrity she is a huge fan of.
• Sunny and Hyoyeon were confirmed to join the cast of KBS 2TV's "Invincible Youth 2". Filming began on October 26th.
• "The Boys" album and the Korean and English versions of the music videos for "The Boys" were released on October 19th.
• Girls' Generation recorded an all-kill on Korean charts, with "The Boys" taking first place on every real-time chart. The rest of the songs in "The Boys" album were highly ranked as well. On Soribada, Girls' Generation saw a total of seven songs in the top ten, with the first three spots going to them. olleh music had nine out of the top ten spots with songs from "The Boys" album, and Bugs! saw all top ten places go to Girls' Generation.
• On October 20th, Girls' Generation signed with French record label, Polydor France.
• The girls officially made their comeback on KBS's "Music Bank" by performing the Korean versions of "MR. TAXI" and "The Boys".
• Girls' Generation opened their VEVO account under the name "GirlsGenerationVEVO" on YouTube. VEVO is a large music video website that offers music videos from three major record labels: Universal Music Group, Sony Music Entertainment, and EMI.
• Radio host and TV personality Ryan Seacrest featured Girls' Generation and "The Boys" as top news on his website.
• American entertainment news program "Extra" surprised the fans by having "The Boys" played as background music in one of their episodes. The girls even made an appearance on "E! News" when their music video for "The Boys" became the third most viewed video on YouTube for the week.
• Girls' Generation performed at the "SMTOWN Live '10 World Tour" held in Madison Square Garden in New York City on October 23rd.
• On October 24th, the girls had an interview with "MTV Iggy". Taeyeon, who had a severe nut allergy while she was in New York, and Yoona, who was exhausted from a busy schedule, were later called out for being unprofessional at the interview by netizens. SM released a statement explaining that the two were in poor health conditions and did their best to digest their schedules.
• Girls' Generation began their endorsement for e-ma throat candies.
Shows of the month:
MTV SNSD – All Episodes [09.27.07 – 11.01.07]
– –
MNET Wide News Kissing You MV [10.01.08]
Factory Girl – SNSD EP 1 [10.08.08]
– –
SBS Chuseok Special Idol Big Show – SNSD cut [10.03.09]
KBS2 Invincible Youth EP 01 – Sunny & Yuri [10.23.09]
– –
MBC We Got Married S2 EP 52 – Seohyun & Yonghwa Cut [10.02.10]
SBS I Want To Know It EP 774 – SNSD Cut [10.16.10]
– –
SBS Jung Sunhee's A Night Like Tonight Radio – SNSD [2011.10.22]
MBC Entertainment Today The 1st U.S. Fan Meeting in New York – SNSD Cut [2011.10.27]
Awards achieved:
"14th Annual Korean Entertainment Awards" – "Best New Female Group" on October 6, 2007
"M! Countdown" – First place for "Into The New World" on October 11, 2007
"Incheon Culture Day Ceremony" – "2009 Young Artist Award" on October 17, 2009
"M! Countdown" – First win for "The Boys" on October 27, 2011
KBS's "Music Bank" – "K-Chart Award" for "The Boys" on October 28, 2011
SBS's "Inkigayo" – "Mutizen Award" for "The Boys" on October 30, 2011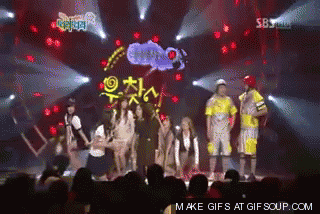 Well, I believe that about covers everything for October. See you guys next month!
Written by: taengsoshi@soshified
Edited by: MoonSoshi9@soshified
Photos by: Mnet, sosiz, CAPA, Soshified
Have a news item that you think Soshified should know about? Leave us a tip or e-mail us at tip@soshified.com.
Follow us on Twitter: http://twitter.com/soshified for the latest on Girls' Generation.