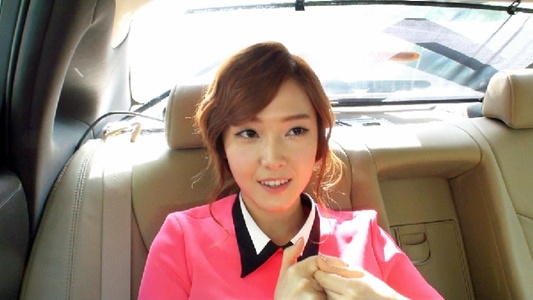 Girls' Generation's "Ice Princess" Jessica showed off her witty talking skills, transforming into a "talk princess".
During the recording of an upcoming episode of "Taxi", which will be aired on May 18th at 12:20 AM, Jessica showed off her MCing and talking skills.
This episode will be an idol special with members from Girls' Generation, Super Junior, and f(x) as guests. It was revealed through SNS (Social Networking Services) that Girls' Generation's Jessica, Super Junior's Sungmin, and f(x)'s Luna would be guest-starring in "Taxi", increasing the anticipation for the episode.
Jessica, who guest-starred as a representative of Girls' Generation, will capture viewers with her chic, yet cute charms. Jessica gave honest answers to questions from the viewers, revealing who she thinks is the prettiest member of Girls' Generation and which member she thinks will get married first. She also ranked her members according several categories and will be revealing stories of the nine girls' lives and their trainee days.
It was said that the MC for "Taxi", Gong Hyungjin, showed that he was a samchon fan and could not stop smiling throughout the recording. Because Jessica is usually uncomfortable on talk shows, they directed the mood to make her feel comfortable and helped to make her freely talk. The staff said that soon after Luna and Sungmin joined the filming, Jessica showed off her MCing skills in place of the show's actual MCs.
With Jessica, Sungmin and Luna continued on the talks with their own volubility. They will deliver funny and heartwarming stories of how they became idols who represent the global K-Pop wave, as well as their own stories of the sweat and tears they shed in the idol world, which isn't as flashy as it looks.
Source: Newsen
Translated by: ch0sshi@soshified
Edited by: bhost909@soshified, MoonSoshi9@soshified
Have a news item that you think Soshified should know about? Leave us a tip or e-mail us at tip@soshified.com. Follow us on Twitter: http://twitter.com/soshified for the latest on Girls' Generation.