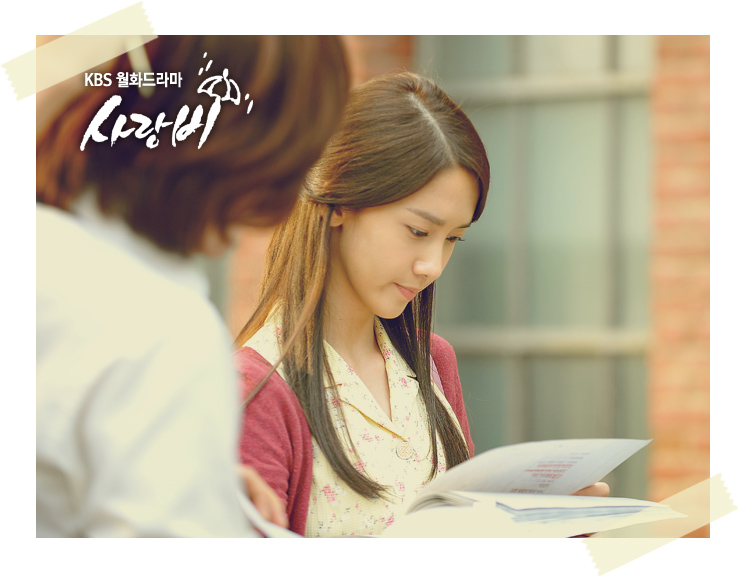 Following its recent premiere on March 26th, "Love Rain" has released a behind-the-scenes video of the drama's filming and a video showing an interview with Yoona. Yoona, who plays both Kim Yoonhee from the 1970s and Jung Hana in the present day, can be seen acting as Kim Yoonhee and working with Jang Geunsuk and the drama's director in the behind-the-scenes video.
In the interview segment, Yoona introduces her character, Kim Yoonhee, as a very quiet, calm, and reserved person. Yoona reveals that Yoonhee "lives with her grandmother after losing both of her parents when she was young," and that "She studies very hard to bring happiness to her grandmother and works really hard." Kim Yoonhee's entire character profile has also been posted on "Love Rain"'s official homepage and smartphone application.
Fans who have seen the first episode of "Love Rain" will remember that several male characters were attracted to Yoonhee. Yoona comments on her character's appeal by saying, "Yoonhee is… very popular among men. [laughs]  But, I can't really express my emotions even if there is a guy I like. [Translator's note: Yoona temporarily switches her point-of-view to that of Yoonhee's.] She receives love from both In-ha and Dongwook but doesn't express herself very well."
Yoona also compares herself to Yoonhee and says, "She's very different from myself. She is quiet, has a bit of patience, and is very different from my actual personality." Finally, Yoona concludes her interview, adding, "We're doing our best in filming 'Love Rain', so please look forward to future episodes."
Check out the behind-the-scenes video clip and Yoona's interview below.
Source:
LoveRainTV@youtube.com
LoveRainTV@youtube.com
,
Love Rain Official Homepage
Written by: bhost909@soshified
Contributor: minigiglo@soshified
Edited by: MoonSoshi9@soshified
Have a news item that you think Soshified should know about? Leave us a tip or e-mail us at tip@soshified.com.
Follow us on Twitter: http://twitter.com/soshified for the latest on Girls' Generation.