Is anyone getting tired of reading my column every week? Well too bad, because during this special week I'm going to talk about the translated goodies section. Since I'm a translator as well, I get to shamelessly promote the team and no one can tell me not to otherwise. Well, let's get started. There are a ton of things to cover, and I won't even be able to get to all of them. As Seohyun would say, "fasten your seatbelt", because we're going for a ride.
Everyone should listen to Seohyun.
First up are the ever popular UFO replies, where fans send personalized messages to the girls that they respond to, but not necessarily in a quick fashion. However, this is not to be confused with STAR calls, where idols will generally leave a video message to the general public.
So, what's so interesting about UFO replies? Well, you get personalized messages from the girls in return. Not only that, but a lot of the time, you'll get witty replies from the girls, and even the occasional spazz worthy "my otp are talking about each other!" kind of reply. But, therein lies the beauty of UFO replies: they're a way for the girls to interact with fans, but not only that, the girls get to reply in an unfettered fashion. There is a very long list of UFO replies translated by Soshified, so take your time going through them. But, to get you started, I'll link one of the larger compilations for you here.
Next up is a set of translations from the Japanese translators. Starting with "Girls' Generation Memoirs", translated by arghninja, a book that outlines several aspects of Girls' Generation starting from their Korean debut up until around their Japanese debut. However, one slight disappointment was in the "Cutie Phrases" section for Taeyeon. The famous quote from "Hello Baby" episode two, where Taeyeon accidentally said, "bring the nipple", didn't make it onto the list of phrases.
How could this not make the list of "Cutie Phrases"?
With Girls' Generation being such a hot topic in Japan, several magazines came looking for an interview, and among them was "Ray Japan", who featured the girls on their August 2011 issue. This interview was dedicated to the "Ray Generation" of girls, which has Girls' Generation answering over 100 questions. Translation credits to Kkabbekky.
Last but not least, is the interview from the First Japan Tour pamphlet. Redsunset translated the interview, and she also had the opportunity to attend the concert too. The interview holds the girls' thoughts on their first solo concert tour, promotions in Japan, future plans, and even a few freestyle questions. It's a good read with a few quirky moments that the girls are known for.
If you're looking for something a little more light-hearted, check out "Soshifarm", a comic created by Kim Taebong. This comic was translated by our very own enigmatic Korean translator, Oniontaker, so be sure to thank him as well. In this little goodie, all the girls are depicted as cute animals with a SONE owner and all their little adventures in short but funny episodes. Check it out. You won't regret it.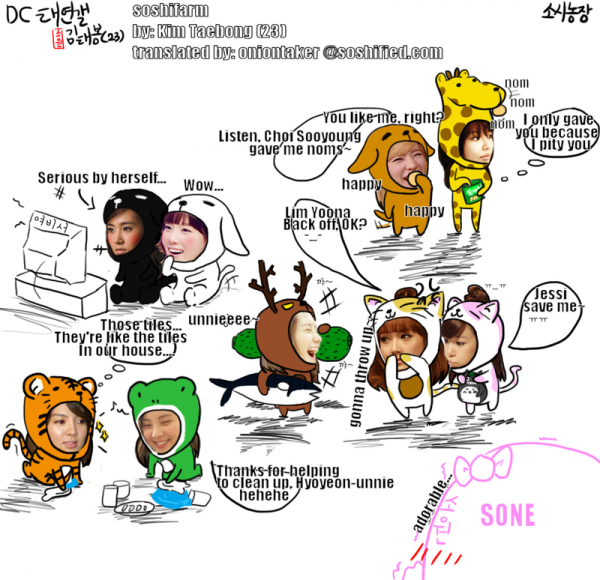 Sneak preview of what you can find.
Since it is Soshified's anniversary month, I thought I'd end off with a few goodies that depict the bond between the girls and their fans (author's note: it's ok to cry). First are a couple of UFO replies from Tiffany and Sunny. They both reply to UFOs from Soy asking them to visit the site. On a side note, one reply in the thread jokes that Jessica is a lazy bum for only visiting once, then further jokes by attributing it to the dancing pickle emoticon that Soshified employs. I'm very tempted to agree with them.
Jokes aside, the girls know about us and they love us. The bond between Girls' Generation and their fans is a mutual dependency. They look to SONE for support, and SONE look to the girls for strength.
A good example is the thread "SNSD are Worried about SONE". It shows that the girls' worry about us, yet the reason for their worry is because we were worried about them. However, on the flip side, this next thread "A SONE's Last Diary" is exemplary of the strength that fans receive in kind.
Well, that's it for this week. Hopefully everyone found a little something that they enjoyed or that touched their hearts. Also, be sure to thank the translators for their hard work, as we do this on our own free time. See everyone again next week as we continue to celebrate Soshified's anniversary month.
Banner by: amipi@soshified
Source: OCxxASx@youtube.com, Soshified Translated Goodies
Written by: SeraphKY@soshified
Edited by: michaelroni@soshified
Contributor: michaelroni@soshified
Have a news item that you think Soshified should know about? Leave us a tip or e-mail us at tip@soshified.com.
Follow us on Twitter: http://twitter.com/soshified for the latest on Girls' Generation.