Hello everyone, this is SeraphKY, writer and Japanese translator, and I am pleased to bring you a brand new column featuring all of Soshified. This feature will be introducing you to all of the interesting threads, sections, pictures, and whatever else is eye catching in this wonderful community. Soshified is a very big site, and it's easy to get lost and confused among all of the various sections, especially if you're a new member. However, even veteran members of the site might find something new. But enough of this prattle. Hopefully everyone finds this column insightful, fun, and worthwhile.
First up is the main entrance to the site, soshified.com, also known as "Portal". This is the gateway to Soshified, and covers the recent happenings on Soshified and with the girls, including news on the girls, subbed videos, links to official goods, translated goodies, and styling videos. However, the biggest part of the portal is all of the work that the Soshified writers do. This includes editorials, the latest of which is written by writer and DJ FrozenArctic, who wrote a great piece about being human.
The Writers also produce many features and columns for your enjoyment. One of the more popular features is a collaborative comic between the Writers and Graphic Designers of Soshified, titled "Soshitoons: Life of a SONE". Other features written by the writers include: residentbenchwarmer's "Soshified Spotlight", a two-part column highlighting a regular forum member and a staff member; michaelroni's "The Cucumber", a satirical piece that puts a humorous twist on events related to Girls' Generation; spiceshoe's "Learn Korean with Soshi", a gathering of random Soshi quotes and an explanation on how to form those sentences; and michaelroni, letaengbutt, and MoonSoshi9's "Ask Oppa/Unnie", a column in which these writers answer questions from regular forum members and give their opinions. These are only a few of the features you can find in the portal, so check them out, and be on the lookout for new material.
Next up are the forums, which you can access from the Portal through the "Enter Community Forums" link in the top right-hand corner. Soshified is a very big forum, and it can be a little bit daunting to wade into all those different sections without getting lost. So, I'll help everyone get started.
People are avid about collecting pictures of the girls, and Soshified members are no different. We have a dedicated sub-forum for photos, and even our own picture gallery. The link to the photo section can be found under "The Merry-Go-Round Multimedia" area. The Gallery can be found just underneath the link to the photo sub-forum, or it can be accessed through the information bar at the top on the right-hand side. Every time you open the Gallery, it'll show you a new "feature picture". We've also got the gallery set up to make looking for pictures easier. On the right-hand side, there are several categories which further break down into the years in which the pictures were taken. Members can upload their own albums as well by clicking on the upload button, which can be found at the top right-hand corner of the page.
There is, however, one slight problem. The girls are so popular, they get invited to events left and right, and even when they aren't at events people are still taking pictures of them at the airport or during filming. There is a never-ending amount of pictures to save, so be prepared to visit this forum section often.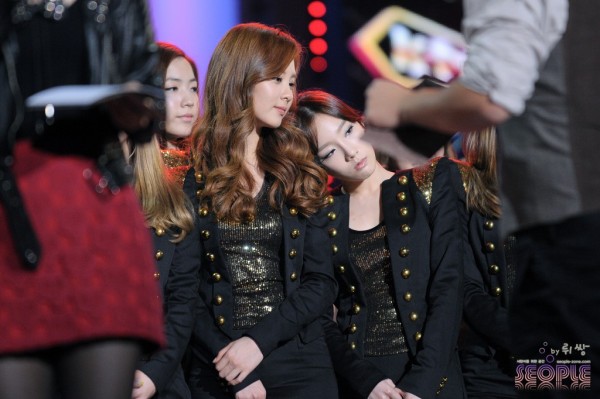 Random photo from gallery. Isn't that picture cute?
Ok, now that you're done spazzing, staring, hyperventilating, and turning into a pile of goo from all those pictures, let's go check out a couple other areas.
If you're new around here, or even if you're a veteran, there is always a little something to find in this next area of the board. Scrolling down a bit to the "Perfect for You Fan Area", you can find the "Social Lounge", a sub-forum designed for SONEs to chill out and meet some new people.
An interesting thread I found inside this section is a thread called "How Did You Stumble Upon Soshified" In here, you can track the growth of the site. At the beginning of the thread, many of the reasons were because Soy was promoting the site just after its opening. As you get deeper into the thread, the stories begin to change as people begin citing reasons such as "I saw a Soshified Subs video" or "looking for a place to find the most current news about the girls". Feel free to look around and leave behind your own little story.
Have you ever wondered if other SONEs live nearby? Don't worry, Soshified has that covered too. In the Soshified Lounge, there is a sub-forum called "Soshified Around the World", which is basically a gathering hub for SONEs. It might take a little digging, but you'll probably find a thread dedicated to SONEs in your country, province, state, or even your city. Take the SoCal thread for example. They've organized several gatherings and parties together. The last I heard about was a very successful Christmas party at which one Soshified staff member dressed up in drag (author's note: it wasn't me). So dig around, and you'll find SONEs around the world. Even if you think you're the only one in your area, you'll be surprised to see that there just might be a few more lurking around.
That's it for this week people. Hope you enjoyed it. I'll be here again each week for the rest of the month to celebrate Soshified's anniversary.
Banner Credit: amipi@soshified
Written by: SeraphKY@soshified
Edited by: bhost909@soshified, residentbenchwarmer@soshified
Contributors: Geof@soshified, grandma deer@soshified
Have a news item that you think Soshified should know about? Leave us a tip or e-mail us at tip@soshified.com.
Follow us on Twitter: http://twitter.com/soshified for the latest on Girls' Generation.