Videos
Girls' Generation Congratulates Yuri's Friend on Wedding
Girls' Generation left a video message for Yuri's friend congratulating her on her wedding.  Yuri and the girls were excited for her as they recorded the sweet congratulations.
Others
Pictures of Kyungsan Surface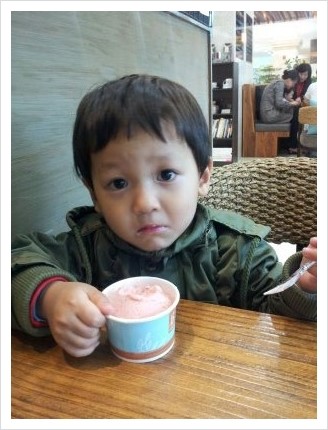 Pictures of Kyungsan have recently surfaced online.  In this adorable picture, it seems like he did not want to be disturbed while he was eating his dessert.  Kyungsan was just nine months old when he debuted on "Hello Baby" with Girls' Generation in 2009.  He has grown a lot since then, but has remained as lovable as ever.  To view more of his pictures, click here.
Cast of "Invincible Youth 2" Appointed as Honorary Ambassadors of Ansan-si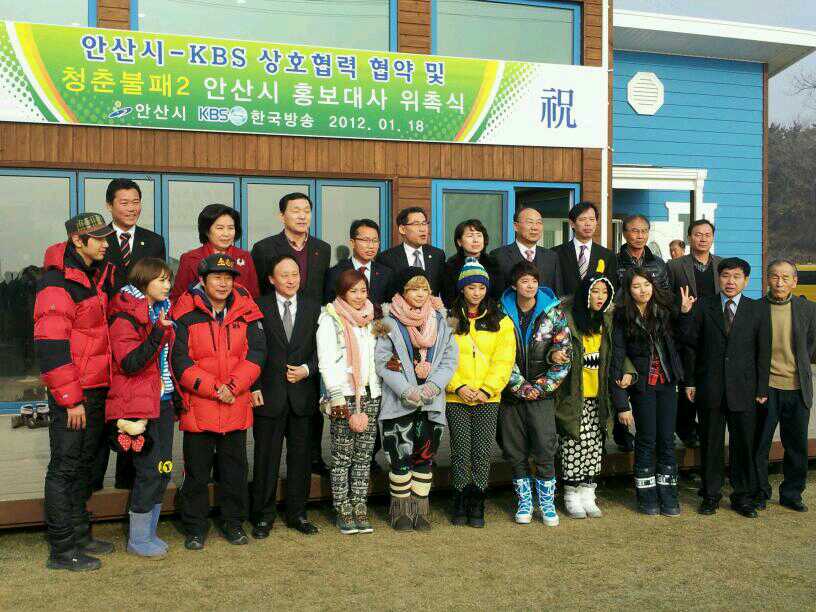 On January 18th, the cast of "Invincible Youth 2", including the G8 members and the MCs of the show, were appointed honorary ambassadors for the city of Ansan-si.  "Invincible Youth 2" takes place on Daebu Island, which falls within the city limits of Ansan-si.  The members of the cast were also given grape vines, a specialty of Ansan-si, to plant for themselves. 
Girls' Generation Voted as Group Fans Most Want to See Casted on "I Am a Singer"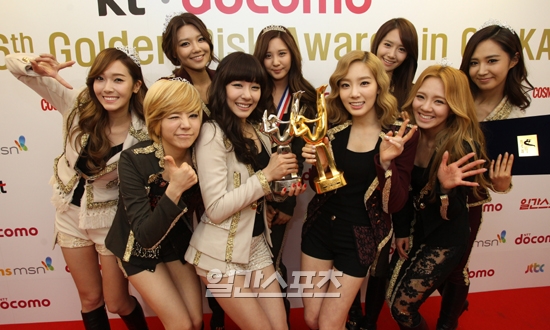 Fans have voted Girls' Generation as the group they most want to see casted on "I Am a Singer", a weekly show in which seven vocalists compete with each other.  The contestants are not idols, but instead are veteran musicians, making it an honor for Girls' Generation to be considered by fans as vocalists strong enough to compete.
Narsha Tweets a Picture With Sunny
Brown Eyed Girls' Narsha recently
tweeted
a picture with Sunny from the rehearsal for the "2018 Pyeongchang Winter Olympics Concert".  Sunny and Narsha grew close during the first season of "Invincible Youth", in which Sunny built her reputation as a chicken catcher and Narsha as an "adult-dol" (
editor's note: adult idol
).  You can download Girls' Generation's performance at the 2018 Pyeongchang Winter Olympics Concert from Soshified's
video downloads section
and read about the 2018 Pyeongchang Winter Olympics Concert
here
.
SSKIN Themes' iPhone Wallpaper Contest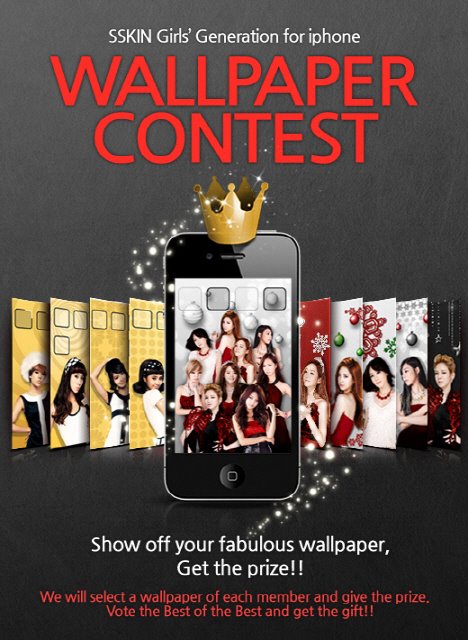 SSKIN Themes is hosting an iPhone wallpaper contest event that runs through February 29th.  According to Girls' Generation's Facebook page, there will be winners selected from each of these categories: Beauty Best, Funny Best, Shocking Best, and The Best of the Best.  Head over to their Facebook page for more details and participate!
Sunny Sends Dynamic Duo's Gaeko a Birthday Cake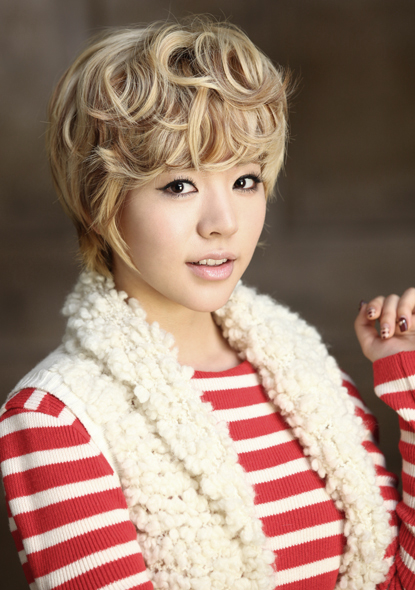 Gaeko from Dynamic Duo tweeted that Sunny sent him a cake for his birthday on January 14th.  His entire message reads, "Recently, Girls' Generation's Sunny (Soonkyu) used her personal money to buy me a birthday cake."  In addition, Sunny had given her mentee, Kim Sunghwan, a CD signed by several hip hop artists, including Dynamic Duo, on the most recent episode of "Girls Generation and Dangerous Boys", showing that Sunny and Dynamic Duo seem to have a friendly relationship.
Girls' Generation Attends LG Cinema 3D TV Press Conference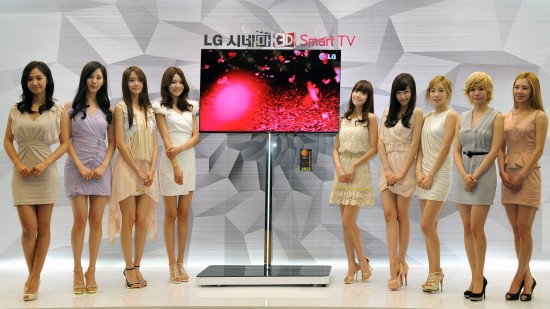 On January 19th, Girls' Generation attended a press conference held by LG Electronics.  Girls' Generation will be
endorsing
LG's "Cinema 3D TV" product line and will participate in various marketing activities to promote the popularity of 3D TVs worldwide.  You can check out more photos from the event in Soshified's
photos section
.
Yuri Wins First In a Poll for "Best See-Through Look"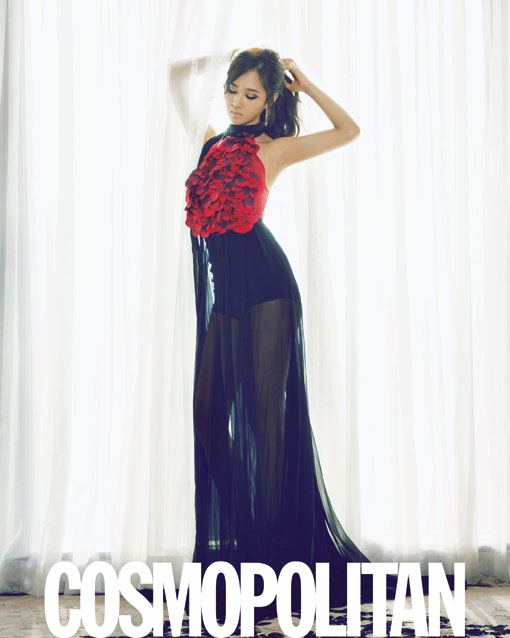 A recent poll of 300 people found that Girls' Generation's Yuri was the girl group member who best fits the see-through clothing look.  127 of those polled voted for Yuri, putting her in first place.  More photos from Yuri's "Cosmopolitan" photo shoot can be found here.
Girls' Generation's New Kakao Profile Pictures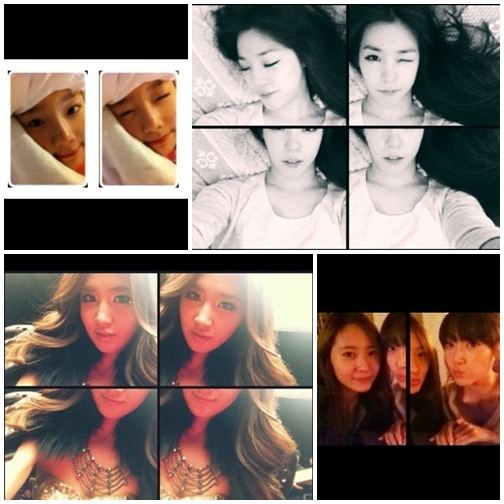 Pictures of Girls' Generation's Kakao profile pictures have surfaced online.  Taeyeon, Tiffany and Yuri uploaded individual selcas that they took recently, while Jessica uploaded a picture she took with her sister, Krystal.
Jessica Takes Picture with Donghae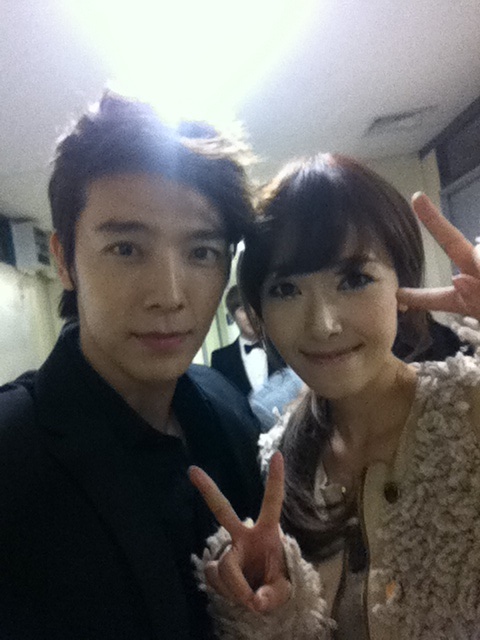 Jessica took a picture with Super Junior's Donghae after the Seoul Music Awards on January 19th.  Donghae tweeted this picture along with a message: "Our cute dongsaeng Jessica!  Thanks for congratulating us on the Daesang yesterday.  Also, congratulations on your first drama filming today.  Please show her lots of love!"
Sunny Attends "Koala Kid" Screening Event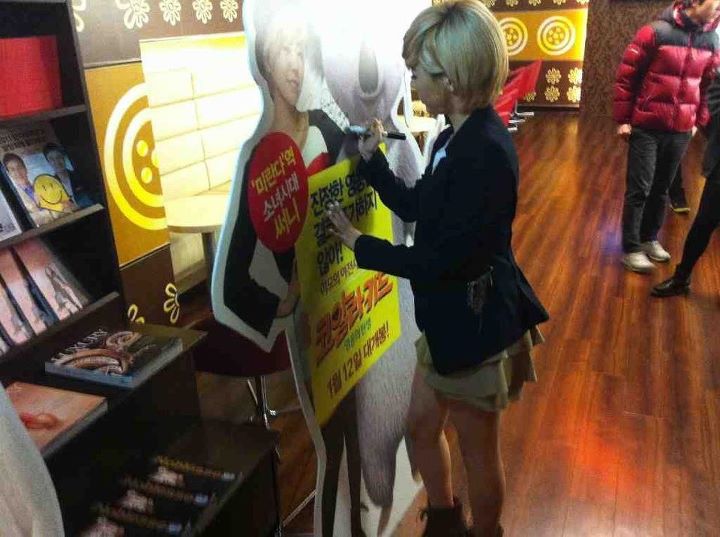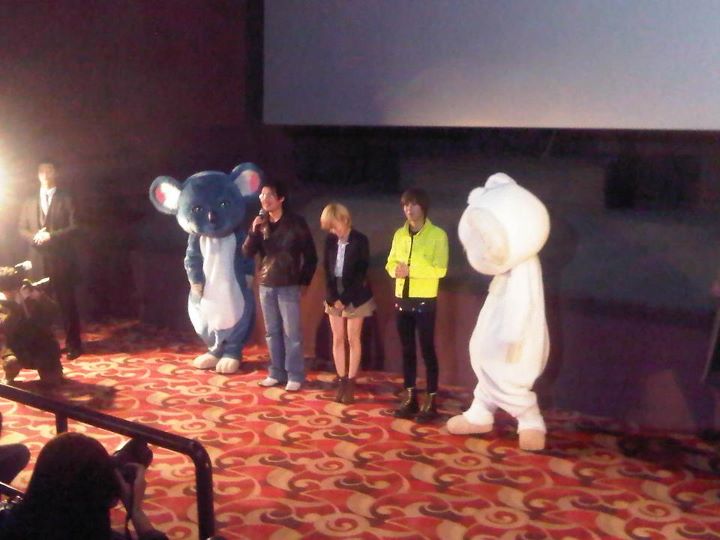 On January 20th, Sunny attended a screening event for "Koala Kid", the animated film in which she voiced the character Miranda.  The official Facebook page for "Koala Kid" posted two photos of Sunny at the event, and press photos can be found in Soshified's photos section.
YesAsia's "YumCha!" Lists Girls' Generation as the Best Seller of 2011 in Korea and Japan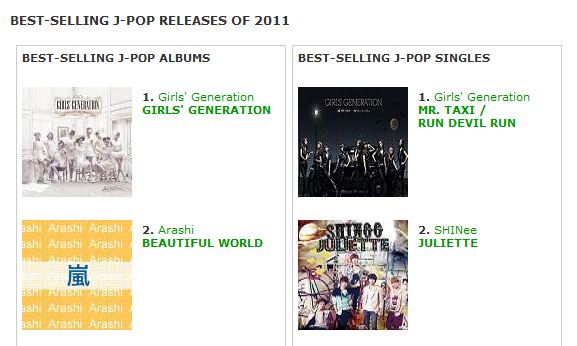 According to YesAsia's "YumCha!", products from Girls' Generation were the best sellers for K-Pop on YesAsia in the year 2011.  Girls' Generation's "The Boys" was the best-selling K-pop album, while the "Paradise in Phuket" and "1st Asia Tour" DVDs were the first and second best-selling K-Pop DVDs of the year.  Girls' Generation was also listed as the best-selling female K-pop artist.  Finally, Girls' Generation also had the best-selling J-Pop releases of 2011, with the best-selling album "Girls' Generation" and the best-selling single "MR. TAXI / Run Devil Run".
Jessica and Kim Jinpyo's "Maybe" Ranks First on "Bugs" Music Chart
After its release on January 19th, Jessica's song "Maybe", which was sung for the OST for "Wild Romance", quickly climbed the digital music charts.  It reached first on the "Bugs" music chart and also did well on charts such as MelOn, Naver and Dorisak.
New Sets of Pictures
Vita500 –  Taeyeon1, Taeyeon2, Taeyeon3, Taeyeon4, Jessica1, Jessica2, Jessica3, Sunny1, Sunny2, Sunny3, Tiffany1, Tiffany2, Tiffany3, Tiffany4, Hyoyeon1, Hyoyeon2, Hyoyeon3, Hyoyeon4, Yuri1, Yuri2, Yuri3, Sooyoung1, Sooyoung2, Sooyoung3, Yoona1, Yoona2, Yoona3, Seohyun1, Seohyun2, Seohyun3
SPAO – Yoona, Yoona1 ,Seohyun, Seohyun and Yuri
J.ESTINA – Group1, Group2, Jessica, Tiffany
SONE Picture/Video of the Week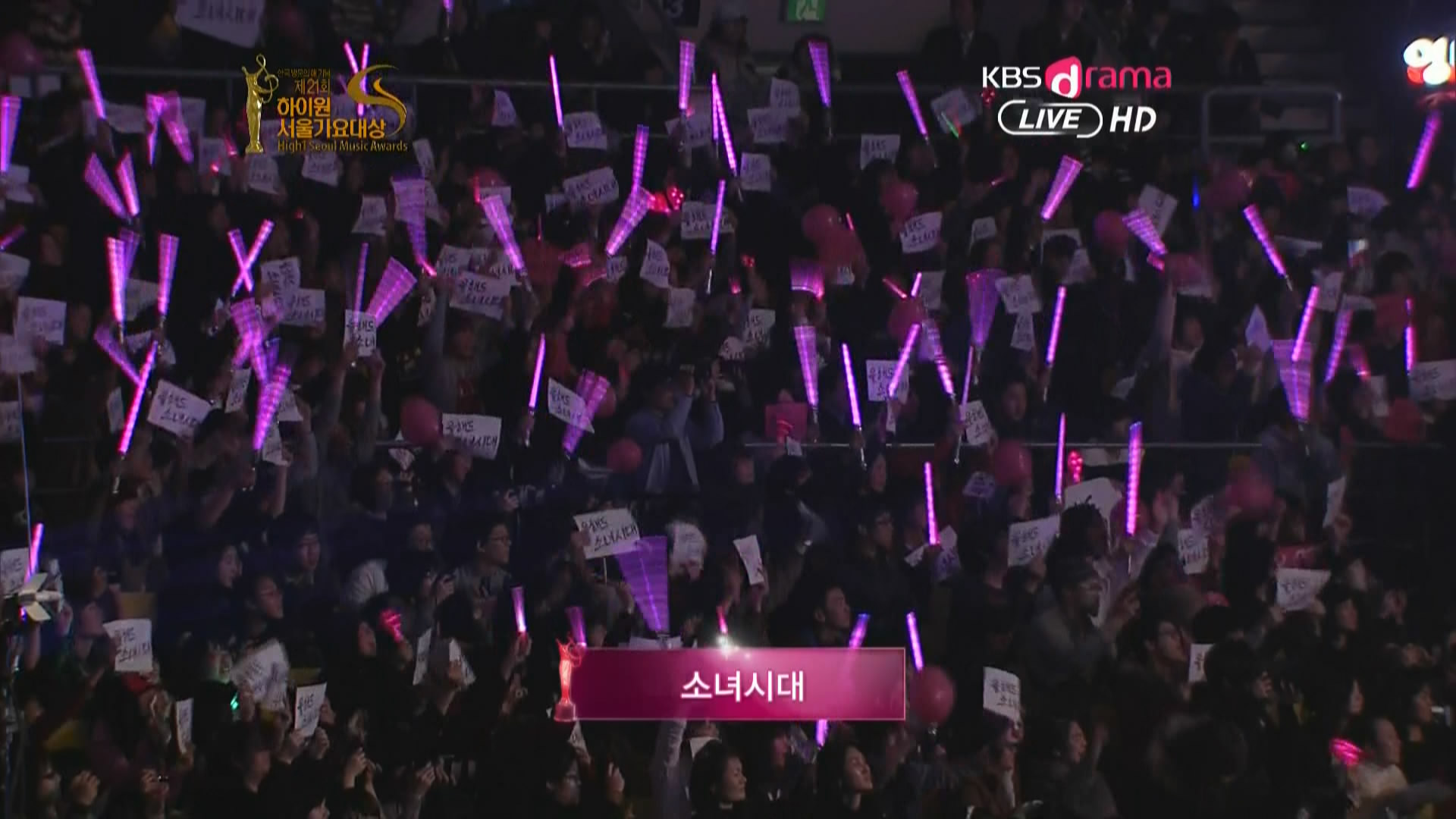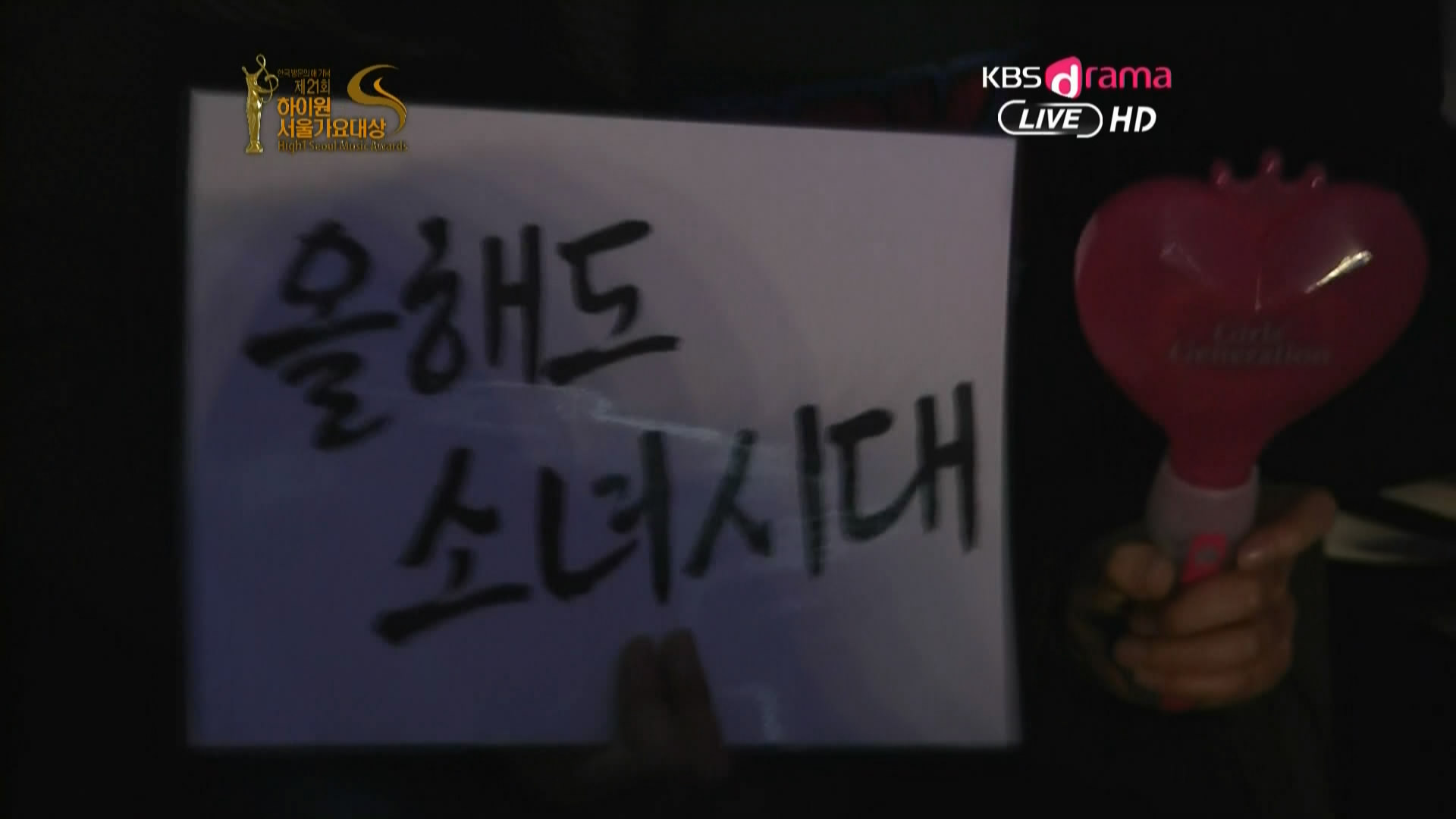 At this year's Seoul Music Awards on January 19th, SONEs attending the awards ceremony waved pink lightsticks and fansigns in support of Girls' Generation.  The signs read: "This year is also Girls' Generation".  Though 2011 was very eventful, 2012 will sure be another memorable year.
If you have any pictures or videos you'd like to submit for SONE Picture/Video of the Week, please feel free to do so by sending them to the Soshified Writing Team at tip@soshified.com or posting at the official SONE Picture/Video of the Week thread.
Happy Lunar New Year to those who celebrate!  May the new year bring you health and prosperity.
Sources: bestiz, Kwangdongpharm@twitter.com, Newsis via Daum, Nate, flyx2NAL@twitter.com, ItsAllAboutYul5@youtube.com, ansancity@twitter.com, 소녀시대(Girls' Generation)@facebook.com, GirlsGeneration@twitter.com, SPAO_KOREA@twitter.com, J.ESTINA, gaekogeek@twitter.com, donghae861015@twitter.com, 2012koalakid@facebook.com, Asia Today, YesAsia, YesAsia, Infoseek
Written by: taengsoshi@soshified, bhost909@soshified, LetsGo@soshified
Contributors: minigiglo@soshified, ch0sshi@soshified
Have a news item that you think Soshified should know about? Leave us a tip or e-mail us at tip@soshified.com.
Follow us on Twitter: http://twitter.com/soshified for the latest on Girls' Generation.