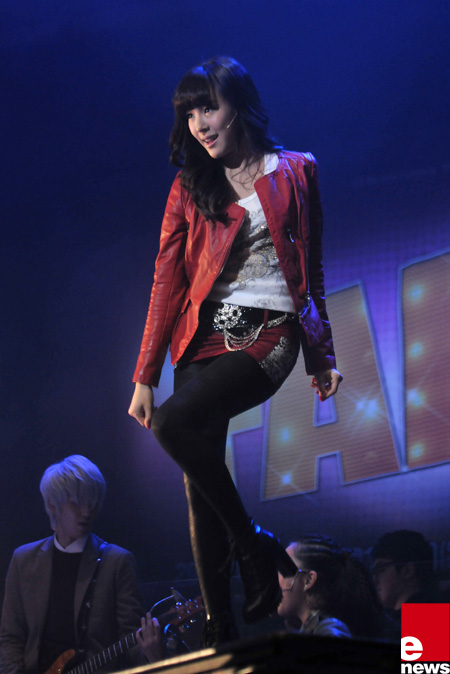 [
Updated with video of the showcase from Star News
]
Tiffany attended the showcase for her musical, "Fame", today and shared her thoughts on her debut as a musical actress with TvN enews.
Preparing for both a musical and her performances with Girls' Generation can be a challenge, as Tiffany says, "I was wrapped up in rehearsals from 12 in the afternoon to midnight. I had never done this before, not even during rehearsals for Girls' Generation. But because I enjoy doing both and they both mean a lot to me, I don't think I can choose one over the other."
Tiffany continued, "I've always liked 'Fame'. I was presented with the opportunity and accepted it right away. I'm sad because I couldn't practice as much as I wanted to due to my busy schedule. I think if I had a little bit more time, I could do better." She added, "Still, I improved a lot in a short amount of time with the help of a lot of people. Because I'm lacking in many ways, I leaned on my efforts in singing, dancing, everything."
From accounts of people who went to the showcase, Tiffany wowed those in attendance with her powerful voice.
Source:
enewsworld
,
ThanksEatHotKimchi@youtube.com
Written by: MoonSoshi9@soshified.com
Have a news item that you think Soshified should know about? E-mail us at tip@soshified.com.
Follow us on Twitter: http://twitter.com/soshified for the latest on Girls' Generation.