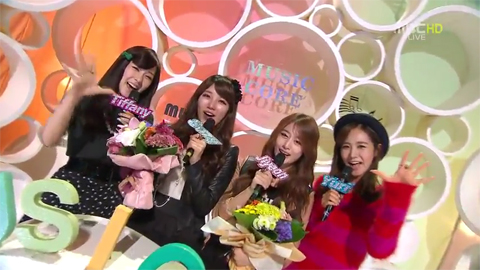 Girls' Generation's Tiffany and Yuri return as MCs on MBC Music Core.
After leaving their positions at the end of July 2010, a lot of fans have been waiting for their return. Fans were delighted when the schedule on Girls' Generation's official website was updated with Tiffany and Yuri's appearance on the Saturday music show. Their support was also shown when "MC YulTi" appeared on Twitter's trending topics.
Today was miss A's Suzy and T-ara's Jiyeon's last day as MCs on the show. Tiffany and Yuri brought a bouquet of flowers for Suzy and Jiyeon, and they said a few encouraging words which brought the two to tears. "Both of you have went through a lot. Good work. We also think that you guys did a great job and showed a better side of yourselves through this, so don't be too sad."
Yuri then proceeded to ask the two to say their last words to the viewers, and Tiffany exclaimed, "We have prepared tissue!". After listening to their goodbyes, Tiffany invited them to come play at MBC Music Core's studio someday.
Watch the cut below or download the cut here on the forum:
Source: monmonsnowSeason2@YouTube
Written by: spiceshoe@soshified.com
Have a news item that you think Soshified should know about? E-mail us at tip@soshified.com.
Follow us on Twitter: http://twitter.com/soshified for the latest on Girls' Generation.