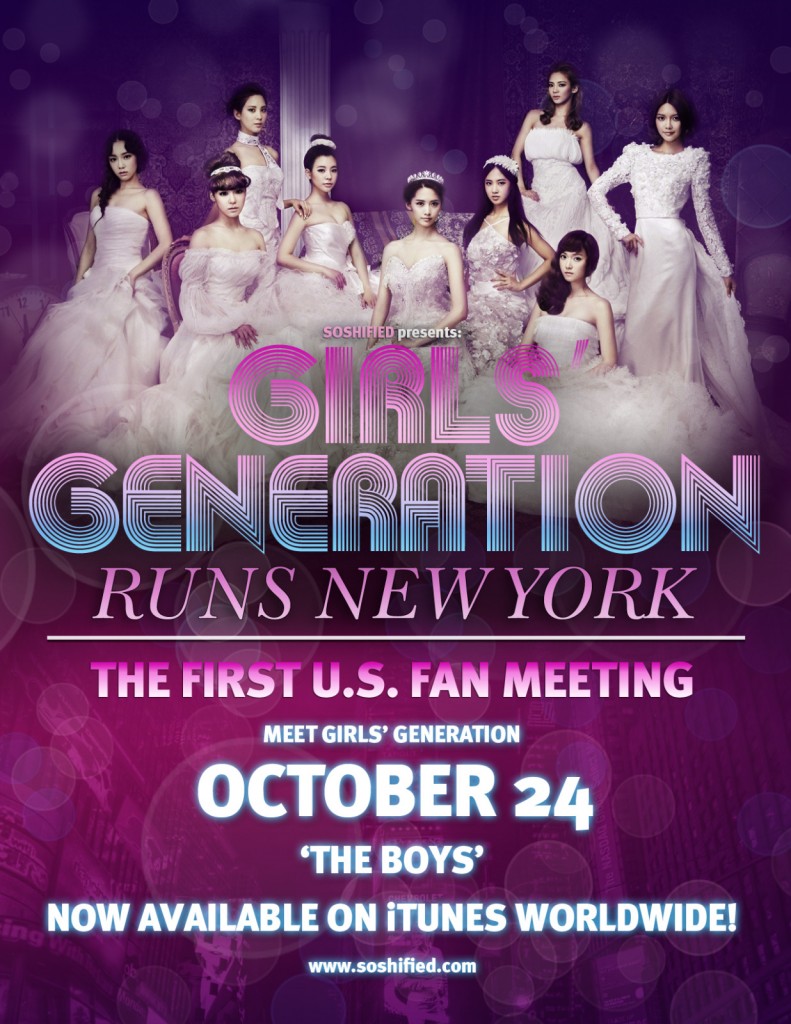 What's up, Soshified!
SM Town NYC Live in Madison Square Garden is fast approaching, and it's been a long time since Soshified has had an official fanmeet (the last one being the super fun fan meet-up held in Los Angeles earlier this year).
The long wait is now over.  Following the concert, Soshified has arranged a meeting of SONES, this time featuring the girls themselves!  You've heard right.  This will mark the FIRST OFFICIAL FAN MEET featuring Girls' Generation in the United States, and we want you to be there!  This is a once-in-a-lifetime opportunity, so take advantage of it!  We are welcoming all fans of KPOP once again to our event, so let all your friends know and RSVP to our event on facebook: http://www.facebook.com/event.php?eid=263110513732587
Rock your fanchants and show your support as we look for the most dedicated and zaniest fans out there!  Cheer loudly, and unleash your creativity on fansigns to celebrate Girls' Generation's exclusive appearance for Soshified!
We will be giving out various prizes and goodies during this event!
Here are the details: Make sure to wear pink (and deck out with fansigns and your best Girls' Generation gear) and gather up at approximately 7am in front of "Good Morning America" at the ABC television studios in Times Square, Manhattan.  We want to show the world what Girls' Generation and SONEs are all about, and we'll want to see a parade of pink out there!  Fifty signed CD's will be given away to those who come out and dedicate their time to helping Soshified promote Girls' Generation.
After the "Good Morning America" recording, we'll stick around Times Square and continue promoting Girls' Generation.
Afterwards, scuttle on down to the MTV Iggy recording in Times Square going on from 1:00 to 4:00 PM and watch Girls' Generation's interview.
Finally, from 4:30 to 6:00 PM, our first official Soshified New York Fan Meet with Girls' Generation in attendance will be happening!  The fanmmet will be held at the Best Buy Theater on Broadway. The girls will be choosing their favorite fan boards for prizes. Soshified will be raising money for the "Avon Breast Cancer Crusade", and selling Soshified shirts for ten dollars. Also, be sure to practice the last verse of "Into the New World", as we'll be singing it to the girls. More details and surprises are still in store and will be revealed soon!  So let's run this town and see you all there!
We'll also be holding a few contests on twitter and facebook soon to give away some signed copies of "The Boys" as well as tickets to SM Town NYC Live in Madison Square Garden, so be on the look out!  The event is completely free!  "The Boys" is available worldwide on iTunes.  Make sure you grab your copy here.
For media inquiries on this event please contact soy@soshified.com