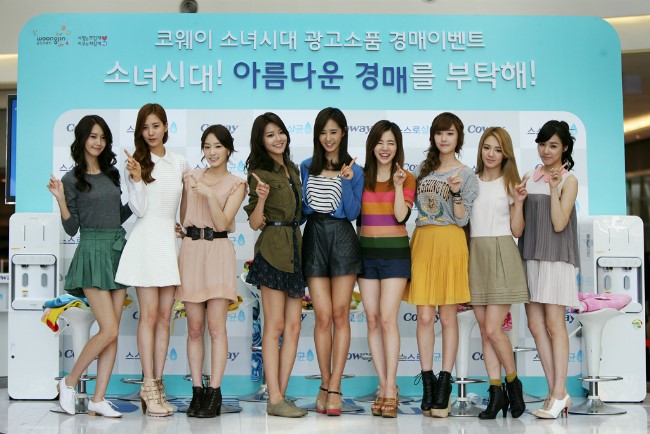 It has been revealed that at the "Beautiful Auction" event held by Woongjin Coway featuring Girls' Generation, Yoona's one-piece dress was auctioned off for 2,030,000 won and a total of 14,000,000 won was raised in donations.
Girls' Generation is currently the model for Woongjin Coway's self-sterilizing purifier. At this event, the props used by Girls' Generation for the Woongjin ads were auctioned off in order to raise funds for women who are head of their households and alienated by society.
Since September 28th, props used by each member of Girls Generation were bid off every week through the online auction at www.cowaygirls.com. Around 5,800 bidders participated in this auction event.
The item that was sold at the highest price, 2,030,000 won, was the white dress that Yoona wore in the launching commercial for "Coway, Please Take Care of Mom". Next were the self-sterilizing purifier (CHP-270L) signed by all 9 members which was sold for 1,710,000 won, and Yoona's white T-shirt and denim shirt at 900,000 won and 790,000 won respectively.
Last March, Woongjin Coway signed a contract with Girls' Generation to be the models for the purifiers during the year of 2011, and also launched the "Coway, Please Take Care of Mom" campaign.
When all of the donations are fully deposited, Woongjin Coway plans to select a support group and deliver all proceeds in order to help women head-of-households in need.
Source: Naver
Translated by: taengbear@soshified.com
Edited by: residentbenchwarmer@soshified.com
Have a news item that you think Soshified should know about? E-mail us at tip@soshified.com. Follow us on Twitter: http://twitter.com/soshified for the latest on Girls' Generation.