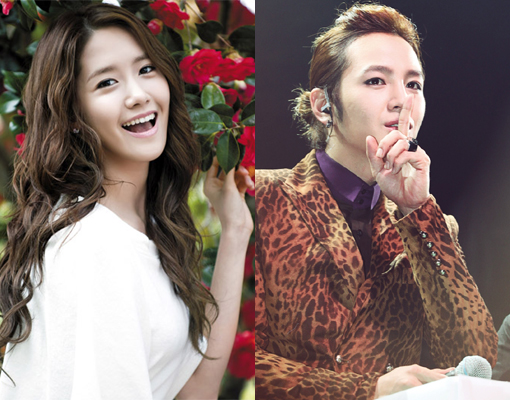 [EDIT]: Yoona's casting has been confirmed. More information at the bottom of the article.
Girls' Generation's Yoona and Jang Geunseok are expected to sign on to play lovers in a new drama. Yoona is in the final stages of being placed as the female lead in the drama "Love Rain" scheduled to air in the first half of next year.
According to one drama staff member, Yoona is considering her group activities and making readjustments in her schedule. Currently all that's left is signing the contract.
The drama production team says if Yoona signs they will start shooting right away. Another staff member said, "It took a long time to find the right actress in their early twenties with a pure image" and "Yoona proved her acting skills in her dramas 'You are My Destiny' and 'Cinderella Man' and the production crew have high hopes."
"Love Rain" is about a man and woman who meet in college in 1970 and their love story. It is a fantasy melodrama and Jang Geunseok and Yoona will play dual roles.
Also, "Love Rain" reunites PD Yoon Seokho and writer Oh Sooyeon of "Autumn Tale" and "Winter Sonata" for the first time in 10 years, garnering lots of interest.
With top stars and a star production team working together, there is much interest and expectations for this to be a new "Hallyu drama".
After Bae Yongjoon from "Yonsama", Jang Geunseok is said to be the next generation's Hallyu star and Yoona and Girls' Generation are already receiving attention all over the world.
Soshified would like to emphasize that Yoona's casting has not been finalized at this time, and that updates will be reported when they become available.
[EDIT]
It appears that Yoona's casting has been confirmed by the drama's PR firm. She will play the dual role of Kim Yoonhee, a college student in the 1970s, and also her daughter Kim Yuri in present time. In regards to the drama role, Yoona said, "It's an honor and like a dream come true to be able to work with Yoon Seokho PD, as I remember his dramas 'Autumn Tale' and 'Winter Sonata' as ones that touched my heart. It'll be my first drama in a while, so I will do my best to meet the expectations everyone has."
Also, Yoon Seokho, the PD of the drama, praised Yoona by saying, "I'm confident Yoona's distinct fresh girlishness and ladylike innocent beauty will make the fairytale-like youthful love story shine even brighter."
Source: sports.donga.com, asiatoday.co.kr, Naver
Translated by: somaek@soshified.com, ch0sshi@soshified.com
Edited by: michaelroni@soshified.com
Have a news item that you think Soshified should know about? E-mail us at tip@soshified.com.
Follow us on Twitter: http://twitter.com/soshified for the latest on Girls' Generation.