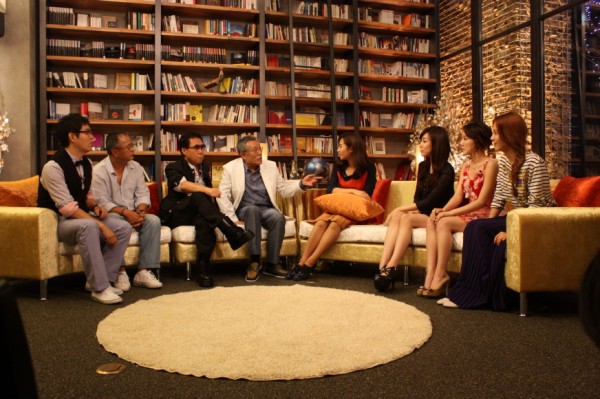 Novelist Hwang Sukyoung, singer Cho Youngnam, actor Song Seunghwan, and Kim Yongman met Girls' Generation.
KBS's "Big Brothers", which is scheduled to have it's first broadcast on September 21st, had Hwang Sukyoung, Cho Youngnam, Song Seunghwan, and Kim Yongman as the MCs, with Girls' Generation's Taeyeon, Seohyun, Tiffany, and Yuri as the guests. The PD of "Big Brothers", Go Sejun, told "10 Asiae" through a phone call, "Rather than the group Girls' Generation, we focused on Taeyeon, Seohyun, Tiffany, and Yuri's own individual images."
"Big Brothers" asked questions that aren't normally asked on typical talk shows. It was informed that Girls' Generation members wore name tags with their real names written on them, as if they were going to an audition. They answered questions such as, "Work and love, which comes first?"
Source: 10asiae.co.kr
Translated by: ch0sshi@soshified.com
Edited by: michaelroni@soshified.com
Have a news item that you think Soshified should know about? E-mail us at tip@soshified.com.
Follow us on Twitter: http://twitter.com/soshified for the latest on Girls' Generation.