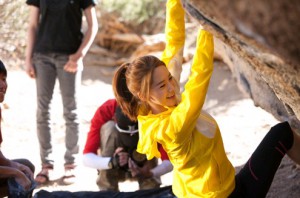 France's premium outdoor brand "EIDER" recently filmed a commercial with Girls' Generation's Yoona and actor Lee Minho. Pictures of the two were released as they tried to scale a steep cliff.
Yoona and Lee Minho. who accompanied each other to America's California River Eastern Sierra Bishop rock climbing area for commercial filming, were closely watched by fans as they showed off a cool airport look, and this is the first time the two of them have acted together in a commercial.
Among the photos released by EIDER, Lee Minho looked like a pro and showed a very serious side as he brought his own climbing gear and even put chalk in his own clothes.
A smiling Yoona, undeterred by the hot day, learned from beginning to end, brightened up the atmosphere, and was able to finish her filming safely.
EIDER staff members said, "Despite the difficult filming of climbing a wall with bare hands, they performed as 'EIDER' friends well with their excellent reflexes and defiant hearts. Thanks to Yoona and Lee Minho's great efforts, we were able to complete a television commercial that projected a wild and stylish image that we have high hopes for."
The EIDER commercial is expected to be broadcast this coming September.
Source: zaikei.co.jp, Nate
Translated by: SeraphK@soshified.com
Edited by: michaelroni@soshified.com
Have a news item that you think Soshified should know about? E-mail us at tip@soshified.com.
Follow us on Twitter: http://twitter.com/soshified for the latest on Girls' Generation.