To make up for not having a News Wrap last week, Soshified is here to bring you a double-dose this week! Sorry for the inconvenience caused, and we hope that you'll find this we
ek's News Wrap sufficient!
Videos
1. Yoona's Jeju Travel Diary 4
Follow Yoona on a trip to Jeju again with this Travel Diary! This video shows us a scenic and peaceful view of how nature is like on Jeju Island. Yoona shar
es with us the newest collection from Innisfree such as the Jeju Volcanic Rock products. Watch the video to see how Yoona spent her time at Jeju!
2. Girls' Generation Featured on KBS World "K-WAVE STATION"
Following the announcement of Girls' Generation's plans of having a comeback soon as well as having their 2nd Tour, Girls' Generation was recently featured on K-WAVE STA
TION. The video talks about how Girls' Generation has captured the hearts of many fans both in Korea as well as overseas, and their ability to mesmerise fans through their wonderful performances. Various short clips from both the Korean concert as well as the Japanese concert were show in this video
, and the news reporter also talked about how they had an amazing stage presence. Some members from the Soshified Field Trip were also featured during the video and it was evident on all the fans' faces that they truly had an once-in-a-life-time experience. As the TV presenter said, "They're not jus
t girls anymore, they are the divas of K-Pop!"
The relevant section starts at 2:40.
3. Girls' Generation Ranked First by World Artist China Weekly
On the 11th of August, Girls' Generation was ranked as the top World Artist by China Weekly. Girls' Generation managed to beat various competitors such as Justin Bieber, Michael Jackson, Katy Perry and Beyonce. The
video goes on to talk about Girls' Generation's 2nd Tour which they held on the 23rd and 24th of July recently, and the staggering number of fans who had turned up to support their return to Korea. Many overseas fans had flown to Korea just to watch their concert, and Soshified's Field Trip Team was featured in the video too. The news reporter mentioned that Girls' Generation would also be bringing their 2nd Tour to Nanjing, as well as Taipei. Fellow South Korean girl group, Wonder Girls, was also ranked on the list at the 8th spot. It looks like Girls' Generation is indeed having a world domination!
The section on Girls' Generation starts at about 6:16.
4. Girls' Generation's Taeyeon Ranked Second on Mnet's Idol Chart Show
On the 17th of August, Girls' Generation's leader, Taeyeon, was ranked 2nd of Mnet's Idol Chart Show. Her powerful vocals as well as versatile voice has allowed her to be chosen as the 2nd best idol singer. Taeyeon has released numerous Official Sound Tracks such as "I Love You" and "If" for dramas, sung collaborations with renowned singers like The One and Kim Bumsoo, as well as starred in her own musical, Midnight Sun. Even at the young age of 22 (International Age), Taeyeon already has a wide range of achievements under her belt, and her success is sure to continue!
5. Girls' Generation "MR. TAXI" Dance Version Music Video Surpasses 20 Million Views
Nearly 4 months after the release of Girls' Generation's "MR. TAXI", the dance version of the music video has surpassed 20 million views on Youtube. The fast-paced beats accompanied by the addictive dance moves has obviously received much love from fans as the video has moved up to join the other multimillion viewed videos such as "Gee", "Genie", "Oh!", and "Hoot". Congratulations to Girls' Generation for yet another wonderful feat!
6. Yoona's Jeju Travel Diary 5
In this week's Travel Diary, Yoona brings us to the scenic seaside of Jeju where the water is crystal clear. This week's featured product contains seaweed, and Yoona claims that she is a fan of this product. The video shows Yoona relaxing at the beach and completing a set of photoshoot. Watch the video to see for yourself the beauties of Jeju Island!
Others
1. Jessica Uploads New UFO Display Picture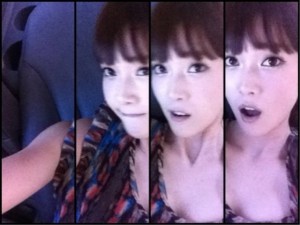 On the 10th of August, Jessica replied to a fan via UFO with a new display picture. Her new photo has been causing quite a stir among netizens as her cute pose and perfect complexion is the envy of many. In the photo, the expression on Jessica's face changes with each frame and it shows the cute charm she has beneath the "Ice Princess" demeanour.
2. Girls' Generation's Tiffany as a "Rock-Chic" Girl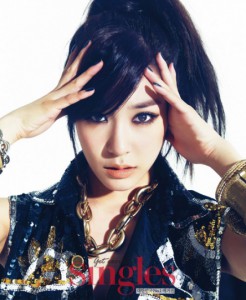 Girls' Generation's Tiffany, who is usually portrays a cute image, undergoes a daring image change.
Tiffany will be featured in "Singles" fashion magazine's September issue, and she will be displaying a mix of London's street fashion as well as the strong impact of a rocker. While having the photoshoot, Tiffany managed to squeeze in time for an interview, and she talks about how she was born in Los Angeles, but came to Korea while holding her dream to be a singer in her heart. She also tells us very earnestly about an unknown episode that happened before she even began training to become a part of Girls' Generation. Be sure to get your copy of the September issue! 2 other teaser scans can be viewed here and here!
3. Girls' Generation Gaining Popularity in North Korea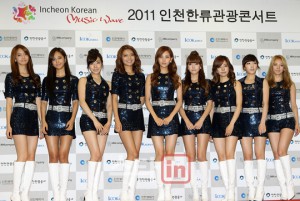 Recently, an episode featuring the growing popularity of K-Pop among the youth of North Korean was broadcasted on Free Asia.
In the report, a Chinese business who constantly travels to and from North Korea stated that, "Korean dances have started becoming more popular among the youth in Pyongyang lately. Just a while back, I got a request from an upper class woman asking me to get a Girls' Generation CD for her." He went on to add that, "Upper class men in their 20's or younger who live in Pyongyang are getting so fanatical about K-Pop that if you don't know South Korean dances, you don't fit in. Famous dance instructors who teach professionally in Pyongyang have also been popping up recently, and they receive $20 for a months' worth of dance lessons. These instructors turn on dance music behind closed doors and teach their students how to dance and sing. Nowadays, mothers in upper class homes don't send their children for accordion, guitar or music lessons. Instead, they have started gaining interest in learning to sing and dance."
Some netizens have expressed their curiosity on the topic by leaving comments such as, "Hallyu has dug its way to North Korea.", "Incredible strength of K-Pop!", "Korean dances danced by North Korean children… I wonder what that's like?"
4. Girls' Generation Chart Rankings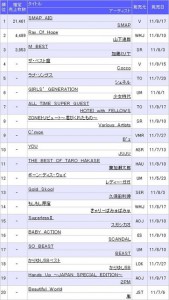 Despite the fact that Girls' Generation's first self-titled Japanese album was released nearly 3 months ago, albums sales are still going strong. Girls' Generation is standing at the 6th spot, and it is an incredible feat considering the fact that the album has already been in stores for 3 months.
5. Girls' Generation Releases Into The New World DVD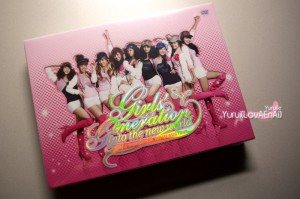 After much anticipation, SM Entertainment has finally released Girls' Generation's DVD, titled "Girls Generation The First Asia Tour: Into The New World". On the 17th of August, the DVD was officially released and has become the hot topic among fans. The DVD consists of behind the scenes footage, as well as all the songs that Girls' Generation performed. There are also bonus tracks of Jessica and Tiffany's "Talk To Me" as well as Jessica's "Barbie Girl" featuring Super Junior's Heechul. The rest of the photos of the DVD can be viewed here
6. Girls' Generation to Release Japan Arena Tour Memorabilia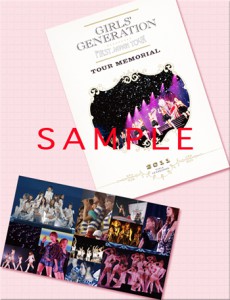 Following the hugely successful Japan Arena Tour that Girls' Generation held from May to July, SM Entertainment will be releasing a set of items as a memorabilia of the tour. They will be releasing a First Japan Tour Memorial Book on the 21st of September, and it will go on sale at 2,700 Yen which is roughly 35USD. It is 128 pages and is A5 sized. Apart from that, SM Entertainment will also be releasing the "Anchor" striped t-shirt that Girls' Generation wore during their performance. It will be released on the 1st of October, at 4,000 Yen or 52USD. The t-shirt comes in 3 sizes, S, M and L. Be sure to support Girls' Generation by purchasing their goods here!
7. Rumoured Girls' Generation Comeback Songs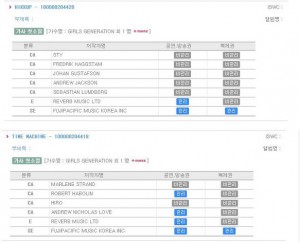 It looks like the rumours of Girls' Generation's comeback songs might be true! 2 songs titled "Hikkup" and "Time Machine" were recently registered at the Korea Music Copyright Association under Girls' Generation's name. Although this means that Girls' Generation might be having their comeback sooner than fans have expected, it is still recommended that fans wait for the official announcement from SM Entertainment before we jump to conclusions. Nevertheless, who's excited?
8. Daum and Innisfree Credits Girls' Generation for Increase in Revenue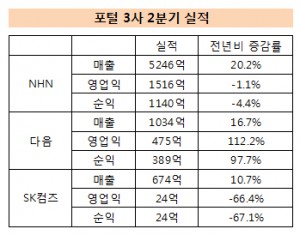 Ever since Girls' Generation started advertising for Daum and Innisfree, both companies have been raking in huge profits. Both companies have experienced rapid growth in their revenue. Daum has had a whopping 112% increase, while Innisfree has earned 64% more than what they previously did. It looks like Girls' Generation really is the way to go when they are able to increase sales by so much!
9. Girls' Generation Jessica Uploads New Selca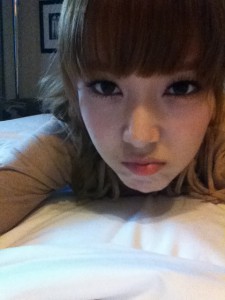 On August 22nd, Jessica uploaded a new UFO display photo. Her newest photo shows that her cute personality and lovable charms are still as vibrant as ever. Jessica's adorable pout has no doubt sent the hearts of many thundering, and her big eyes complete the pose. What do you think of Jessica's new photo?
New Sets of Pictures
Vita500- Taeyeon 1, Taeyeon 2, Taeyeon 3, Taeyeon 4, Taeyeon 5, Taeyeon 6, Jessica 1, Jessica 2, Jessica 3, Jessica 4, Jessica 5, Jessica 6, Sunny 1, Sunny 2, Sunny 3, Sunny 4, Sunny 5, Sunny 6, Sunny 7, Sunny 8, Sunny 9, Tiffany 1, Tiffany 2, Tiffany 3, Tiffany 4, Tiffany 5, Tiffany 6, Tiffany 7, Hyoyeon 1, Hyoyeon 2, Hyoyeon 3, Hyoyeon 4, Hyoyeon 5, Hyoyeon 6, Yuri 1, Yuri 2, Yuri 3, Yuri 4, Yuri 5, Yuri 6, Sooyoung 1, Sooyoung 2, Sooyoung 3, Sooyoung 4, Sooyoung 5, Sooyoung 6, Sooyoung 7, Sooyoung 8, Sooyoung 9, Yoona 1, Yoona 2, Yoona 3, Yoona 4, Yoona 5, Yoona 6, Yoona 7, Yoona 8, Yoona 9, Seohyun 1, Seohyun 2, Seohyun 3, Seohyun 4, Seohyun 5, Seohyun 6
SPAO- Jessica, Jessica 2, Jessica, Sooyoung, Yoona, Jessica, Sooyoung, Yoona 2, Sunny, Sunny, Hyoyeon, Sunny, Hyoyeon, Sooyoung, Yoona, Girls' Generation (Excluding TaeNySic), Hyoyeon, Yuri , Sooyoung 1, Sooyoung 2, Sooyoung & Kyuhyun, Yuri & Donghae, Sooyoung & Yuri & Super Junior, Sooyoung, Yoona, Yoona, Yoona & Siwon, Seohyun
Eider- Yoona 1, Yoona 2, Yoona 3, Yoona 4
Sponsored photos- SNSD, Yoona, Seohyun
SONE Picture/Video of the Week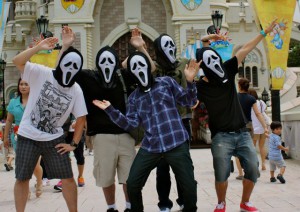 Anybody remember this? That's right! 5 members of Girls' Generation posed in the exact same way, at the exact same place with the exact same masks about a year ago outside Lotte World. Recently, during the Soshified Field Trip to Korea, the group was brought to Lotte World to enjoy a day at the theme park. 5 of them, namely cedge, grayfm, Mawelli, EatYourRamen and JessiesBoy decided to buy the Scream masks that Girls' Generation bought and pose in the same way that they did.
This is the photo that Girls' Generation took when they sneaked off without their managers' knowledge to Lotte World.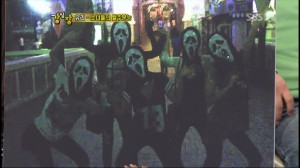 If you have any pictures or videos you'd like to submit for SONE Picture/Video of the Week, please feel free to do so by sending them to the Soshified Writing Team at tip@soshified.com or posting at the official SONE Picture/Video of the Week thread
Sources: Soshified Photos Section, kbsworld@youtube.com, SONEkiss@youtube.com, sadagu91@youtube.com, ecoinnisfree11@youtube.com, universalmusicjapan@youtube.com, throwstacks@me.com
Written by: gayqueenful@soshified.com
Contributors: residentbenchwarmer@soshified.com, michaelroni@soshified.com, ch0sshi@soshified.com, SeraphKY@soshified.com
Graphic by: cioco@soshified.com
Have a news item that you think Soshified should know about? E-mail us at tip@soshified.com.
Follow us on Twitter: http://twitter.com/soshified for the latest on Girls' Generation.