Updated with news clip
Hallyu icon Girls' Generation visited Cheongwadae (or The Blue House, which is the official residence of the President of South Korea) on the August 19, after being appointed as ambassadors for "Visit Korea Year".
Girls' Generation's nine members and Shin Dongbin, the chairperson of "Visit Korea Year", met with the First Lady, Kim Yoonok. They talked about the Hallyu wave that has been happening all over the world. After shaking hands with the members, First Lady Kim expressed her delight by saying, "You all look prettier in person than on TV," and took a commemorative photo.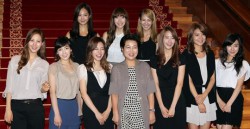 Kim Yoonok commented, "I don't know if it's because I saw you all on TV often, but you seem familiar. I'm very thankful for you working so hard to inform the world about Korea." She also requested, "Please inform the world about Korean foods as well."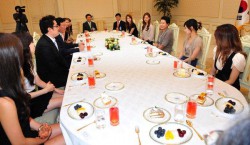 Sooyoung stated, "I recently saw the First Lady reading a book to children with visual impairments." To this, First Lady Kim replied, "I do volunteer work, reading to children in multicultural families where the mother does not speak Korean, once a month. There is an inadequate supply of Braille books in our country."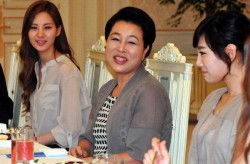 When word of Girls' Generation visiting Cheongwadae got out, workers were looking forward to getting their autographs or photos with them. However, their car took them straight to the main building, therefore the meeting with the workers could not happen. Girls' Generation spent approximately 20 minutes at Cheongwadae before quickly leaving for Japan.

Updated: News clip of Girls' Generation meeting the Korean First Lady
Source: Nate, hellosone@YouTube.com
Image Sources: Nate 1, 2, 3, 4
Translated by: ch0sshi@soshified.com
Edited by: michaelroni@soshified.com