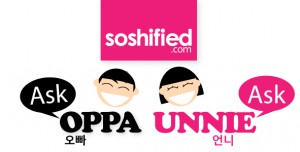 It's July! One half of the year is already gone, and to usher in the second we proudly present to you the July edition of Ask Oppa / Ask Unnie.
There are three ways to send us your questions; Emailing tip@soshified.com with the subject "Ask Column", leaving questions at our official Soshified submission thread or submitting your inquiries to our official formspring page. Remember that we want opinion-based questions as your questions about Girls' Generation-related facts can be answered here. There is NO deadline for submitting questions. If your question is not answered in this month's collumn, that doesn't mean it might not be used in later months.
Now let's get to answering those questions!
In your opinion, what are the best traits of SNSD as a group? I really want to know the difference between what girls and guys see in SNSD
– Mika-pyon
procrastinatoress-unnie says: Rather than say guys see Girls' Generation in one way, and girls see them in another, it really bubbles down to the individual in question. I think every SONE has their preferences and opinions. But personally, it's their image as a whole that I love. It's what got me into the group. While individually they're all so interesting and loveable, just the image of a group of girls having fun together every day is just so darned adorable. Their best trait, to me, is how despite being a high profile group of celebrities, they just exude this vibe of being a big, loving and dorky family.
michaelroni-oppa says:
To me, their absolute best trait is the fact that the girls are so different from one another and that each one is so distinctly unique. It's like when you take a whole bunch of different ice cream flavors that you think wouldn't taste good if you mixed them together, but once you do, it's perfect. On their own, each girl is so beautiful and special, but when they're together as nine, they form something that's even greater than just the sum of their parts. Others might point out the girls' professionalism, their vocal talents, their sexiness, their appeal across all age groups, but that incredible combination of individual distinctiveness and the unbreakable SoShi Bond stands out to me as their strongest trait.
As hard as it is, which male idols would you choose to pair with each Soshi member?
– snickersbar

"Sweet Potato" Couple YongSeo
procrastinatoress-unnie says: For some reason, it is hard. As selfish as it is one tends to feel a bit posessive of the girls at times. But if I had to…I guess rather than with guys who 'look good' with them, I'd pair them up with idols who I think would be capable of making them happy. For instance, Tiffany's needs someone who'll keep her one her toes ('cause I love that spunk), so maybe someone like Daesung; if you've seen Family Outing you'll know what kind of relationship they have. For Seohyun, Yonghwa is a given, since we all know he cares for her. Although Super Junior's Kyuhyun and Seohyun are so cuuuute.
michaelroni-oppa says:
Do I count as a male idol? No? Darn… This is actually kind of a difficult question for me, not necessarily because I don't want to think about the girls being paired with guys who are not me (that IS a painful thought, of course), but because I don't really pay much attention to male idols. If you asked me to name as all the male idols that I know of, they would mostly be idols that have appeared on shows with the girls. The only two pairings that immediately come to mind are Yuri-Kim Taewoo and the Sweet Potato Couple. I seriously doubt either would ever happen, but the Yuri-Taewoo couple is just amusing to me, like they form a real-life Beauty and the Beast couple. And the Sweet Potato Couple was so cute over the course of "We Got Married" that I'm not totally opposed to it in real life.
We all know the girls for their dancing, singing (and acting) skills, but what other skills would you like to see the girls try?
– Solstice of Light
procrastinatoress-unnie says: Oh there are all sorts of other skills I'd love to see the girls try their hands at. Juggling, for instance. Parachuting. Paint-ball! It would be hectic. And hilarious.
michaelroni-oppa says:
This is slightly related to the singing skills, but I think it's distinct enough that it works. I want to see the girls try their hand at writing more of their own song lyrics and getting more hands-on with the production of their music. Yuri already demonstrated that the members can do an excellent job of that when she wrote the lyrics to "Mistake", which is my favorite song from the "Hoot" mini-album. I would hope that, whenever the next Korean album/mini-album comes out, that more members get involved with the music-making process.
What do you think is different between Korea's SoNyuhShiDae and Japan's ShoJoJiDai?
– Anonymous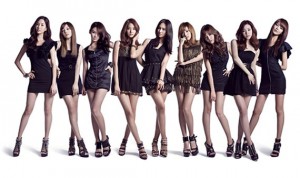 The fiercer and cooler "Shoujo Jidai"?
procrastinatoress-unnie says: There's quite a few differences, aren't there? From image to musical style and even lyrical style. The difference I noticed the most however is their personality change while on shows and the like. Of course, this is pretty much entirely because of the language barrier, but in Korea the girls are dorky and loose, crack weird jokes and get up to all sort of mischief. In Japan they're reserved and soft-spoken, and their words don't carry an awful lot of confidence. Instead they just sit their like supermodels and look ultra smooth. Their image in Japan certainly is powerful and cool, but I can't wait for Japan to get a taste of just how dorky these girls can be when their Japanese gets better.
michaelroni-oppa says:
The main difference that sticks out in my mind is the difference in musical styles. Granted, there's only one Japanese album to use when comparing the stylistic differences, but based on that alone I sense a shift. When listening to the Korean albums, their songs seem to generally utilize higher and more au naturel vocals, with a few exceptions of course. The sound is more girly, for lack of a better word. In the first Japanese album, many of the original songs featured vocals at a lower pitch, giving the girls a much more mature sound. It's an interesting comparison, and I like seeing the girls' evolution as the years pass and as they transition back and forth between Korea and Japan.
And here is a bonus, not-so-SoShi related question pertaining to our forum leader Soy and super-moderator Doe!
What do you think of SoyClaire?
– Anonymous
procrastinatoress-unnie says: IDE. The kind of confusion that comes around from watching these two isn't even funny.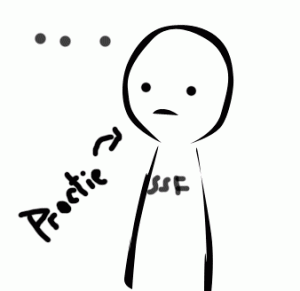 michaelroni-oppa says:
Much like SoShi pairings, there are many different Soshified staff pairings that people dream up. But the simple fact is that there's only one pairing that truly matters and is worth calling "real" in the Soshified staff world, and that's SoyClaire. There have been dedicated SoyClaire accounts made in various places, and for good reason. Their love/hate relationship has a little something for everybody: cheesy romance, angsty tension, and everything in between. Any Soshified staff pairing that you hear about is almost certain to be somebody's pipedream, except for SoyClaire.
We hope you've enjoyed this episode of Ask Oppa / Ask Unnie, and be sure to leave us a comment below! Remember, we need to hear your questions in order to make this column work, so send them to us using one of the three methods listed above! See you next month!
Written by: michaelroni@soshified.com, Procrastinatoress@soshified.com
Have a news item that you think Soshified should know about? E-mail us at tip@soshified.com.
Follow us on Twitter: http://twitter.com/soshified for the latest on Girls' Generation.