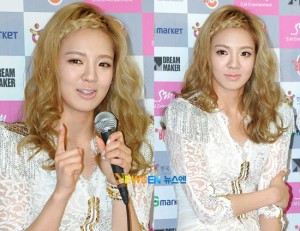 Girls' Generation's Hyoyeon is currently receiving attention for her striking appearance at the press conference of the "2011 GIRLS' GENERATION TOUR". The event was held prior to the start of their concert on July 24th that was held at the Seoul Olympic Park Stadium.
Many fans were pleasantly surprised by Girls' Generation's Hyoyeon who appeared at the event in her white lace costume. She glowed with her natural make up and striking blonde hair which allowed her to stand out easily among the members.
She also lightened up the overall atmosphere as she answered questions comfortably and smiled frequently for the cameras. Her maturity was also noticed by fans who praised her for her unchanging beauty. Hyoyeon earned loud cheers from the audience as she performed her individual stage at the concert. She danced and sang to Rihanna's "Please Don't Stop the Music", giving her own spin with energetic choreography and overflowing charisma.
Her appearance earned reactions like "I was surprised at how beautiful you looked", "She's Song Hyegyo's doppelganger." and "The goddess stood out".
Meanwhile, Girls' Generation is expected to embark on an international tour and will be holding concerts in other countries in the near future.
Source: Newsen
Written by: shizzles9@soshified.com
Have a news item that you think Soshified should know about? E-mail us at tip@soshified.com.
Follow us on Twitter: http://twitter.com/soshified for the latest on Girls' Generation.