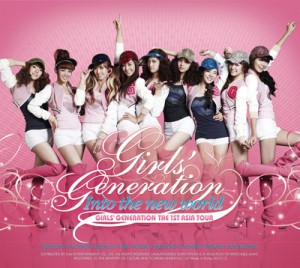 Girls' Generation held their first ever solo concert titled "Girls' Generation the 1st Asia Tour: Into The New World" in Seoul on the 19th of December, 2009 and it ended in Taipei on the 17th of October, 2010. 2 months later, SM Entertainment released the Live Album of "Into The New World" by Girls' Generation on the 30th of December 2010, giving fans a wonderful end to a year. Now, nearly 2 years after the first concert, SM Entertainment has finally announced their plans to release the DVD of Girls' Generation's concert.
The DVD will contain 2 CDs with a total of 44 performances in them. In addition, there will be never-before-seen footages from the concert rehearsals, dressing-rooms, and personal interviews with each of the members. The 1st CD will be 89 minutes long, and the 2nd will be 129 minutes. Also, the DVD will contain Korean, Japanese and Chinese subtitles, and it will come along with a "Live in Concert Special Colour Photobook", as well as a one of a kind, limited edition poster. This DVD will officially be released on the 17th of August, and it will cost 29, 700 KRW. Below is the track list.
CD 1:
01.NINE ANGELS
02.소원을 말해봐 (GENIE)_ROCK TRONIC REMIX VER.
03.SHOW! SHOW! SHOW!
04.소녀시대 (Girls' Generation)
05.BEGINNING
06.멤버소개 (Member's Introduction)
07.IT'S FANTASTIC
08.ETUDE
09.OOH LA-LA!
10.KISSING YOU
11.1년 後 [ONE YEAR LATER]_제시카, 온유 (Jessica, Onew)
12.좋은 사람 있으면 소개시켜줘 [윤아] feat.이특, 신동 (Yoona Ft. Leeteuk and Shindong)
13.SUNNY [써니] (Sunny)
14.UMBRELLA [티파니] (Tiffany)
15.HUSH HUSH; HUSH HUSH [태연] (Taeyeon)
16.CHOCOLATE LOVE
17.HONEY (소원)
18.DEAR. MOM
19.영원히 너와 꿈꾸고 싶다 (FOREVER)
20.사랑은 선율을 타고 (DAY BY DAY)
21.동화 (MY CHILD)
CD 2:
– Making of the concert
– Behind-The-Scenes such as Concert rehearsals, dressing-rooms, and interviews with individual members.
22. BARBIE GIRL [제시카] FEAT.KEY (SHINee) (Jessica Ft. Key)
23. SANTA BABY [수영] (Sooyoung)
24. 라벨: 모음곡 「거울」제 4 곡 「어릿광대의 아침노래」[서현] (Seohyun)
25. SIXTEEN GOING ON SEVENTEEN [서현] (Seohyun)
26. SINGIN' IN THE RAIN
27. OVER THE RAINBOW
28. HYOYEON DANCE
29. 1, 2 STEP [유리] FEAT.AMBER (f(x)) (Yuri Ft. Amber)
30. BEAUTIFUL GIRLS FEAT.유영진 (Yoo Youngjin)
31. 다시 만난 세계 (Into the new world)
32. 웃자 (BE HAPPY)
33. 힘 내! (WAY TO GO)
34. Gee
35. TOUCH THE SKY
36. 냉면 (차가운 니 얼굴) FEAT.소녀시대 (Naengmyun Ft. Girls' Generation)
37. 하하하송 (HaHaHaSong)
38. 멘트 (Talk)
39. COMPLETE
40. BABY BABY
41. Oh!
42. CLOSING MENT
Bonus Tracks:
43. 카라멜 커피 (TALK TO ME)_제시카, 티파니 (Jessica, Tiffany)
44. BARBIE GIRL [제시카] feat.희철 (SUPERJUNIOR) (Jessica Ft. Heechul)
Make sure to support Girls' Generation by purchasing their DVD! You can do so here.
Credits: Source: www.leesmusic.co.kr
Written by: gayqueenful@soshified.com
Have a news item that you think Soshified should know about? E-mail us at tip@soshified.com.
Follow us on Twitter: http://twitter.com/soshified for the latest on Girls' Generation.