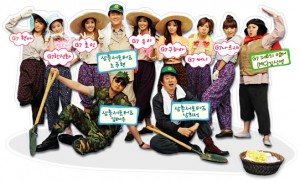 The KBS entertainment program "Invincible Youth" which ended last December in 2010 is slowly showing signs of being popular in Japan.
Asahi Newspaper reported on the 19th that the "Invincible Youth" DVDs sold well when it was released last April. The newspaper introduced the show as one where you could see Hallyu idols without make up and who offered a wholesome image that could not be seen elsewhere.
The episode where the members of the show including Girls' Generation Sunny visited Biei, Hokkaido in July 2010 mentioned, and the representative of Biei's tourism stated, "It has become a famous tourist location for Koreans. I didn't know that two days of filming would have this much of an impact."
Even though "Invincible Youth" has reached its end, the program's increasing popularity in Japan is most likely due to the presence of the Hallyu wave. Leading groups like Girls' Generation and KARA have attracted an overwhelming following, and with the entrance of more Korean idol groups into the Japanese music industry, interests in anything K-Pop related is bound to remain at an all-time high.
Source: Asia Today
Translator: oniontaker@soshified.com, jreddevil07@soshified.com
Written by: shizzles9@soshified.com
Have a news item that you think Soshified should know about? E-mail us at tip@soshified.com.
Follow us on Twitter: http://twitter.com/soshified for the latest on Girls' Generation.