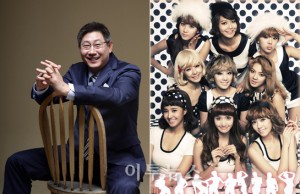 The Korea Baseball Organization presented their "Legend All Star Best 10" players for the 30th anniversary of pro baseball in Korea last month. Lee Mansoo, Han Daehwa, Jang Hyojo, Kim Jaebak, Lee soonchul, Sun Dongyeol, Yang Joonhyuk, Kim Kitae, Jang Jonghoon and Park Jungtae were chosen as this year's top 10 legendary players representing Korea.
When asked which girl group they wanted as their team ambassador, 4 out of the 10 players picked Girls' Generation. Wonder Girls came in second with 2 votes, while 2NE1, KARA, and Secret came in with 1 vote each. Strangely, one of the players responded with a "Withdrawal" as he could not make a decision. This means that out of the 9 votes, Girls' Generation won 4 of them.
The present coach of the LG Minor League Team, Kim Kitae, explained that the reason why he chose Girls' Generation was because his child is a huge fan.
Credits: Source: www.e2news.com
Written by: gayqueenful@soshified.com
Translated by: taengbear@soshified.com
Have a news item that you think Soshified should know about? E-mail us at tip@soshified.com.
Follow us on Twitter: http://twitter.com/soshified for the latest on Girls' Generation.