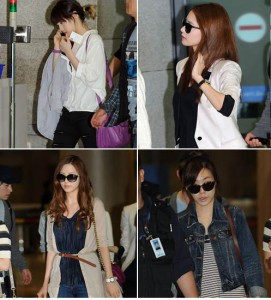 Girls' Generation's airport fashion has been gaining much attention in Japan as well.
Girls' Generation's album in Japan recently sold over 500,000 copies, becoming "double platinum". As if their popularity is reflecting on that, Girls' Generation's airport fashion has also become a hot topic in Japan.
The reason why Girls' Generation's airport fashion has been gaining attention is because it is natural yet stylish. Japanese women in their twenties are already copying Girls' Generation's fashion.
Girls' Generation's airport fashion has an urban and chic style, balanced with a cute and cheerful style, showing various outfits.
Taeyon's loose-fitting blouse and denim sneakers showed a comfortable style. Seohyun also wore denim, but she had a more casual, mature look by wearing a long cardigan and chain bag.
Tiffany showed off a chic look with this summer's trend, an ankle-long maxi dress, while Yoona had a more formal look wearing a white jacket matched with a black undershirt and sunglasses, making her look thoughtful.
When an Mnet crew member who interviewed Japanese on Girls' Generation's popularity, they answered, "Girls' Generation's growing popularity has been influencing Japan's fan culture to change. Their popularity hasn't ended with just their songs, but it has also become an influence on fashion and makeup techniques."
(Editor's Note: Also published in SoShi Styling.)
Source: Nate
Translated by: ch0sshi@soshified.com
Edited by: residentbenchwarmer@soshified.com
Have a news item that you think Soshified should know about? E-mail us at tip@soshified.com.
Follow us on Twitter: http://twitter.com/soshified for the latest on Girls' Generation.