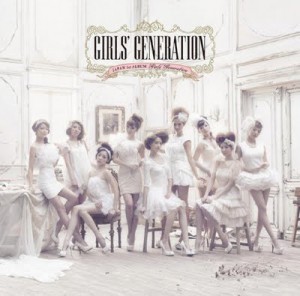 Girls' Generation has achieved a major breakthrough as a foreign artist in the Oricon charts. The Korean girl group was placed 5th overall for the "1st Half of 2011 Oricon Ranking" with record earnings of 2.6 billion yen in total sales. The girls were placed after top Japanese artists like AKB48 and EXILE and have emerged as the top performing foreign artist on the list.
Girls' Generation started off the year with the release of their 3rd single "MR. TAXI/Run Devil Run" which was released on April 27th. They sold more than 150,000 copies for that single alone, and continued to make their mark with their self titled 1st Japanese album, "Girls' Generation", selling more than 326,000 in album sales.
Additionally, "MR. TAXI./Run Devil Run" was ranked 21st for the "Top 50 Singles" category while their 1st Japanese album and Hoot were placed at 10th and 21st respectively for the "Top 50 Albums" category. Their DVD "New Beginning of Girls' Generation" was also ranked 15th for the "TOP DVDs" category.
Fellow Korean artists like KARA and Tohoshinki were also mentioned as having made significant milestones. The former was ranked 6th for the foreign artist category, while Tohoshinki was ranked at 15th.
After breaking the 100,000 mark in album sales after only 2 days, and with their ongoing successful Japan Arena Tour, it's clear that Girls' Generation has no plans to slow down with their promotions.
Source: Oricon
Written by: shizzles9@soshified.com
Edited by: SeraphK@soshified.com, doe@soshified.com
Have a news item that you think Soshified should know about? E-mail us at tip@soshified.com.
Follow us on Twitter: http://twitter.com/soshified for the latest on Girls' Generation.