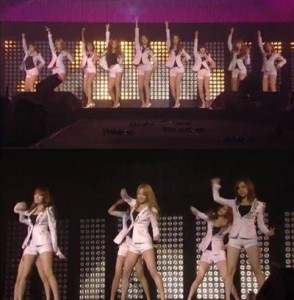 I'm not saying this because I'm from England. I truly believe that England will be the 'key' to Girls' Generation's attempt to succeed internationally. First of all, it is easier to enter its market than the American one, and it is possible to use England as a launching pad to spread to America and the rest of the world.
Last week, I saw one of the early music videos of Girls' Generation. I thought that they had changed immensely over the years. At the same time, I also thought that they had not actually changed that much. Maybe they had just naturally matured over time. [..]**Comments unrelated to Girls' Generation omitted**
Regardless, the truth is that Girls' Generation has totally matured. They give off the feel of professional entertainers now. I like listening and watching Girls' Generation's songs and performances. I cannot help but admit that I enjoy watching 9 charming girls dance and sing. Maybe that is why I am not particularly interested in Super Junior. My daughter, though, also shows a bigger reaction when Girls' Generation comes out than when Super Junior does. Maybe it is because Girls' Generation is objectively more charming.
Girls' Generation now has fans from all over Europe. The Paris K-pop concert was a very interesting event. I was sometimes skeptical about Korean reports of the "Korean wave". It was reported that the Wonder Girls and Rain successfully entered the American market, but, in reality, the majority of the attention they received were from Asians.
However, the SM tour this time around was different. A considerable number of French and European fans gathered in Paris to see SM artists, and this was proof that Korean culture's effect on other countries had grown. Although there was the language barrier, the strength of Korean pop music was enough to overcome it.
I do not think that an Asian pop group has had global success before. It is possible for groups to make profits performing in various countries while not being internationally successful. The Wonder Girls have performed here and there, but everyday people walking down the streets in America's major cities do not know who they are.
Girls' Generation has to overcome this same problem, but they have a higher chance of success than the Wonder Girls. The Wonder Girls' entry into the American market seemed like a desperate attempt to me. I am not sure why, but that is the feeling that I got. The Wonder Girls behaved as if they had risked it all on their entry in to the American market and it seems like they have completely forgotten about Korea. They definitely made a mistake. That is because, regardless of whatever activities they have in other countries, they cannot forget about Korea, their "home base". And we know very well the Wonder Girls' situation after returning from America.
And the fact that they wanted to hold an American tour with just one song did not bring good results. "Nobody" is not a bad song, but it was not quite strong enough to have staying power. It is inevitable that songs like that will become boring quickly. On the other hand, Girls' Generation brought several hit songs to Paris and showed their charms to fans from a wide variety of cultural backgrounds.
If groups, including Girls' Generation, want international success, the correct way to do it is Europe -> England -> America. I will say it again, but I am not saying this because I am a biased Englishman. I just want to stress the fact that there is a statistically higher chance of success in America after succeeded in England. Whether that has anything to do with it or not, the music industry's core is America, so succeeding there means being recognized as a "global band".
Succeeding in France is not very helpful. The French market is very limited and not recognized on an international scale. It has improved, but the French market's overall quality continues to be lacking.
If Girls' Generation is able to sing songs in English, their chances of success will increase even more. However, it is very difficult to succeed while singing a different language. Although people in France, Germany, and Spain are used to listening to foreign music, they normally listen to English songs.
Meanwhile, people in England and America are not used to songs in foreign languages. It is not something I am proud of, but that is the reality of English and American pop culture.
As far as I can remember, there have only been 3-4 non-English songs in the past 30 years that have become hits. On top of that, you can only expect one-hit wonders when singing in a foreign language. You have to sing in English to continue to be recognized in the music industry. Thus, I think that groups should first conquer England's smaller and easier market.
If you decide to enter the U.S. market without previously making yourself known, you will have to work harder and be able to handle a more difficult schedule to make yourself known. The chances of success diminish greatly, too. Artists who are interested in performing internationally have to realize this. If you succeed in England and you are lucky, you could become famous in America before even landing there. Even if you are not lucky, you have already established a base camp from where you can seize the world's largest market.
You can stay in England for a few weeks and make TV and radio appearances as well as hold showcases and concerts before returning to Korea and resuming activities there. If you succeed in England, people across Europe and other countries will naturally become more aware of you. You can also make a splash in the U.S. market, which is your ultimate goal.
Girls' Generation is a charming girl group that has the talents and skills needed to succeed internationally. I also believe that this is an okay time. I look forward to seeing Girls' Generation becoming the first Asian group to become a global sensation.
Source: Nate – original article by John Duerden, soccer columnist for The Guardian, ESPN, The New York Times, Sports Illustrated, MSN.
Translated by: jreddevil07@soshified.com
Edited by: michaelroni@soshified.com
Have a news item that you think Soshified should know about? E-mail us at tip@soshified.com.
Follow us on Twitter: http://twitter.com/soshified for the latest on Girls' Generation.