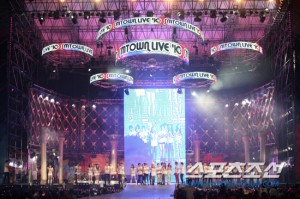 SM Entertainment artists DBSK, Girls' Generation, SHINee and f(x) were all a part of the SM TOWN Concert in Paris which just concluded a few days ago. They are now back in Korea.
If we follow sources and rumors, it has been discovered that they will be recording an episode of 'Yoo Jaesuk Kim Wonhee's Come to Play' (Come to Play for short) on the 22nd of this month. This highly popular talk show will dedicate its next airing as an SM Entertainment Artist special broadcast.
According to sources, "SM Entertainment" company artists will be interviewed on how they feel as the pioneers of the K-POP industry in France as well as talks of what happened behind the scenes while they were there. Though it will be impossible to have all the artists on the show due to their extremely busy schedules, many of them will be present. Since this show is the first of its kind, it is drawing a lot attention from people.
Also, we will be hearing their thoughts on European fans they met in Paris, as well as the marketing opportunities in Europe.
Written by: JeremyJay22@soshified.com
Translated by: kpxsammyboy@soshified.com
Source: Sports Chosun
Are you excited for the broadcast?
Have a news item that you think Soshified should know about? E-mail us at tip@soshified.com.
Follow us on Twitter: http://twitter.com/soshified for the latest on Girls' Generation.