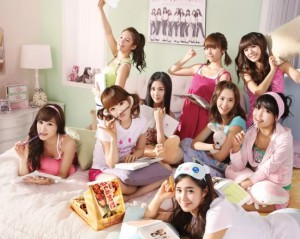 "But what I am doing here?", I wondered on August 25, 2010, inside the Ariake Coliseum in Tokyo. I came to attend the South Korean singers, Girls' Generation's concert. Though I was impressed by their performance, I must admit what surprised me the most was the audiences' young age. I felt like I didn't really fit, surrounded by 15-year-old teenagers. But even at my age (50), I noticed the infatuation of the Japanese for the South Korean culture was not to be seen amongst middle-aged women anymore (in 2003, women in their 40s-50s became fans of the Korean TV show Winter Sonata, which started the wave of South Korean culture in Japan).
It was actually the first concert of these South Korean stars in the archipelago. After conquering their native country, they started to seduce the whole Asian population. Only people who managed to buy the limited edition of their Japanese debut DVD were invited to the concert. Even so, 22,000 fans hurried to the Coliseum. The organizers had to add two new concerts.
In the venue, where thousands of pink light sticks were shining, I was trying to lay low. Finally, the lights turned off. Girls' Generation appeared on stage, wearing shorts and revealing their navels. They really looked like fashion dolls. Near me, girls in high school days were fighting back tears of joy. Sooyoung, one of the nine singers, greeted the crowd in Japanese. She is the only fluent member in the group, while four others can speak Chinese. Though I couldn't help but think they had a really businesswomen-seeking-the-conquest-of-the-global-market side, I heard them sing five songs with passion; including GENIE, their first Japanese single. Their dance moves were perfectly executed and they all performed in zestful voices. "We have only introduced ourselves now, but this is already the last song", Sooyoung said. The last song was Gee. It is one of their biggest successes, as it stayed number one on South Korean charts for nine weeks. It was a very catchy tune. I have to say that I even ran up to the front so I would not miss anything from the show. Apparently, it was a love song, but the only thing that stayed in my head was the chorus: "Gee Gee Gee Gee". I understand a bit of Korean, but I was lost. Being the old journalist that I am, I left the overcrowded avenue after thirty minutes of concert, feeling completely euphoric.
I felt afraid while walking along the Ariake Coliseum, because it was literally teeming with people. Young girls wearing the same stage outfits as Girls' Generation were all excited. I came closer to a nine-member group of girls from Osaka and asked them what they liked about Girls' Generation. "They are so stylish. We love them. They are good-looking and sing well. AKB48 (a group of Japanese singers) are nice too but they act like little girls too much." they answered. They were speaking with honesty, holding a fan that was printed with their favourite group's name.
Girls' Generation songs are not gloomy. Among the crowd of fans, a few boys can be seen. I met two students from Tokyo who studied in South Korea. One of them was a little embarrassed by confessing, "I did not only study the Korean language, I also studied the history. I visited the Seodaemun prison, which is considered as the symbol of oppression since the country was under the Japanese domination. There is an antipathy, which is hard to erase, towards Japan. But now, I am addicted to Girls' Generation. We are Japanese and we support the stars that Korea is proud to introduce to us. I don't think it's a bad thing."
A few TV stations were there for the concert at the Ariake Coliseum. Kim Hyunchul from the Seoul Broadcasting System in Tokyo observed the phenomenon with stupefaction. "It's incredible! I thought the infatuation for the South Korean culture started by Winter Sonata was over, but it's not. The K-Pop girls seem to have started the trend all over again. It's a phenomenon I will talk about back in Korea. As for the colonization, everybody has to understand that problems from the past belong to the past now. The most important thing is the upcoming century. I'm certain that the young will make sure to build good relationships between our two countries."
With the huge success of Korean boy groups such as Tohoshinki and Big Bang, K-Pop girls wanted to make an attempt on the Japanese scene. Members of Girls' Generation are not the only ones. We can look at 4Minute, Kara or Brown Eyed Girls; groups that have started to gain fans with their own appeal. The Japanese music scene may soon by invaded by "Made in Korea" artists just like electrical goods store are full of Korean products.
"Chizuno we / Chousenkokuni / Kuruguroto / Sumiwo nuritsutsu / Akikazewo kiku" [I hear the Autumn wind / On the map, I draw with black ink / the Korean peninsula]. The author for this Japanese poem is Tabuboku Ishiwa (1886-1912) and wrote this verse after hearing the news of the annexation of Korea by Japan a long time ago. He had wanted to give his support to the South Korean population. But the members of Girls' Generation probably don't know that, because it's part of the past. On August 25, 2010, Koreanophiles waited for hours under the unbearable heat to attend the second and third concerts of Girls' Generation.
Source: Courrier International
Translated by: Talesy@soshified.com
Edited by: spiceshoe@soshified.com
Have a news item that you think Soshified should know about? E-mail us at tip@soshified.com.
Follow us on Twitter: http://twitter.com/soshified for the latest on Girls' Generation.