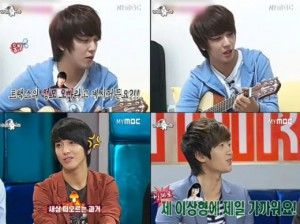 TRAX's Jungmo and CN Blue's Yonghwa appeared on the same show together, and the topic regarding Girls' Generation's Seohyun was eventually brought up.
On the June 1st episode of MBC's "Radio Star", TRAX's Jungmo commented, "Seohyun is closest to my ideal type." After he revealed this, CNBlue's Jung Yonghwa became noticeably jealous since he was once in a make-believe marriage on "We Got Married" with her.
He recalled that while they were filming the show, Jungmo would teach Seohyun how to play the guitar and took good care of her as well.
On a side note, Seohyun was also featured in one of TRAX's music videos titled "Oh! My Goddess".
What do you think of this love triangle?
Source: TVREPORT
Translated by: jreddevil07@soshified.com
Written by: shizzles9@soshified.com
Have a news item that you think Soshified should know about? E-mail us at tip@soshified.com.
Follow us on Twitter: http://twitter.com/soshified for the latest on Girls' Generation.