It's already the third installment of Back to Basics (B2B) and hopefully everyone has grasped the meaning and intentions of this column fairly well! One of the aspects that I really like about working on this project is that no matter how many times you go through the girls' history and their progress thus far, it never gets boring. Maybe that's why I've been a fan for more than 3 years, and I hope that when you read through this column, you'll feel the same way.
March from years 2008 till 2010 can be considered as a transition month for Girls' Generation as new prospects were unveiled during this month. After tirelessly promoting their title songs, they slowly but steadily made new moves or introduced different concepts to illustrate their versatility in the industry. The K-Pop world is fickle and easily swayed, so the girls are well aware of the need to stay 'fresh' to further solidify their fanbase. With the intention to show their appreciation towards fans, Girls' Generation embarked on a new journey to broaden their appeal.
2008: We will continue to work as Girls' Generation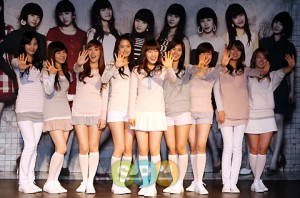 2008 started off with 'Kissing You', where beyond the wildest hopes of both the girls and their fans, Girls' Generation won their first ever Music Bank trophy.
In March, the girls ended 'Kissing You' promotions and announced their return with 'Baby Baby'. This came as a surprise for many who thought the girls would no longer be performing songs from their 1st album. With the release of their repackaged album on March 10th, the girls introduced a more subtle side to their charms with simpler outfits. Even though the song wasn't necessarily dominating at Number 1 in music charts, the album placed in the Top 10 on the Hanteo Chart and the music video (a behind the scenes montage) was greatly loved by fans.
2009: As much as the love and support you guys have given us, we will work even harder and make it SNSD on and on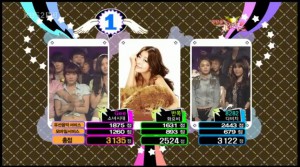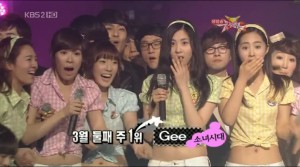 Even with only a 60% chance of winning, the girls rewrote history by winning the 9th Music Bank trophy for their song 'Gee' on March 13th. With such a symbolic number, it was heartening to see how far they have come and to realize that 9 wins ago, the girls had only 1 Music Bank win to their name.
SM Entertainment later revealed that as of March 17th, the mini album surpassed the 100K sales mark, making it the 2nd consecutive album to do so. The girls also appeared on a record of 1536 promotional appearances with 'Gee' (including radio, cable TV, satellite TV), proving how considerable the milestones Girls' Generation covered with that one song alone were.
Even though there were no new promotions within the month, the girls released a music video for 'Himnae (Way to Go)' and performed 'Let's Talk About Love' for their goodbye stages as a means to thank their fans for the support.
2010: If we give our best every moment we have now, later, even if it's not like now, we won't regret it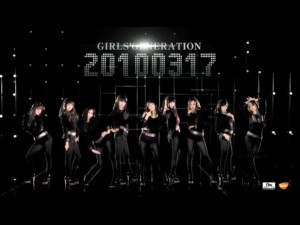 After having their goodbye stage for 'Oh!' on MBC's Music Core, Girls' Generation seemed to have gotten no rest at all and almost immediately started to release teasers for their follow up song, 'Run Devil Run'. This was the first time Girls' Generation ever went for a "darker" image, dressed in dark colours and performing with much more intimidating expressions to fit with the song's theme. Even though the intention was to show a different performance image and nothing more, the girls attained an all-kill on digital charts and received rave responses for their well-executed concept.
The song proved to be one of Girls' Generation's best received songs in the country. The repackaged album sold more than 23,000 copies in two days and the girls also earned a new record for selling more than 200,000 albums (Oh! + repackaged) for a female K-Pop artist.
Due to the 'ROKS Cheonan sinking' tragedy on March 26th, most music shows and television programs were either cancelled or postponed. While this indirectly affected the girls' 'Run Devil Run' promotions, it didn't have much of a long term impact as can be seen from the song's popularity among fans.
The Pieces & Fragments of March: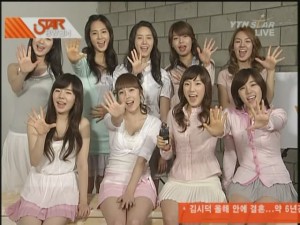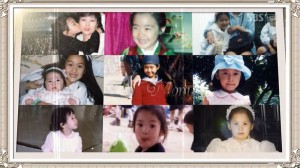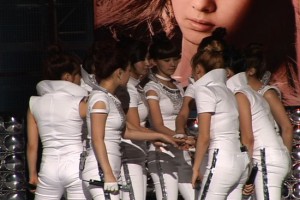 2008:
1. Yuri mentioned in an interview that before they debuted, the girls played a prank on her, telling her that their debut date got pushed back and that they had to practice harder. She was so affected then that Taeyeon said they wouldn't do something like that anymore.
2. Ratings for KBS's Hi-Five (no longer airing) with Taeyeon, Tiffany, Yuri, Sooyoung and Yoona were 18.5%, a substantial increase compared to the previous episodes.
3. On Park Jungah's Byulbam Radio and at a university performance, Sooyoung talked about how Jessica needed to use a hairspray but because she couldn't find one, she shrieked 'I need my hairspray right now! N.O.W! RIGHT NOW!' The girls thought it was hilarious because she sounded like an evil character and she had two high ponytails at that time. Jessica ended up reenacting the moment at the university.
4. Girls' Generation signed a 1-year contract with mobile multimedia brand, Viliv and advertised for its PMP (Portable Media Player) X5 DIC. On the 19th, it was announced that the 'Viliv PMP Girls' Generation Signature Edition' sold all of its 2000 units a day after its release. Viliv earned a revenue of about 1 million dollars within 2 days.
5. Girls' Generation's 'Heart2Heart', a compilation album of self-picked English songs by the girls, was released on March 17th. Songs including Mandy Moore's 'Only Hope' (Jessica) and Christina Aguilera's 'Hurt' (Taeyeon) were chosen. The album peaked at number 2 on YesAsia's Western charts.
6. Taeyeon sang 'If' live on a music program (Mnet Countdown) for the first time on the 13th, the same day Girls' Generation started promotions for 'Baby Baby'. While pre-recording 'If', Taeyeon made a mistake and was stopped midway. One news reporter later stated that all 8 of the girls stood at the side and shouted 'Fighting' and cheered her on.
7. Taeyeon made a guest appearance on Tiffany and Hyesung's Sonyeo Sonyeo Gayo Baekso (SSGB) K-Pop 100 Countdown. She listed Kangta as her favorite H.O.T member and revealed that singer Jang Ri-in (also from SM Entertainment) used to be roommates with both Taeyeon & Tiffany.
8. On the 20th, Yoona and Sooyoung became models for the first time and walked the runway for the '08-09 F/W SFAA Seoul Collection – Lee Joo Young Fashion Show. It was held at the Seoul Hakyohul Exhibition Hall. Sunny, Tiffany, Hyoyeon and Yuri also attended to show their support.
9. On March 25th, it was announced that Jo Jungrin would be stepping down from her position as DJ for 'Chinhan Chingu' after 4 years. Taeyeon was to be her replacement starting April 8th, and become co-DJs with Super Junior's Kangin for 5 days every week.
10. On the 27th March's version of Mnet Countdown, Kangta and Taeyeon sang '7989' for the first time, and the members also made a short appearance at the end of the song. Jessica also had a special stage with Leeteuk and Shindong, singing 'Don't Cry' on the same day.
11. SS501 revealed on 'Wonderful Outing' that member Youngsaeng had a secret crush on Taeyeon. Youngsaeng later even sang a line of Kissing You.
2009:
1. On March 1st, the girls performed 'Dear Mom' for the first time on SBS Inkigayo. A fan who was there said that Taeyeon and Yuri didn't look very well. While pre-recording the 1st take, Taeyeon cried and couldn't recover even after the girls tried to console her. "It wasn't that she couldn't sing because she cried, she cried because she couldn't sing it." –Fan
2. Tiffany was featured in Nassun's 'Come to Play' on music programs for a week. She later received numerous requests from singers to feature in their album. Nassun also praised her effort and passion, and revealed that "Tiffany practiced the choreography until dawn even during Gee promotions when she could barely find any free time, and even requested to re-record the song".
3. Even with 'Gee' promotions and 'Cinderella Man' filming, there were pictures of Yoona attending lectures at Dongguk University. She was also voted 1st on an online portal site for being the celebrity freshman that would do her best in university.
4. Actors Kang Jihwan and Hwang Jungmin confessed that they liked and would like to meet Girls' Generation. Super Junior's Ryeowook also revealed that "Within the company, I would especially like to compose a song for Taeyeon."
5. Yuri was featured in the music video of singer K.Will's title song 'Dropping the Tears'. Tiffany also sang a duet with him titled 'A Girl, Meets Love'. Yoona was featured in group 24/7's music video for their debut song 'That Guy's Girl'. Sunny and Tiffany both released solo OSTs: Sunny's 'Finally Now' for 'Story of Wine' and Tiffany's 'By Myself' for 'Ja Myung Go'
6. Taeyeon gave a credit card to her parents as a gift. However, her parents ended up buying things that she would need at the dorm instead.
7. According to TNS viewership survey, the KBS's 'Champagne' episode featuring Girls' Generation received ratings of up to a record 14.1%, a 2.6% increase compared to the previous episode. People named this the 'SNSD Effect'.
8. On March 21st, the song 'Himnae (Way to Go)' was played at the World Baseball Championships during the game with Korea and Venezuela.
9. Tiffany attended Baek Dobin and Jung Siah's wedding and sang a duet with singer Tim.
10. Girls' Generation attended the Pattaya International Music Festival. Due to filming, Yoona had to stay in Korea and she ended up replying to UFOs instead. During the fan signing, the fans were discouraged from asking for personal requests but Yuri would ask for the fans' names and even tried to speak to them in Thai. At their resort, a fancam was taken of the girls happily pushing (in Jessica's case, kicking) their manager into the pool.
11. On March 28th, Tiffany and Yuri were confirmed to be the new MCs for MBC's Music Core.
2010:
1. There was a fan who saw Jessica and Taeyeon at the movie theater to watch 'Paranormal Activity' but Taeyeon later mentioned on ChinChin that she didn't really like it. She also said how she really wanted to watch 'Avatar' for weeks but was too busy, so she went late at night one day with her manager.
2. Yuri visited the hospital for cold symptoms and on March 5th, was diagnosed with H1N1 influenza virus, or the 'swine flu'. Sooyoung and Seohyun helped replace her for Music Core duties, while Sooyoung took her place for a day to film 'Invicible Youth'. On March 9th, it was reported that Yuri was feeling better and deemed fully recovered after a check up the next day.
3. All the girls except Hyoyeon, Jessica (Dream Team filming) and Yuri (Sick) attended Taeyeon's birthday party with the fans. Sooyoung mentioned that it was really hard for the 9 of them to get together because of individual schedules. It was also rumored that their manager had a hard time to gather the whole group to record shows with the girls being so busy.
4. On March 15th, Taeyeon was confirmed as the main female role for musical 'Song of the Sun'. She was casted for the role 'Kaoru' and this would mark her debut in musicals. The musical would only start in May, but the VIP seats were all sold out by the end of March.
5. Taeyeon talked about how before she debuted, she played a prank on her friend in a public bathroom. She hid outside of the stall and when the door opened, she screamed 'YAH!' only to realize it wasn't her friend, but an old lady. She got scolded for it.
6. Kim Sangho, the PD of 'Invicible Youth' talked about the G7 members through an interview. He stated that Yuri made the show more popular and that she was the ace member. When she was diagnosed with 'swine flu', Yuri kept texting him and the staff. He spoke highly of Sunny and said that she was one of the members who was very good at variety shows.
7. The girls began endorsing for Nintendo DSi. Previous models include Won Bin, Jang Donggun and Song Hyegyo. Also, MTV's 'The M' ended on March 23rd, marking Sunny's last day as the MC. Yoona was offered a main role for the drama 'IRIS 2' but had to give it up due to conflicting schedules.
8. On ChinChin, Taeyeon talked about how Yuri was initially not recognized by her classmates and that no one bothered to look at her at first. However, they had to do a round of introductions and once Yuri spoke, the class realized and started going wild.
9. Taeyeon came for 'Win Win' filming on March 17th but they sent her back to the dorm as she was too sick to even begin recording. Their manager was also spotted constantly feeding Sunny cough medicine at the set of 'Invicible Youth'. Tiffany had her wisdom tooth growing but because they were in the midst of promotions, she didn't want to talk it out since it would get swollen.
10. Yuri and Sooyoung attended a class party with their university classmates. There were accounts that said the girls were really down to earth and would mingle with the other students and attend classes whenever their busy schedules permitted them to. Yoona used to need extra security whenever she attended classes due to the crowds following her, but as time passed, people got used to her being around.
11. Shinee's Onew talked about how Jessica recommended him for the musical 'Brothers Were Brave', and that she gave him lots of advice and tips. Girl group Kara picked Yoona as the girl with the prettiest no-makeup face.
Shows Released (And definitely worth watching)
PJA's Byul Bam Radio [03.14.08]
Tiffany's Sonyeon Sonyeo Gayo Baekso – Taeyeon [03.21.08]
Hi-5 EP 47 Ballerinas (SNSD) Part 1 [03.30.08]
Radio Star EP 126 – SNSD [02.25.09]
MBC Infinity Challenge EP 144 – SNSD [03.07.09]
Deep Talk with Park Junghoon Ep 12 – SNSD [03.08.09]
SBS Strong Heart EP 23 – Jessica & Sunny Cut [03.23.10]
Awards Achieved:
38. #1 on KBS Music Bank for on March 6th, 2009
39. #1 on KBS Music Bank for on March 13th, 2009
——
79. #1 on KBS Music Bank K-Chart for on March 5th 2010
80. 46th Annual Baeksang Awards : Netizen Popularity Award on March 26th 2010
81. 7th Korean Music Awards – Group Musician of the Year (Netizens Vote)
82. 7th Korean Music Awards – Daesang Award (Song of The Year)
That's all for March, see you next month!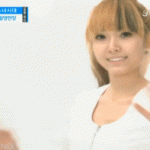 Written by: mellybee@soshified.com
Contributor: soshiluv9@soshified.com
Sources: SNSD Soompi Thread, Soshified News & Translated Goodies
Banner: Chef@soshified.com