April was a month where Girls' Generation expanded their activities beyond their musical promotions. Having spent the past three months working hard mostly on music stages, it was time to spread the Girls' Generation brand through other means. With various endorsements under their belts and with the proven success of their influence, the girls gained recognition for their marketability as Korean artists. They became not just idol stars; they became the stars.
It was also clear that even with individual activities occupying each member in varying degrees, they knew they were strongest as 9. They talked often about their strengths as a group and proudly pointed out they were representing girl group Girls' Generation even when doing solo interviews and solo appearances. This way, their name was further circulated and no one could no longer deny that they were, quite literally, everywhere.
2008: Each member's separate activities may be received positively, but this will not hinder our activities as a group at all.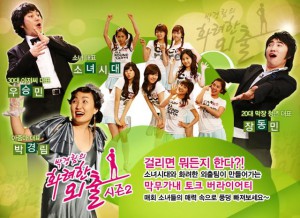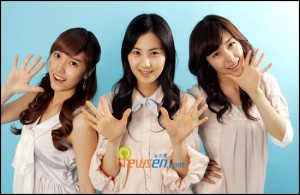 Girls' Generation became permanent guests for the renewed MBC variety show, "Wonderful Outing 2". Even though there were awkward moments initially, veteran host Park Kyunglim skillfully led the girls and attempted to bring out the best of each member. With different themes for each episode, the girls learned to adapt to the unpredictability that comes with a variety show.
Jessica, Tiffany, and Seohyun also released a digital song titled "Bad Oppa", which topped the Nate Ringtone Top 100 Chart. Earning rave responses from fans, the girls exceeded expectations and proved their vocal skills through the ballad. The girls maintained through an interview that they were not a unit, and were still representing Girls' Generation.
During this month, Yoona signed a 1-year contract to endorse sanitary pad brand "Yejimiin" and the girls were also picked as advertising models for Italy sports brand "Ellesse".
2009: We all have our own personality and charms so when we are together, we seem to shine.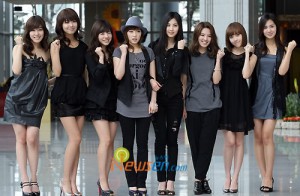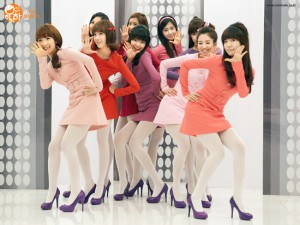 In April, the girls were appearing in at least five different programs on MBC alone. They earned their own reality show (a 3-month long pilot program) titled "Horror Movie Factory", and worked together with comedians Cho Hyeryun, Yoo Saeyoon and Kim Shinyoung. Yoona was casted in MBC drama "Cinderella Man" taking the role of aspiring designer Seo Yoojin, and Sooyoung was partnered with Kim Jaedong and Oh Sangjin on MBC "Fantastic Duo".
Girls' Generation was chosen as the artists to promote Samsung's "HaHaHa Campaign 2009" to help spread hope and cheerfulness to the public. Their music video attracted 3 million viewers in just 10 days after its release.
The girls also became the PR envoy for the Incheon Festival, were appointed ambassadors for the Gyeonggi-do Competitive International Boat Show, and were confirmed to endorse online action game "Dungeon & Fighter". Furthermore, Taeyeon joined Tiffany to be models for "A-Solution", and some of the members shot a commercial for "Binggrae" banana milk.
2010: After 10 years, 20 years 30 years, I want us to be SNSD together. We all share the same mind.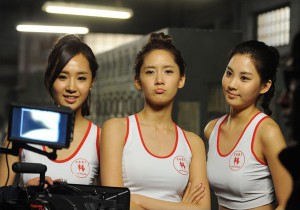 Everland appointed Girls' Generation (with idol group 2PM) as the models for Caribbean Bay. Dressed as lifeguards, Yuri, Yoona and Seohyun presented themselves in a different light as they showed off their body lines and gave off a sexy aura.
The girls were named honorary ambassadors for Incheon Airport Customs and Seohyun was fittingly asked to be the Ambassador for Health with swimmer Park Taehwan to help promote health and fitness in Seoul. Jessica became a regular member on KBS "Happy Birthday" but was slated to appear for only 4 weeks due to conflicting schedules.
In April 2010, there were rumors that the girls would be slowly withdrawing from their activities in Korea due to overseas promotions. It was already speculated then that Girls' Generation was to break into the Japanese market, with several of the members already stating that they were learning the language.
2008 – 2010: Chinhan Chingu With Taeng DJ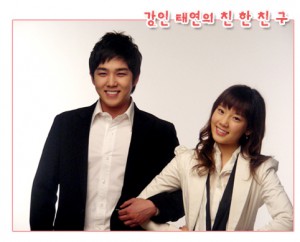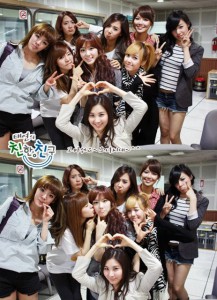 One such person who had to resign from her duties was our very own Taeng DJ. Taeyeon started out as a radio DJ on April 6th 2008, venturing into new territory with optimism and working alongside co-DJ Kangin.
After a year of radio activities, Taeyeon survived the 2009 MBC radio restructuring but lost her partner in the process. Even though there was skepticism about her capabilities to lead the show on her own, Taeyeon charged ahead and learned through first-hand experience as she communicated and formed a bond with her listeners. Some of the members would also occasionally appear for certain segments of the show.
Her DJ stint, however, had various consequences. Her health was often not at its optimum level and with group as well as other individual activities to juggle, it was inevitable that she had to let one go. During the week that she was leaving, Taeyeon's voice would start shaking as she tried to hold back her tears. After two long but passionate years, Taeng DJ left ChinChin on April 25th 2010.
The Pieces & Fragments of April: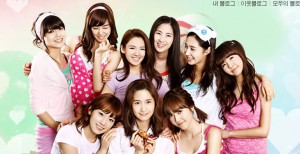 2008:
1. Taeyeon, Yuri, Sooyoung and Yoona attended the funeral of "Turtle Man" Lim Sunghoon (from the group Turtles) who passed away on April 2nd.
2. Both Girls' Generation and Super Junior were confirmed to endorse a Sunkist drink. Yoona and a few members of Super Junior, however, did not participate.
3. On Chunji Radio, Sunny had to do a mission where she had to get the caller to say a particular word. She called Yuri and even though Yuri caught on, she deliberately messed up to make Sunny lose. She did it once before to Taeyeon on ChinChin as well.
4. On April's Fools, SSGB (Sonyeon Sonyeo Gayo Baekso) was broadcast and everyone (including co-MC Kim Hyesung) played a prank on Tiffany. She eventually ended up crying.
5. Yoona was confirmed as the lead for a KBS daily drama. The last three KBS dramas in the same timeslot ended up becoming the top three watched dramas of 2007, so many were anticipating the upcoming one. Daily dramas extend to more than 100 episodes, from Monday to Friday.
6. On Maybee radio, the girls were asked who they wanted to duet with and Jessica picked Xiah Junsu.
7. The "Baby Baby" repackaged album reached number one on the Hanteo Chart on April 9th. The girls won M!Countdown for the song "Baby Baby" the next day, and had their goodbye stage on April 13th.
8. On April 15th, the Music Industry Association of Korea certified that Girls' Generation's first album sold more than 100,000 copies, the first time in six years.
9. On April 27th, Taeyeon was reading the comments on the ChinChin forum boards when a netizen started spamming the board with unfounded and harsh comments. To comfort her, Girls' Generation fans started flooding the website board with encouraging messages.
10. Girls' Generation was one of the top searched artists on Naver for the month of April.
11. Yoona made a special appearance on MBC drama "Park Jung-geum" and acted as a homeless girl who was accused of murder. Her episode aired on April 5th.
2009:
1. On MBC's "Radio Star", Fly to the Sky's Hwanhee was asked which female singer he would pick to duet with, and he immediately answered Taeyeon.
2. The girls performed at Taeyeon's hometown, Jeonju which can be considered as rare since it's so far away. A fan also reportedly saw the girls dining at a restaurant with Taeyeon's mother.
3. Yoona attended the press conference for her drama "Cinderella Man" on April 2nd. Her co-actor Kwon Sangwoo said that Yoona lets him video chat with the other members and picks Yuri as his second favorite since they share the name "Kwon".
4. On the 16th, the Ministry of Public Administration and Security delegated Yuri to be one of the Bicycle Ambassadors.
5. At a tree planting event with Jessica, Sooyoung and Seohyun, Jessica was passing a long branch to a fan when it hit her in the eye. She left the stage for 10 minutes but came back out without any injuries.
6. There was a commotion when it was revealed that Jung Hyungdon was dating a writer from a broadcasting company while still appearing in MBC's "We Got Married" with Taeyeon. Later, the PD said in a phone interview that it was already decided before the controversy that the make-believe couple would leave the show in May.
7. The girls had a small birthday party with the fans for Jessica's birthday. Taeyeon was missing and Tiffany came from rehearsing for her solo stage (singing "By Myself" on Inkigayo). The girls tried to pull tricks on Jessica but she just ended up with some cream on her face.
8. A famous music critic Im Jinmo appeared on MBC FM4U's "Tablo's Dreaming Radio" and instead of his serious and usual comments about artists, he started talking highly about the girls. Tablo stated that "Into the New World" was one of the best songs in recent memory.
9. On April 22nd, the girls had a performance for the Kangnam Severance Hospital 26th Anniversary Event. This was the famous incident where the track for "Himnae (Way to Go)" started skipping and Jessica tried to repeat her line over and over again.
10. Even though still busy with CF filmings and preparations for future album promotions, Hyoyeon and Yoona were spotted riding their bicycles at Apgujeong.
11. Entertainer Choi Hwajung revealed that she and Yoona frequently send text messages to each other.
2010:
1. On ChinChin, Taeyeon said that she used to fight frequently with the boys in her elementary school and would get into fights with her brother. She also recalled how she was sending someone a long and serious text when a member went up to her and flipped her phone as a joke. All that she wrote was deleted and she was left so speechless at that time.
2. Bada from S.E.S was reportedly giving pointers to Taeyeon about musicals. Lee Seungchul also chose Taeyeon and Tiffany as examples of singers who were born with the talent to sing well.
3. A staff from "Samyang Ramyun" wrote a fanaccount about how the girls acted professionally and were well-mannered throughout the time they were filming. Even though it was cold, Yoona and Seohyun were really hyper. At one point, Yuri fell down on her butt and even though everyone was startled, the girls started jumping on top of her and rolled around on the ground playfully.
4. In an interview, Sooyoung talked about how actor Cha Seungwon's son was her elementary school classmate and that she used to visit their house frequently to play.
5. Rain was a guest on KBS's "Win Win" and said he liked all the members of Girls' Generation. When asked which member's name he memorized first, he picked Taeyeon.
6. Lee Hyori was asked during an interview which hoobae she was keeping a close eye on. She chose Yuri and said she had the potential to be a successful solo artist. Lee Hyori also chose Girls' Generation as her competition.
7. At the airport before the girls headed to Shanghai for the concert, fans noticed that Taeyeon looked tired and went to the lounge to rest while the rest went shopping. Once at Shanghai, when fans cheered her name after their rehearsal outside the concert venue, Taeyeon drew the curtains of the vehicle and gave a flying kiss.
8. 30th April marked the girls' 1000 days since their debut. The girls all left messages on the official site to celebrate the anniversary.
9. Yuri talked about how when they were in Japan, Yoona returned to their room at 3AM because she was watching Kimura Takuya on television. Yoona was crying because she liked him so much but couldn't understand anything that he said.
10. Taeyeon went back home to her hometown in Jeonju for a short break, and Jessica and Seohyun were spotted with Ock Joohyun dining at a Chinese restaurant.
11. 2PM's Junsu thanked Hyoyeon, Yuri and Tiffany in their "Don't Stop Can't Stop" mini album.
Shows Released (And definitely worth watching)
Wonderful Outing 2 with SNSD Ep. 03 (Wonderful Olympics) [04.19.08]
Hi-5 EP 51 : Animal Trainers (SNSD) [04.27.08]
Hi-5 EP 48 Ballerinas (SNSD) Part 2 [04.06.08]
—–
We Got Married EP 51 – Taeyeon & Hyungdon cut [04.05.09]
We Got Married EP 52 – Taeyeon & Hyungdon cut [04.12.09]
—–
KBS2 Story Show Rock EP 23 – SNSD [04.14.10]
KBS2 Entertainment Relay Guerrilla Date – SNSD [04.10.10]
Awards Achieved:
#1 on M!Countdown for on April 10th, 2008
——
#1 on KBS Music Bank K-Chart for on April 2nd 2010
SBS Inkigayo Mutizen Award for on April 4th 2010
SBS Inkigayo Mutizen Award for on April 11th 2010
#1 on KBS Music Bank K-Chart for on April 12th 2010
For your reference, here's the January, February and March columns.
Thanks for all the support thus far, hope you enjoyed this edition as much as I did!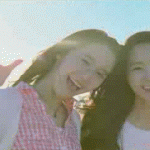 Written by: shizzles9@soshified.com
Sources: SNSD Soompi Thread, Soshified News & Translated Goodies
Banner: Chef@soshified.com